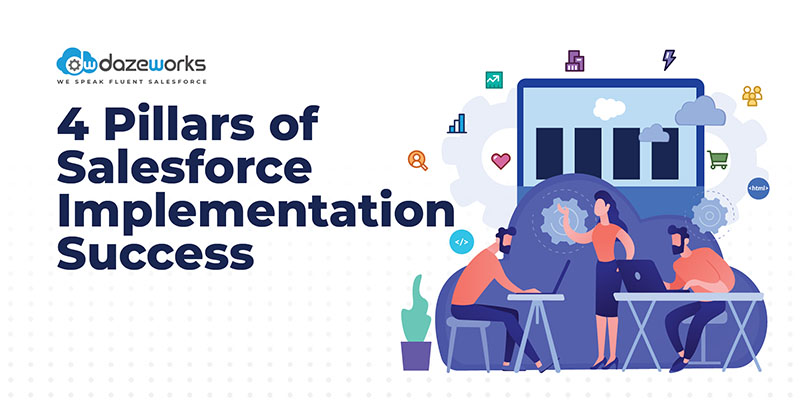 4 Pillars for Salesforce Implementation Success
minutes read
Salesforce can transform your organization into a digital powerhouse and provide sustained success given the right time frame. Unfortunately many organizations expect an 'overnight success' as soon as they roll out the carpet for Salesforce. And when that doesn't happen, they even think about taking Salesforce out of the picture without analyzing what they may have missed. Implementing a successful Salesforce CRM in a grown organization takes the right skill set, knowledge and perseverance to navigate unexpected obstacles.
This blog will cover the 4 key pillars that ensures your Salesforce implementation is  done right the first time, or even reverse your failed implementation:
Stakeholders Buy- in
Stakeholder buy-in is the first and most important pillar that defines your Salesforce implementation project success. A Salesforce implementation should involve all departments in the organization without which there will be gaps in defining and sharing  goals and objectives. Have a discussion with team leaders of all branches and understand the current processes and systems. If you are willing to go that extra mile, try to talk to the team members who relentlessly use Salesforce and gather their pain points. Use these insights to drive the change management and user enablement process after the implementation.
Data Management
IBM research claims that 27% of business leaders do not know how corrupted their data is and that's a big mistake. Also according to Gartner's Data Quality Market Survey, organizations can lose up to $15 million a year on average because of poor data. 
If you ought to have a mantra before migrating to Salesforce, or any new system for that matter, it should be 'Garbage in, Garbage out'. Salesforce is always at its best when filled with rich and accurate data and hence you need to sort out all good and bad data before the big move. Else, you will be stuck in an endless loop without getting the right Salesforce data cleansing techniques. Have a clear understanding of your business model and analyze how data flows through one department to another. Data cleansing can take up some time depending on the volume of data your organization has access to. But no matter how much time you spend on it, make sure that you have the most accurate data while conducting your Salesforce migration process.
Implementation Team
A successful Salesforce implementation requires all hands on deck. It's all about assembling the right team who bring in the best value from your Salesforce implementation project. You should bring aboard your in-house resources at the very beginning of your implementation phase to make sure that they have a precise understanding of the project deliverables and are on the same page with your Salesforce partner.  You can read through these five factors while selecting the right Salesforce implementation partner. Your internal team should have a product owner, sponsor, project manager, subject matter experts, system admins and data management executives. Note that these roles should be assigned based on the depth and complexity of the Salesforce implementation project.
User Adoption
You may have spent a lot of time and money implementing Salesforce. But  if you find it difficult to gain user acceptance, your CRM doesn't serve it's actual purpose. Your Salesforce implementation is considered a success only when your users are enthusiastic about logging onto the platform and actually using it. Don't hesitate to show the same passion for investing in your people as you have for choosing and deploying Salesforce. If you're already struggling to crack the Salesforce user adoption problem, make sure to identify all the wrong moves made while implementing Salesforce. Try to close the communication gap between various departments and come up with a revised action plan to curb the Salesforce attrition rate.
Ready to implement Salesforce? At Dazeworks we offer a plethora of Salesforce implementation services that cater to your exclusive business needs. Read through some of our Salesforce implementation success stories to get a clear understanding of our modus operandi.