Having the right Salesforce implementation partner by your side can go a long way in your digital transformation journey. There are  650+ official Salesforce partners globally and around the same (or even more) number of IT companies offering Salesforce implementation and consulting services. This means your search for a reliable Salesforce implementation partner that best suits your business requirements could turn out to be a minefield treasure hunt. These Factors on selecting a Salesforce implementation partner will give a proper idea of choosing the right implementation partner.
The simplest and the quickest way to gather a list of potential partners is by punching in keywords like "Salesforce implementation partner" or related searches on the AppExchange search engine. You can further filter/sort based on partner status, geography, customer ratings and so on.
AppExchange applies various filters and algorithms (of course, invisible to us) to prioritize the search results. Just key in what you have in mind and trust the official Salesforce marketplace recommendations.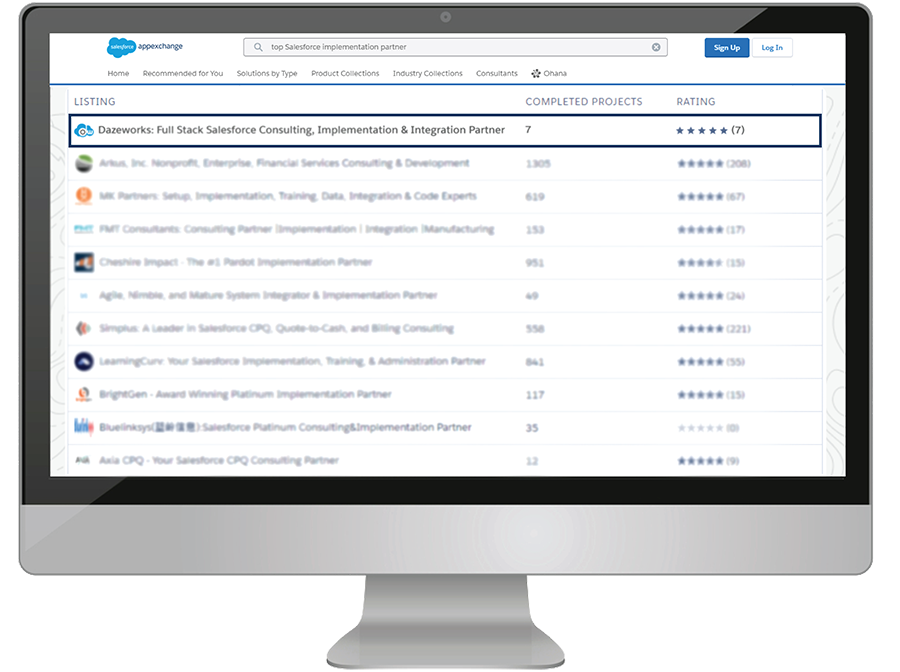 While this serves as an efficient way to discover a few potential Salesforce implementation and consulting partners, you are better off with a strong search strategy backed by some handy checklists. 
A word of prudence – before jumping the gun on the capabilities and limitations of your future Salesforce partner, be sure of your objectives and ideal outcomes. For example, are you looking for an end-to-end advisor who can guide you all the way through your business growth – right from architectural guidance to improving user adoption to ongoing consulting on system optimization & enhancements? Or an independent contractor on T&M basis to share some of your workload or a one-time engagement which involves an out-of-the-box implementation?
Having this sorted would empower you to make better comparisons of what you need and what each partner candidate can bring to the table.
Here are the top 5 Factors to consider when selecting a Salesforce implementation partner. 
Let's dive in!
1. Cultural Fit
"Wait a min, cultural fit? Shouldn't technical expertise and relevant experience be considered first?". Perhaps this is what crossed your mind right now. It's not surprising, because culture is so huffed and overlooked that companies still treat it as an afterthought, not a high priority qualifier. 
While we completely agree that technical expertise and relevant experience are important, cultural fit still remains our top pick.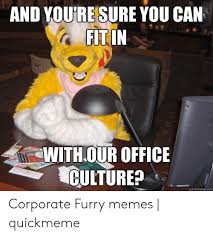 Here is why we strongly believe evaluating the cultural fit is super important and why you should consider it too.
For The Long Run
The State of Salesforce 2020 report by Bluewolf, an IBM company, says that 67% of Salesforce customers are engaging consulting partners on a 24×7 basis. Even if your present requirement is as minimal as an out-of-the box Salesforce CRM implementation, it is highly likely that it will evolve as your business grows. It may either upgrade to higher versions of the same solution or adopt more solutions from the Salesforce line up. 
Swapping your partners or having one too many will prove to be a terrible idea in the long run – both in life and with Salesforce. Engaging multiple partners for each step consumes a lot of time and money. Hence, it is crucial to select a long term partner who can stand the test of the time against changing business requirements.
For Economic Advantage
Driving cost efficiency is a prime advantage of IT outsourcing. It is common for businesses to engage cost efficient Salesforce consulting partners from India, Sri Lanka and so on. In such cases, it becomes all the more important to onboard a Salesforce partner with common values and vision.
Be sure to ask these questions:
How would you describe your company's culture?

What are your core values?

How do you handle communication with your team members (technical and non technical)?
There is little to be lost and much to gain by taking some time to understand the culture of any prospective Salesforce partner. Find those that align best with your tribe. 
2. Decisiveness
This is the second critical aspect to look out for in your Salesforce implementation partner.
No matter the scale of the project, there is always room for uncertainty and ambiguity to lurk around. Tough decisions under tight timelines might be required more often than expected, especially when there are multiple ways of achieving the end goal.
We call this the Cone of Uncertainty!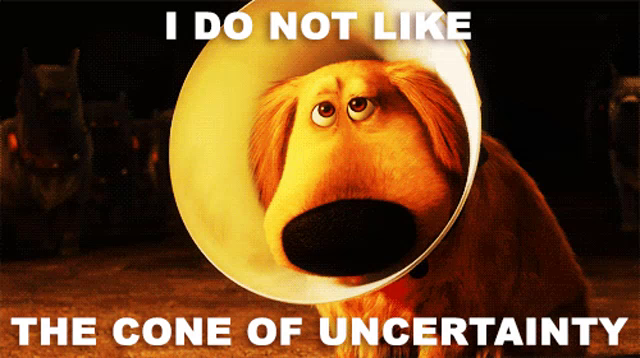 A great partner helps you keep this Cone of Uncertainty in check.
Think of it this way. You are setting off on a journey to explore unknown trails. Apart from loading up on the right gears and supplies, wouldn't it make sense to have an experienced hand with you? Your Salesforce implementation partner should be someone like a sherpa- who is decisive and one who knows the terrain and the obstacles that come along your transformation journey and guides you to success. 
Likewise, on your digital transformation journey with Salesforce, are you better off with a low cost IT partner who is all about following your instructions? Or would you rather go with a top Salesforce implementation partner who can take critical decisions while navigating a turbulent terrain and guide you to sustainable success?
Your ideal Salesforce partner not only builds confidence in your decisions, but also has their own take on how to improve your business processes and provide you end-to-end architectural guidance. 
Ask these questions:
How do you help other clients with similar goals as our company?

What were the challenges faced during the transformation phase?

How did you help your client overcome those challenges?
3. Relevant Experience
Hiring a partner with relevant industry experience is mission critical. Or is it?

We are not underplaying the potential advantages of engaging a Salesforce partner who is familiar with the intricacies of your line of business. From our experience, we have seen businesses making it hard for themselves by either
Chasing a unicorn partner OR

The screening overkill
Chasing a unicorn partner
This is when your business requirements are complex and unique, yet you are hell bent on finding a partner who has already done the whole 99 yards. Trust us, this happens more often than you think.

If you are doing this, our suggestion, to help you save time and heartache, would be to first filter down on a few Salesforce implementation companies with experience in your industry. Then, ask for proof-of-concepts (aka PoC) or demos from them on a few  of your niche requirements as part of the proposal. PoCs and demos are a common step in the Salesforce universe and any competent Salesforce partner will be up to the task. But please do not expect a FREE demo always. Quality always has a price tag.
The Screening overkill
This is when you are looking at an easy Salesforce requirement, say an out-of-the-box implementation, which any reliable Salesforce implementation service provider can accomplish, but you are fixated on finding someone who has done it in your industry specifically. Overplaying this could result in you missing out on partners with great cultural fit and who could walk the talk on your digital transformation journey. For example, if you are looking to adopt Sales Cloud, any partner with a strong leadership, qualified Salesforce developers and good enough experience in Sales Cloud implementations (though not necessarily in your industry) will do. 
On the other hand, imagine you are looking for deep integrations like a bi-directional data fetch on SAP or building a highly customized business app on the Lightning platform. Then you are better-off working with a partner who understands not only industry lingo but also has relevant experience and deep knowledge of your architecture. You know, the "been there done that" kinda ones.
Point being, "your" industry experience should not become an euphemism to simply strike off a potential partner who is exceptionally good at implementations in other industries. All you are going to end up doing is losing excellent Salesforce partners.
The best way is to find a middle ground. For example, Find out if the partner in consideration has vast experience on the same product but across other verticals, and checks off the rest of the boxes on your partner selection checklist. Then ask them to demonstrate their game plan for addressing vertical/business specific challenges in the form of a solution blueprint or demo.
Following questions will help you in this context:
Do you have experience in similar projects?
How many projects have you  delivered?
What is the average size of your client?
Do you have business experience in our industry?
4. Expertise Level
One of the greatest competitive MOATs of Salesforce is their focus on building highly active collaboration communities. Right from Student Groups to Trailhead to the all inclusive Success Community, the Salesforce ecosystem ensures visibility for all subject matter experts and enables unlimited collaboration. All of these resources can be excellent sourcing points in your pursuit of the best Salesforce implementation partner.
It's always important to evaluate relevant expertise rather than generalized expertise when it comes to the company you are working with. You can start off by asking the following questions.
How long have you been in the business?

What type of domains have you worked in?

What certifications does your team have?

Do you have any MVPs or platform experts on  your team?

What is your Salesforce partner status?

How active are the proposed resources in the Success Community?

How good are the proposed resources on Trailhead?
Salesforce Certifications
Salesforce certification is an official stamp of expertise. This makes sure that  the Salesforce professionals working in your team stay current on the latest Salesforce system updates. If you need to verify the current certification status, all you have to do is visit certification.salesforce.com/verification, type in their name/email and check for certification validity.
There is no all encompassing certification when it comes to Salesforce. Various credentials are offered based on specific learning requirements. A professional can be certified as any of the following:
Salesforce administrator
App builder
Architect
Implementation expert or Consultant
Developer
Marketer
Pardot expert
CPQ specialist
Understanding the differences between each and matching them with your unique business needs will help you find the right fit. For example, check out the difference between a Salesforce developer and a Salesforce admin here.
That said, a deep and diversified base of certifications certainly gives an added credit to your potential Salesforce implementation partner. It proves they are better placed to serve you among their peers. 
The MVP Advantage
MVP stands for Most Valuable Professional and is considered to be one of the most coveted titles one can hold in their Salesforce career. Each year, Salesforce recognizes exceptional individuals within the Salesforce community for their leadership, knowledge and community contributions.
Thousands of highly talented Trailblazers are put through a rigorous screening and selection process and only a chosen few emerge as Salesforce MVPs. In 2020, only 200+ were awarded this feat from thousands of nominations.
Furthermore, the MVP title is awarded for a period of one year after which it has to be renewed. This means that only the best of the best can retain the title.

Dazeworks takes pride in having the most number of MVPs (10) among any Salesforce implementation partner across the globe.
Although the number of MVPs alone will not guarantee the quality of the Salesforce implementation, their presence in your team will definitely make your life easier. They are known for transforming the organizations they touch and hence you should consider asking this question without any hesitation. 
Partnership Level
The Salesforce partnership program is the official acknowledgement from Salesforce on the prowess of its partners and is bracketed into four tiers which is determined by the Partner Value Score (PVS). The score is calculated under a strict evaluation process and a number of metrics such as expertise, certifications, CSAT scores etc. are taken into account .
If a Salesforce partner passes all these criteria, they will fall into any one of the following four tiers
Being APAC's top Platinum Salesforce implementation partner gives us the humble privilege to explain what differentiates them from the rest and why you may need to hire one.
So if you're wondering what takes a company to this level, you should know it's purely expertise and certifications at the highest possible standard. From the number of certifications held by the company's employees to their CSAT score, being a Platinum Salesforce partner is a highly demanding process and requires consistent quality in the work they do. 
Ofcourse, all partners  are highly trained in Salesforce and will be able to give you expert services. But when you decide on a Platinum Salesforce partner, you are working with an exceptionally competitive company who believes in getting their job done right the first time.
Trailhead Forte
Salesforce is continuously evolving. To help all Salesforce enthusiasts keep pace, they launched Trailhead, a self-learning portal,  back in 2014. This new approach to self-paced learning opened doors to millions of Salesforce developers, consultants, partners and enthusiasts to learn, re-learn and stay updated on all things Salesforce. From Salesforce release readiness modules to deep dives on preparing for certifications, Trailhead offers limitless learning opportunities to all Trailblazers.
Apart from improving your Salesforce knowledge, you can use Trailhead to gauge the commitment to continuous learning among your potential implementation partners. Be sure to ask for details on Badges, Super Badges and Ranks. Here are Trailhead profiles of some of our top Salesforce developers to help you understand better.

Success Community Contributions
Salesforce Success Community is a 360 degree platform for customers, partners and evangelists to learn, collaborate and grow together. You can get your questions answered, raise new feature requests, find troubleshooting tips and loads more here. There are more than 10 million active users on this platform, all with a common goal – selfless sharing of knowledge.
This also means that you can quickly find subject matter experts relevant to your business requirements here. You will be amazed at how much selfless contributions are made on this fantastic platform. For instance, our CTO and 5xMVP Deepak Anand has contributed a whopping 22859 answers! There is even a Shrine of Deepak Anand dedicated to thanking and nearly worshipping him. An endearing gesture from the super admin Steve Molis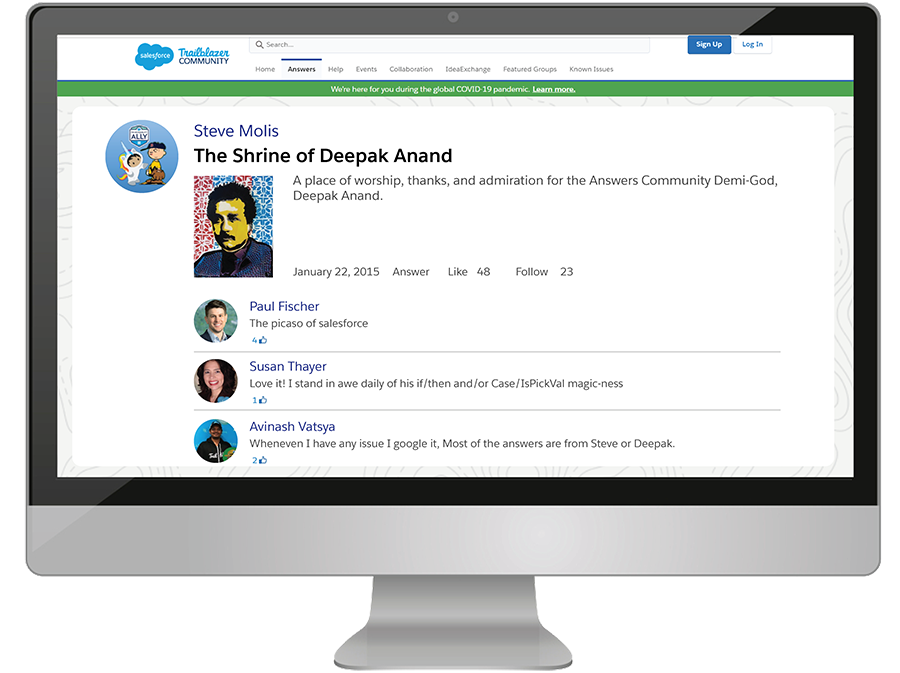 5. Engagement Model
Before boiling down to the right engagement model for your Salesforce implementation, you will first need to identify a scalable team when hiring your Salesforce implementation partner. Keep in mind that your company will evolve and so will your overall technology enhancement, including Salesforce, requirements. Hence, you need a team structure in place that is ready to scale, with a capacity to balance demand against throughput. 
While most successful Salesforce implementation partners will have adequate manpower to meet your demands, not many can offer the flexibility of quickly scaling up or down to match your demands. This should also include any potential attritions at either side during the engagement. Hence be very sure that you are working with a partner with adequate resources on roll than a typical IT body shop.

Make sure you ask the following questions.
Do you have the required experience and skillset to make changes as the project scales?
Can the team crank up new requirements entering the scope of the project?
How quickly can the leadership team delegate major areas of responsibility?
Can you grow in a cost effective way?
Salesforce implementations can be complex depending on various factors such as the nature of your business, company size, business objectives, integration requirements and so on. Hence, it is inevitable that you team up with a Salesforce implementation partner with extensive project experience and can chalk-out a clear deployment roadmap tailored to your specific needs.
Based on several successful Salesforce implementations in the US, UK and Canada, we would recommend you to concentrate on the below 3 factors to validate the engagement model:
Ease of access

Pricing

Shorter Development Cycle
i) Ease of Access
Your top priority while considering the engagement model should be the proximity and ease of access to your Salesforce implementation partner. From effortless day-to-day communications to quickly resolving any unexpected turn of events, there must be a clear chain of command and easy access to decision makers to ensure that you are at peace.
Start off with an inside-out approach by answering the below questions.
Would you need the resources to be present at your office or in close proximity? 

Are there any limitations in considering a fully outsourced Salesforce implementation partner? 
Be mindful that your decision on the location of resources will call in for other trade-offs. Finding the right mix is important. 
For instance, a fully outsourced or offshore model will help you keep the costs low. However, there are chances of cultural and communication gaps creeping in. On the other hand, partnering with Salesforce implementation experts near you or having them work from your office premises might help resolve some of the cultural and communication hurdles. But then the accompanying costs might be at least 100% more in comparison to the offshore model.
You also have the option of garnering the best of both worlds using a blended or hybrid set up. Here a handful of mission critical resources like a SPOC (single point of contact) or project manager will operate from your location and the major chunk of the development team will be geographically placed to create economic efficiency.
One piece of advice we would like to give you from our experience of more than 350 successful Salesforce implementations is that, irrespective of your engagement model, always ensure that you have the right checks and balances to enable free flow of information. For example, at Dazeworks we follow a time tested project management model that helps in enabling clear communications, quick delivery and timely resolutions. This includes: 
A mutually agreed team structure with pre-defined SPOC, for day-to-day communications

An executive sponsor, mostly a C-suite member with Architect level capabilities, to ensure full engagement visibility

A clear plan on daily stand-ups, weekly cadence and documentations

Robust and transparent systems to track productivity, enhance collaboration and so on Here are a few tools that we rely on.

Collaboration – Zoom, Slack, Hangouts, Fellow

Virtual office – Sococo

Productivity tracking – Teamwork

A reliable chain of command to ensure quick resolution on any potential deviations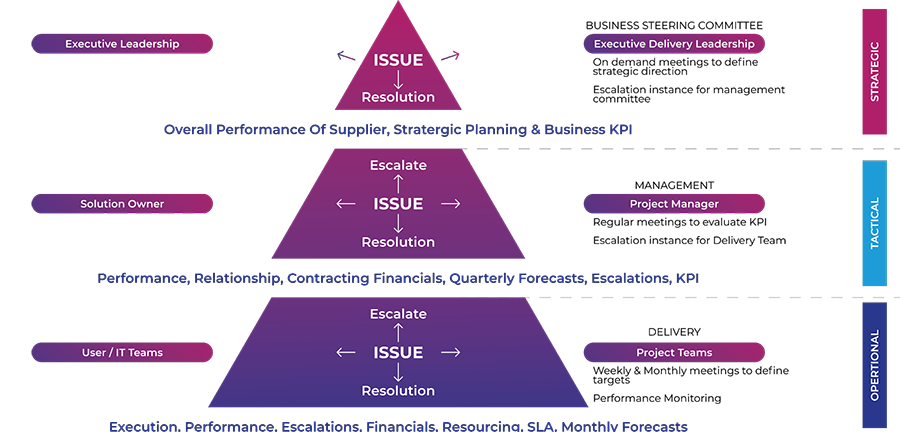 ii) Pricing
Fixed Price
Fixed price model is quite popular among organizations as it is a comparatively low risk option in terms of  time and budget. This model is best suited when you have your project scope fully fleshed out with each requirement clearly defined. Even the wireframes should be designed from your end so that the development team can figure out the total necessary hours spent on implementation. 
For instance, consider a Salesforce out-of-the-box implementation, where the scope is set in stone on day one, and does not require any additional features or custom coding. In this case, although both the Salesforce implementation service provider and your company will go through a certain scope related risk, you can rest assured that you won't get burned by your partner. But if there are even slight tweaks to your requirements, like say a customization, it becomes out of scope and you will need to pay extra money. So unless your Salesforce implementation partner has the right technical know-how to provide you an architectural level of guidance, you may be at a risk of project failure. 
And what if the project gets completed in less time than anticipated? You still need to pay the full amount for the time you couldn't even use for any other requirements. 
But on the brighter sider, if you are looking for an option where you are hell-bent on completing a project within a particular timeline, you should certainly go with this pricing model.
Time and Material
Unlike the fixed price model, here you will be charged for the total number of hours spent on your budget. The benefit here is that it gives you ultimate flexibility over the entire project scope without incurring any high costs. So be rest assured when you need to quickly alter any of your requirements and make a change in the work plan. This model is perfect for Agile methodology as it is centred around an iterative development process.
Dedicated Team
Although it looks like a lot of commitment, this model is a flexible option in terms of time, scope and cost. It's up to you to decide on the scope and workload of the project. It's also very clear when it comes to cost tracking as you have the liberty to pay the team just like your in-house employees. But always be sure on the timeline of your project. For example, is there a fixed and considerable workflow in the first place? You don't want to waste your time and money to hire a dedicated team only to dismiss them after 1-2 months. So if it's a small project, it's better to consider fixed or T&M.
You can also leverage on-demand experts to help you meet your ad-hoc requirements for specific skill requirements in a particular domain. This is a really good option when you want to effectively manage your team structure and scale immediately as and when required.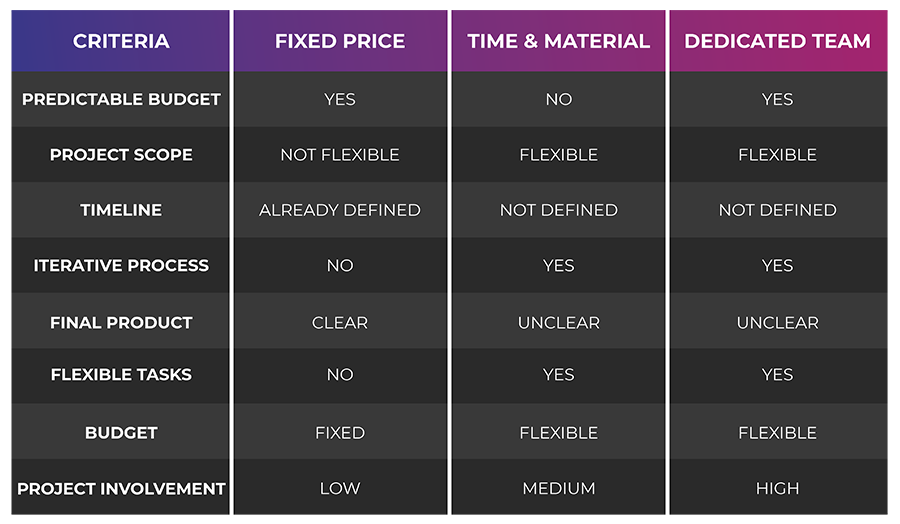 iii) Shorter Development Cycles
Not all Salesforce engagements can fit into the 40hours per week schedule. In fact from our own experience, there have been multiple occasions wherein the client failed to get expected outcomes from their existing Salesforce implementation partner, who was already behind schedule. Luckily our 24×7 development model came to the rescue and ensured business continuity for the client. 
Furthermore, an experienced Salesforce implementation partner will have developed plentiful re-usable assets, components flows etc. Such plug & play connectors will help you shave off considerable development hours.
More than the cost of extended hours, the additional time-to-market is what might hurt your business the most.
Teaming up with an experienced Salesforce partner with a track record of delivering several successful Salesforce implementation services on various engagement models will ease your burden on this. 
These are the Factors to consider when selecting a Salesforce implementation partner. Liked what you read? Then you will like our Ultimate Sales Cloud Implementation Playbook. Download it here. OR
If you have more questions, feel free to write to us at info@dazeworks.com.