Eric Dreshfield is synonymous with a lot of things – 3-time Salesforce MVP, Kevin Bacon of the Salesforce Community, Southern Indiana Salesforce User Group and our current (and all-time) favourite – the Midwest Dreamin' conference. A community led, community run event that brings to the table some of the best learning and networking opportunities outside of Dreamforce, the event is scheduled for July 21 st -22 nd . It is a must-attend for anyone looking to learn from and meet with the amazing Salesforce community. We caught up with Eric and here's what he had to say.
1.       Tell us about the Eureka moment for Midwest Dreamin'.
I started my first job in the Salesforce Ecosystem in September 2009. I did not discover Dreamforce until sometime in early 2010, and was unable to attend that year, but I did watch some online. I decided I wanted to bring a little of Dreamforce to me, and the idea for Midwest Dreamin' was born. The first Midwest Dreamin' was in Louisville, KY in May, 2011, and to be perfectly honest about it, I did it for purely selfish reasons! I wanted to learn more about the platform! (I quickly discovered that the best way NOT to learn about the platform is to organize an event about it…I spent too much time making sure the event was running smoothly and not enough time enjoying it!)
2.       How has the journey evolved from 2011 till the upcoming 2016 event?
At Midwest Dreamin' 2011, 100 people attended. There were about 25 developers, who enjoyed a full day of force.com training led by Josh Birk, and there were about 75 Admins and End Users who enjoyed several sessions on a wide variety of topics. I think there were 6 or 7 sponsors for Midwest Dreamin' 2011. In 2014, 500 people attended. In 2015 almost 700 attended. For 2016, I expect at least 800 to attend. There are 3 keynote addresses in 2016. 2011 had none! 2016 has over 35 breakout sessions and 35 to 40 sponsors.
3.       Can you give us an outline of the audience/participants for the 2016 event?
If 2016 is anything like 2015, the typical attendee will be a Salesforce Admin using Enterprise edition working in I.T. or Sales Operations for a company in the High Tech industry with between 21 and 2500 employees.
4.       What can attendees expect this year?
New this year is the addition of a third Keynote address; free attendee Wi-Fi throughout the entire venue; free transportation between the Intercontinental Hotel, (our exclusive hotel partner,) and Navy Pier; and a live performance by Apex and the Limits. Oh…and some amazing community provided content!
5.       Why should a member of the Salesforce community go ahead and attend the event?
If you have ever enjoyed watching Peter Coffee do his Dreamforce Pre-Keynote interviews, Midwest Dreamin' is a great opportunity to hear him speak in a much smaller venue where you have an excellent opportunity to interact one-on- one with him. It's a great opportunity to meet people in the community.
6.       Who are the key speakers?
There will be some of THE best from Salesforce delivering keynote speeches including
Peter Coffee, Vice President for Strategic Research, Salesforce
Erica Kuhl, Vice President of Community, Salesforce
Vala Afshar, Chief Digital Evangelist, Salesforce
7.       Who are the key sponsors?
Midwest Dreamin' is made possible by the generous support of nearly 40 great organizations. Those in our top tier of sponsors include ActionGrid, Apttus, Cloudcraze, Conga, MapAnything and Xactly. Please be sure to visit with them and all our sponsors while you are at Midwest Dreamin'!
8.       Would you like to tell us more on the breakout sessions planned?
With over 30 amazing breakout sessions planned, it would take a lot to tell you more about the sessions. What I will tell you is that the session selection process this year was done blindly. The content committee based selections on nothing more than the proposed session title and description. The committee did not know who the presenters were, or what made them qualified to speak on their chosen topics. Nor did the committee know if they were MVPs, User Group Leaders or even first time speakers! Because of this process, we really feel like we have a wildly diverse group of awesome speakers including some MVPs,
9.       Is there any special message for those still wondering if they should attend?
Attend! You will walk away with knowledge you can use at your company the very next day, and you will have made connections with people who you will find to be very giving and helpful, who share the same passions about Salesforce that you do.
10.     What is your all-time favourite Midwest Dreamin' moment?
Wow! Tough question! Honestly, I think my favorite Midwest Dreamin' moment actually happened at Apttus Accelerate in April 2016, when someone came up to me and said: "You're Eric Dreshfield, right? You organized Midwest Dreamin'. I just wanted to say thank you for that event. I learned a lot from attending." I wish I could remember who that was who said that to me…but it was an amazing conversation she and I had. I told her just hearing that from her made it all worthwhile. I don't put on Midwest Dreamin' because I want to spend a lot of time and effort creating an event, I put on Midwest Dreamin' because I hope someone learns something from attending, because I hope someone makes a personal connection with another person at the event, because I hope someone discovers something new that they can do in the Salesforce ecosystem. I put on Midwest Dreamin' to benefit everyone in the community.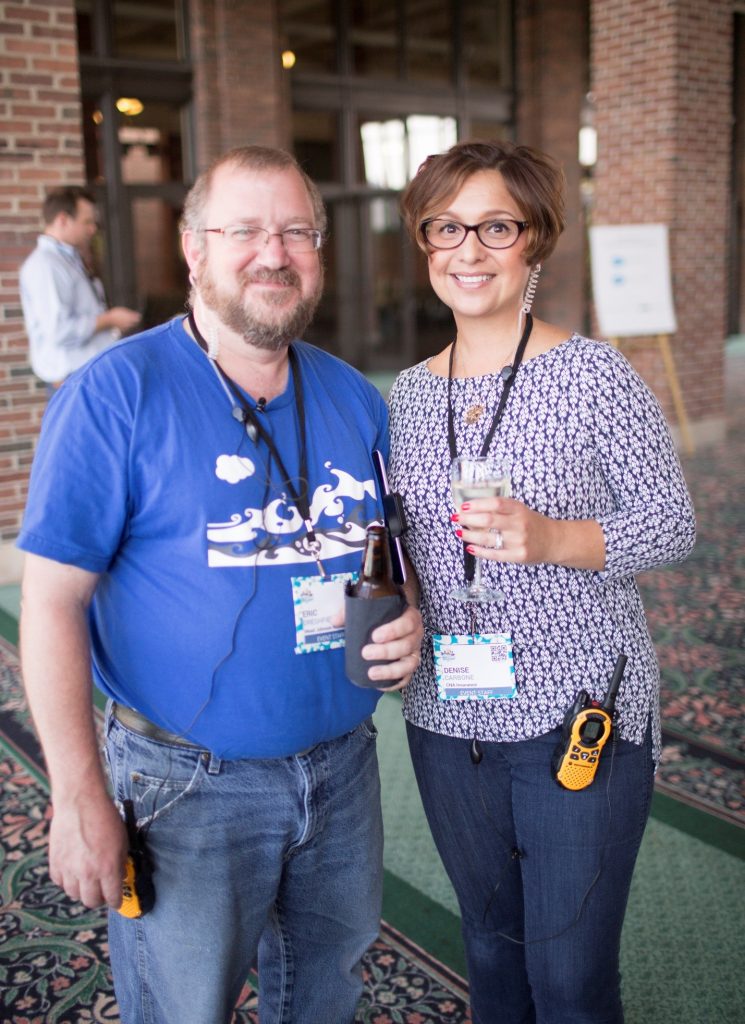 11.      Any favourite pic(s) that you would like to share along with the blog?
There's so many great pictures from 2015's event…it's hard for me to choose.But then, if you insist on limiting to with just one, absolutely one, I'd whole-heartedly go with this one. it's me and Denise Carbone, , my event co-chair, sharing a brief moment of sanity (and an adult beverage) during Midwest Dreamin' 2015. I've known Denise since my very early days on the Salesforce platform, going back to early 2010…and she's been my "Salesforce Spouse" ever since we started working together on Midwest Dreamin' 2014.
12.      How can one keep track of the latest from Midwest Dreamin'?
Follow Midwest Dreamin' on Twitter: http://twitter.com/Midwest_Dreamin ,
Find us on Facebook: https://www.facebook.com/midwestdreamin/
Join the group on the Salesforce Success Community: https://success.salesforce.com/_ui/core/chatter/groups/GroupProfilePage?g=0F9300000001rd6
13.       Anything we missed?
Yes! If you aren't registered yet…why not? http://midwestdreamin.com/#tile_registration
If you need a hotel room, try the Intercontinental Magnificent Mile: 800-628- 2112 or 312-944- 4100 and mention Midwest Dreamin'…even though our group rate cut off was June 30 th , you might still be able to snag a room cheap.
If you want to connect with me, you can find me on Twitter and connect with me on LinkedIn, and be sure to follow my blog.
With the conference just round the corner, we recommend you listen to him and register.
So we'll see you there at Midwest Dreamin' folks ! 