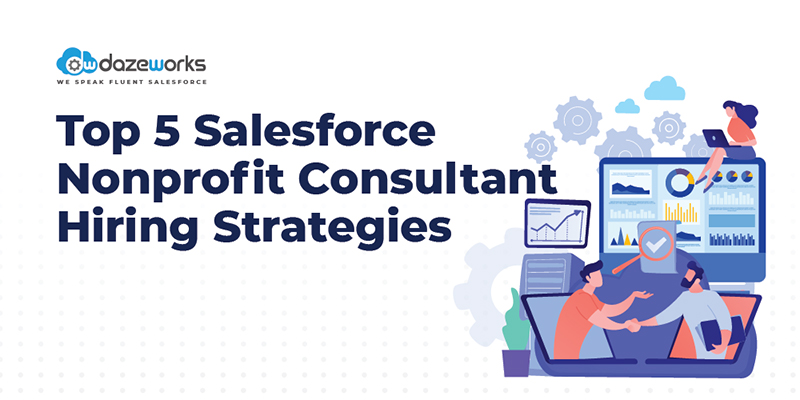 Top 5 Salesforce Nonprofit Consultant Hiring Strategies
minutes read
Are you evaluating Salesforce in your nonprofit organization to manage your fundraising and outreach initiatives? You may be tempted to implement it yourself thinking Salesforce will be the 'answer to all your problems' once done. But without knowing how to strategically place Salesforce into your NGO efforts, you will be left with a well preserved platform used by none of your employees. Bringing in a Salesforce consultant can bring many benefits to your organization. A Salesforce consultant gives you strategies for how well you can align Salesforce with your overall mission and scale along with your organization. Here are 5 things to keep in mind while looking for the right Salesforce consultant.
Create a Realistic Budget
Before sending out invitations to your prospective consultants, you need to have a clear idea of the money you are willing to spend on them. Fair warning, Salesforce consultants do not come at a cheap price as most of them have decades of experience in this field and provide top notch services. While creating the budget, take the following factors into account:
Salesforce NPSP deployment costs 

Consultation charges

Third party software integration needs
All the above mentioned costs come at a price.Having a realistic budget plan in hand will help you avoid unnecessary costs associated with the Salesforce implementation.
Analyze How a Salesforce Consultant Bring Value to Your Project
You don't hire a Salesforce consultant just to implement Salesforce in your nonprofit organization. A Salesforce consultant affects your organization in many ways which are not limited to your Salesforce project. So you need to analyze what value the partnership offers and what skills you are looking for before hiring consultants.
Current technology needs: Is your current technology strategy giving you the desired results? If not what is lacking and how do you plan to fill in the gap using Salesforce? How will this affect the existing software? Which software package brings no value to your fundraising efforts and needs to be discarded immediately?
Salesforce Goals: What are your Salesforce objectives while implementing it in your non profit organization? What aspects do you wish to manage with Salesforce fundraising, events, marketing campaigns etc?
Look for Salesforce Consultants with Relevant Experience
As you officially start looking for the right Salesforce consultant, it's important to keep relevant experience in mind. It's not a difficult task as most consultants will mention the details on their website with case studies and portfolios to go through for reference. While you are at it, don't forget to ask them the following questions:
What technologies are the consultants most well-versed with? 

What NGO projects have they specifically worked with and what were the outcomes? 

Have they worked in any other organizations apart from nonprofits?
Know More About Their Process
After you have lined up your list of potential Salesforce consultants, try to meet with them in person and understand their process. Understanding their methodologies will help you understand if it aligns with your processes and prepare ahead of time. Shoot these questions: 
How do they gather your NGO's current procedures and Salesforce requirements?

How do they plan the Salesforce project?

How soon will they start with the project once the planning phase is over?

How do they define the metrics?

What steps would they undertake to prevent delays, if any?

What kind of training would they provide to the end users?

Do they work individually with every team or all at once?
Make Sure They are Here to Stay
Last things first- how long is this partnership going to be? We recommend you to ask them for a project timeline  and understand the  possibility of a long-term relationship with you as your organization grows. Be sure to ask these questions when you meet face to face:
Will they be giving support in case of additional projects?

Are they willing to provide ongoing support over time?

How do they prefer to communicate once you have navigated to Salesforce- phones, emails or face to face meetings?
Takeaways
The consultant you hire is ultimately responsible for the success of your nonprofit in the long term, so choose wisely! Having these 5 tips in mind will help your team be on top of the hiring process and analyze who fits your noble cause as well. Contact us today to get started on your step of choosing your Salesforce consultant.