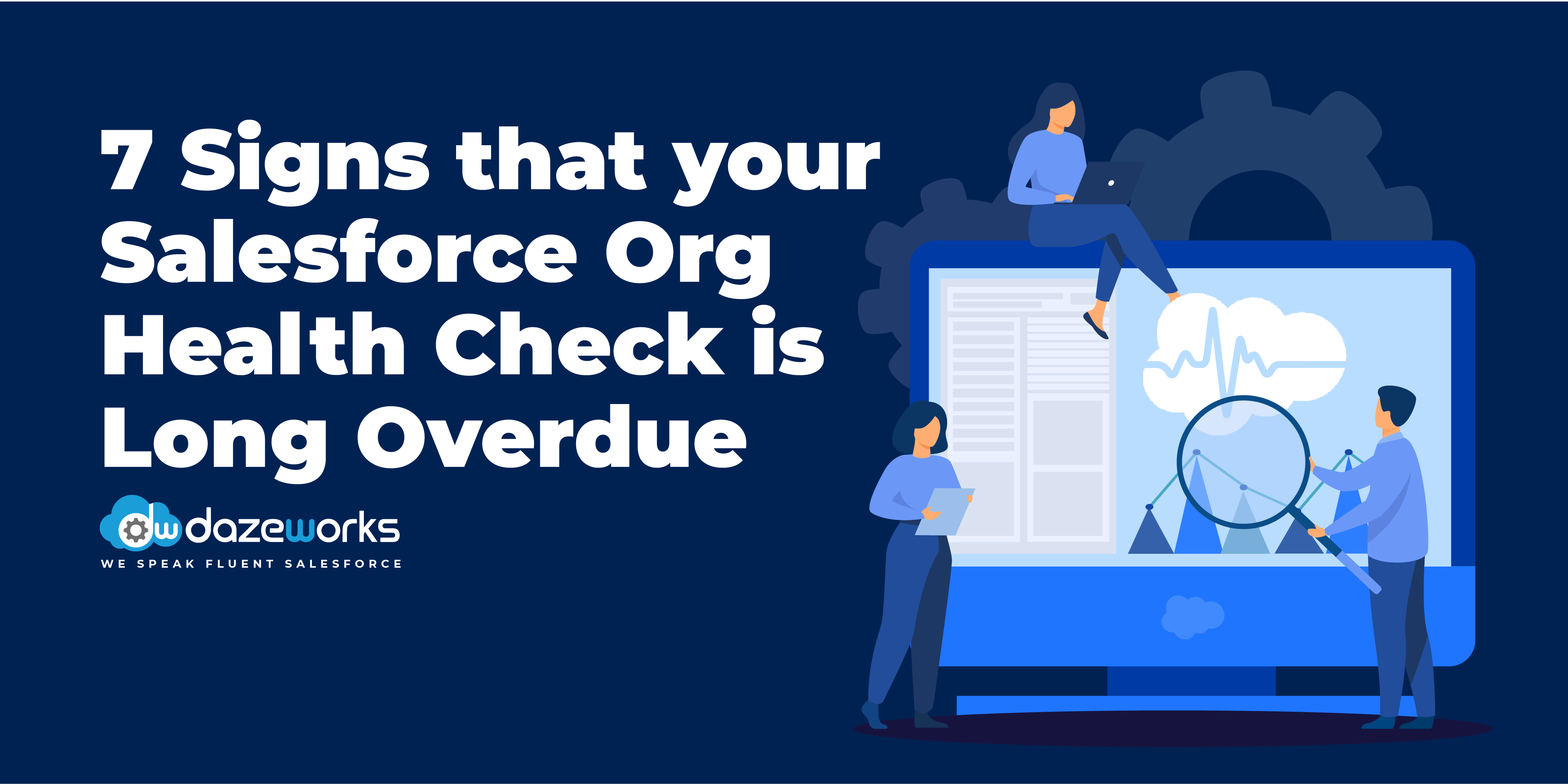 7 Signs that your Salesforce Org Health Check is Long Overdue
minutes read
As an ambitious organization aiming for digital transformation, you have carefully considered and invested in Salesforce, thanks to its power packed features and security assurance. But when was the last time you took a pause and evaluated what you've invested in?
Salesforce Health Check is mission critical for organizations who wish to keep their Salesforce Org up and running without losing momentum. 
So how do you know it's time to do an org Health Check? Here are 7 signs to watch out for before things get worse:
1. Your organizational level security needs have increased
If your company is attempting to expand and you have understood the need for security solutions, you must run a Salesforce Org health check. This is very useful for Salesforce Administrators as they can identify possible security vulnerabilities in the org. Health check tools can easily identify potential risks in all security settings such as passwords, network access etc. 
2. Complex data is piling up across the organization
Every company in expansion mode sees an avalanche of data which are complex enough to make your org vulnerable to security threats.
Conducting periodic Salesforce Health Checks can prevent this from happening. With a Health Check, you will get clear insights on how the data flows through various departments and how it may impact the organization in the near future. Make sure to run a health check before complex integrations take place. 
3. It has been more than a year since your last Salesforce implementation
Your organization and business requirements are not the same as it was a year ago. Salesforce Health Check can give better visibility into your Salesforce org as your organization evolves. Whether it's minor tweaks or large scale changes, a Salesforce org check can give the best insights about what you need to grow as a business. 
4. Your Salesforce Org user adoption is decreasing
Even if you had a successful Salesforce implementation, low user adoption can highly impact your organization's Salesforce ROI. Salesforce Org Health Check helps you find out what problems exist outside of your Salesforce org and why your employees are moving away from it. 
5. Salesforce org's operational efficiency is not at its best anymore
Is your Salesforce org slow these days? Do you find any dip in its performance? If your answer is yes, it's time to run a thorough check up. Salesforce makes  releases a year and hence it goes without saying that your Salesforce org needs to continuously be evaluated and attuned for these inevitable changes. Salesforce Org Health Check helps in filling any gaps in your departments and operational systems. 
6. You have exceeded your storage limits
Many organizations only realize the seriousness of the Salesforce  storage limit once it starts affecting their workflow. If your Salesforce users are facing storage limitations and are receiving warning emails, it is time to get a Salesforce Health Check done and find the root cause behind them. This way you can do a deep clean of your instance and delete unnecessary files and data
7. You have frequent record locking issues
If you're trying to update a record and get an error, this means you are facing record locking issues. Frequent record locking issues signal that your Salesforce org performance is getting affected  and it's best to get a Salesforce Health Check done at the earliest. This helps to clean up excess data and makes it easier for you to edit multiple records at the same time. 
Ring a bell? If you're going through any of this and need assistance in conducting a Salesforce Health check, contact us now.