For a long time, CPQ was vastly underrated and misunderstood as just an 'automation add on' to the CRM- a sidekick to the real hero of the show. 
But now, it has started to gain momentum and is one the hottest technology products for businesses. 
According to the latest market research report by Technavio, the CPQ market is expected to grow by USD 1.14 billion during 2020-2024. 
CPQ is turning heads across the world among organizations as it empowers their sales teams to bring in maximum revenue without compromising on operational costs. The efforts invested in pricing and configuration is halved. It takes away all the chaos and clutter caused by tedious paperwork and documentation. Also you do not need complex coding skills to set up a UI that your sales and accounting teams would love using everyday.
The Salesforce ecosystem offers various CPQ apps that are tailored for every business need ranging from out-of-the-box products to complex enterprise solutions. Try searching with the keyword 'CPQ' on the AppExchange and you will get 149 results – now that's a lot of applications to choose from!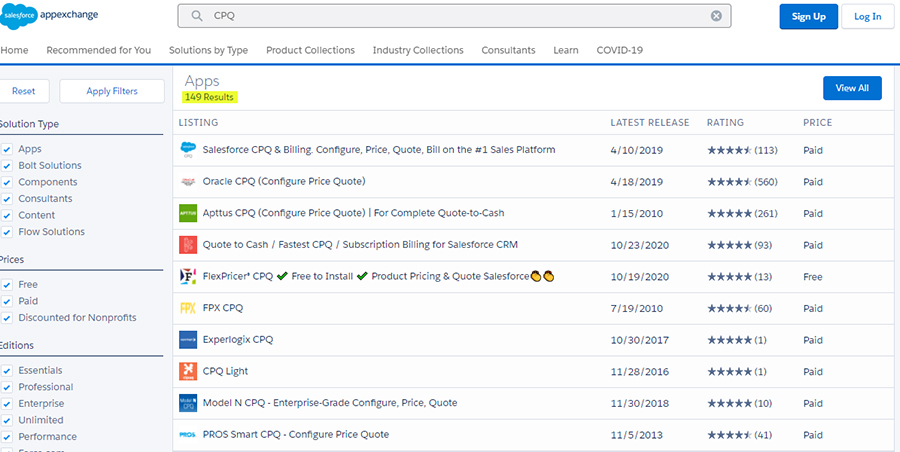 As you can see, although Salesforce CPQ surpasses it's peers due to its stellar features, it's not lonely at the top. Some other rivals include Apttus CPQ, PROS Smart CPQ, Oracle CPQ etc. Ironically, Apttus CPQ is built on Salesforce and is also one of the most scalable enterprise CPQ clouds of the lot. PROS Smart CPQ is also a popular tool which never fails to delight sales representatives with its amazing UI. It provides a website where your customers can configure the products they require on their own. Furthermore, it can be easily integrated with Salesforce. 
Salesforce CPQ is the rebranded version of Steelbrick, being Salesforce's 4th largest acquisition ever. What really takes it to centre stage is that it's purely native and has numerous custom objects with its own set of fields, configurable settings and logic etc.,  making it very easy to implement. 
Let's take a look at some of the key features that make it the next-gen CPQ every organization is looking for: 
Guided Selling 
The Guided Selling feature is one of the most important value-adds of Salesforce CPQ. It helps you just like a knowledgeable salesperson helps you boil down exactly what your customers need. This intuitive tool asks  a series of questions to better understand customer requirements, reviews them  and automatically moves them to the 'Add Products' page.  Then the products that match customer preferences will be listed out there. 
Intelligent Sales analytics and Automated Reporting
Salesforce CPQ combined with Einstein Analytics gives massive results to your sales team. While Salesforce CPQ helps them capture reliable data and empowers them to create pitch perfect quotes and close even the most complex deals faster, Einstein Analytics further helps them figure out how to shorten their deal cycles  than before. It helps them understand key metrics and uncover insights that help them identify challenges associated with the sales and renewal process.  You can incorporate AI into your sales process and help your team make smart decisions in real time. It gives full visibility into the pricing and discounting patterns across the market and gives discounting guidance to your team while working on a certain deal. 
Recurring Billing and Payment Management
If your sales team is struggling with subscriptions and billing management, Salesforce CPQ is the best software you can invest in without a doubt. The smart solution automates all your recurring billing programs such as free trials, setup fee, fremiums, one-off transactions, renewals, discounts & refunds- all within a single space. It gives your clients immense flexibility for billing, whether it's quarterly or annually or even any time that the client wants to pay the amount. 
Mobile Compatibility 
Salesforce CPQ is 100% cloud driven and is mobile compatible with the Salesforce app for Android and iOS. It allows users to access the software from any mobile device and can comfortably access and exchange data with employees from remote locations. This helps the sales team to create and send highly personalized and accurate quotes from their smartphones or tablets on the go and update their customers in real time which in turn drastically reduces the deal cycle. 
Still undecided on the right CPQ solution for your company? Seeking advice from an expert analyst will help. Let's get connected here.