Once a buzzword, CPQ quickly found its way into mainstream business, with it's impeccable features garnering attention from organizations around the globe. If you are getting started with a CPQ implementation project, you may have a lot of questions and even be daunted by the numerous things you need to take care of. Here is an essential guide to help you stay on top of your Salesforce CPQ implementation.. 
Step 1: Define Goals
The first and most important step – you need to set goals prior to the CPQ implementation process. What are your ultimate sales goals? Understand your sales process needs and set measurable goals for your CPQ. This will come in handy later on while measuring the actual ROI associated with your CPQ efforts. 
Consider these KPIs before getting started:
Reducing overall  time spent selling

Improving quote turnaround time

Increasing Average Order Value (AOV)

Improving quote accuracy

Reducing churn and increasing win rate and renewal rate
Step 2: Focus on Supercritical CPQ Features
There is no denying that the CPQ provides a wealth of features which are worth investing in. But at the same time it can be a bit too much to handle for your team if you implement all at once. We recommend that you select those features which are  important to your sales goals right now. For example, if you are implementing Salesforce CPQ, start off by implementing out-of-the-box features that satisfy your most important business requirements. These features include  basic functionalities such as product catalog, price book, guided selling, product bundles, order management etc. 
If you feel you're now ready to explore  additional features, you can visit the CPQ products and pricing page .
Step 3: Choose the right project team
Who are your CPQ resources?  Make sure you have an ensemble team of experts to engage in your project. 
Recruit top performers and their backups incase of sudden resource crunches.

Catch up with your CPQ implementation partner to decide which project methodology to follow.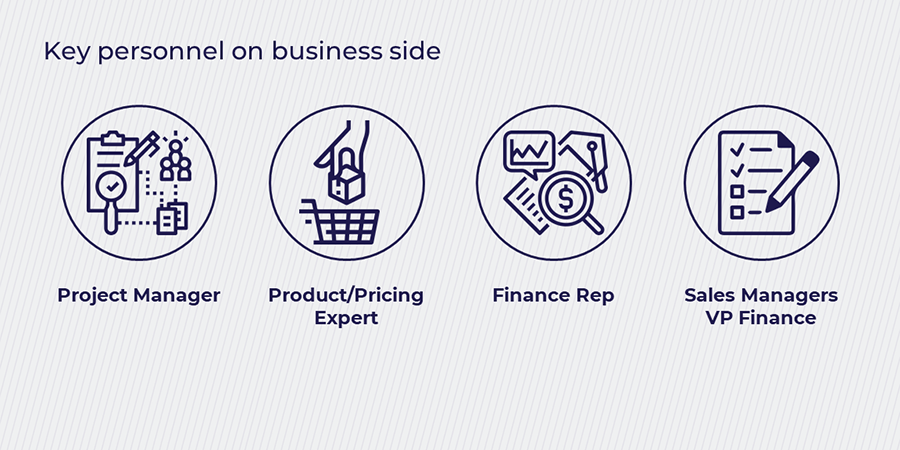 Step 4: Optimize the Organization's Quote-to-Cash Process
The core of the CPQ implementation lies in optimizing your company's Quote to Cash process. Your company has a unique sales team which caters to unique business needs. Hence it's best to evaluate every aspect of your sales process and fine tune according to the new implementation project. 
Step 5: Focus on Data Management
Your primary intention behind implementing CPQ is to make your sales team more productive with the right set of data at their fingertips while creating quotes. Needless to say, these data are currently scattered across a number of systems, spreadsheets and so on. So the next important step is to keep you data ready for the exchange between your company's CRM, CPQ and ERP. Make sure you move all product names, codes, SKUs, pricing, document structure etc to one place. If you use Salesforce as your CRM, you need to take extra care regarding all the external data. Find out what data is required for the CPQ process, which system it is recorded in and the owners associated with the master data so that you can involve them throughout the implementation project. 
Step 6: Plan on a Change Management Team
It's no surprise to see your team push back on change even if you just implemented a world class CPQ solution to make their life easier. That's why you need to have a well-designed change management plan in place. One of the major reasons why a much hyped CPQ project falls into the abyss is because it mistakes the end user as just the sales team. It completely ignores the needs of the product management, engineering, IT and finance teams.
A CPQ project has a number of stakeholders from both technical and non technical functions. So the first thing to understand here is that each will have their own expectations from this new addition. Hence we suggest you build a change management team with a representative who will provide end user expectations from each department. Alongside this, create user groups to expose them to the product while training. Even the whole messaging should be tuned according to their requirements. 
Step 7: Plan on Documentation
Documenting your sales process can go a long way in CPQ implementation. You can do the documentation in two steps: Sales user training documentation and Admin user documentation. 
Sales user training documentation will give you a good grip on executing the entire quoting process. You may include:
Quoting 

Adding Products

Configuring Products

Approvals

Document Generation

Document Signing

Close Win Opp

Amendments

Renewals
Admin User Documentation includes how CPQ is configured. Here you can incorporate:
Product Configuration

Pricing Configuration

Approval Configuration

Quote Templates

eSignature Configuration

Automation

Production Migration Template

Legacy Data Migration Template
Step 8: Ensure Post Production Support
Now that you have migrated CPQ to the production state, it's important to have a discussion with your implementation partner regarding the possible issues that can arise in the next two weeks to two months. The more complex the configuration is, more are the chances that minor issues can arise during the period.
Transforming your CPQ goals into reality is not always an easy feat, if you do it on your own. Our team at Dazeworks can help you amp up your implementation game and smoothly navigate the learning phase.