The CPQ sales tool is gaining momentum in the service industry, and for good reasons. The powerful quoting solutions delivered by CPQ are second to none. It is considered the best fit for organizations ranging from SMEs to Fortune 500 companies as it can quickly generate even the most complex quotes with no errors. Above all, increased customer satisfaction is probing every industry model to adopt CPQ in their sales processes. 
Here are 3 examples of industry-specific CPQ solutions: 
EXAMPLE 1 – A Health Insurance Company
BEFORE CPQ
Whenever there was a requirement for modification of products/ services, various internal departments like claims, finance, legal, marketing, and underwriting had to be involved to update new policy features. The task eventually became cumbersome with every minor update being run to and fro across all the departments with multiple iterations and feedback which took weeks to come to a closure. This frustrated both the agents and customers waiting to get insured, resulting in poor customer experience and carrier switching. 

The company heavily relied on Excel spreadsheets for product pricing calculations which led to problems like incorrect calculation and underwriting of insurance plan premiums and error-prone quotes. 

The legacy IT systems could not match up the ever-changing customer requirements and market demands, like the rising need for online comparison of insurance policies and quotes. 

Underwriting and legal teams were constantly bogged down with the headache of version control.

The Account Management teams took a couple of weeks or even months to process renewals.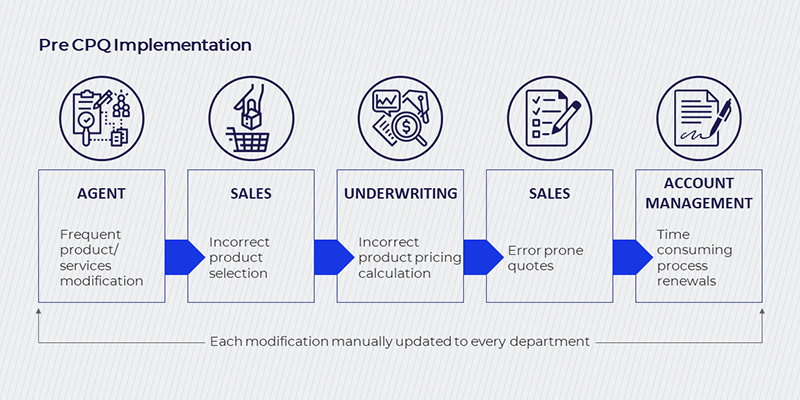 AFTER CPQ
The agile CPQ solution helps insurers change data in real-time which effectively brought all departments together on a single platform. 

The guided selling feature of CPQ plays a critical role in delivering premium plans to customers without any delay or errors. Customer data collection is now easier for sales agents as they can easily boil down customer preferences with preset questions related to their health and medical history, job income, etc. 

Implementation of CPQ ensures 100 % quote accuracy.

It simplifies complex sales processes and improves up-sell and cross-sell opportunities. 

CPQ's automated renewals solution imports data from previous contracts which helps in the quick processing of Renewal Opportunities.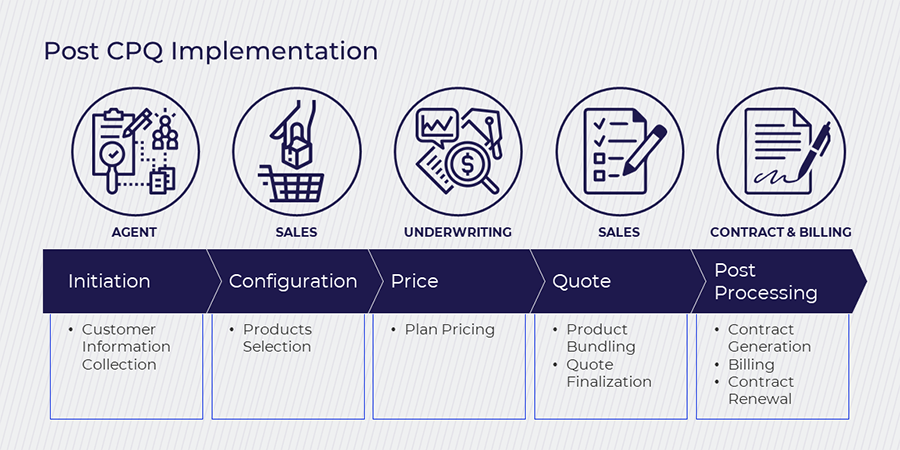 EXAMPLE 2 – A  Software  Services Company
BEFORE CPQ
The company which relied on third-party partners to sell their software solutions found it increasingly difficult to maintain partner customer satisfaction as they followed legacy quoting systems. 

Frequent changes in business requirements caused a lot of rework

The sales teams and partners did not have access to the latest product information and pricing.  Hence, they failed to deliver quick and accurate quotes to their customers. They were not always on the same page when it came to pricing, discounts, bundling options, etc which affected the quoting process resulting in a number of errors.

The renewal of various subscription models was getting cumbersome due to manual processes. `
AFTER CPQ
The CPQ software notifies the sales team whenever there is an upcoming renewal upgrade. Renewal contracts are automatically generated and reach the partners for approval. 

It offers better collaboration facilities for the partners and more visibility into the business. 

It helps businesses configure products business requirements. 

CPQ solution enables all sales-related information to be funneled into one place ensuring sales teams are able to provide fast and accurate quotes.

CPQ solution helps them eradicate the sales team mismanagement. Now the entire organization can update even the minor changes through a single platform.
EXAMPLE 3 – An Electronics Manufacturing Company
BEFORE CPQ
The company faced product misconfiguration issues while configuring custom products. There were hundreds of possible configurations, while the sales reps grappled with all the rules and regulations associated with the process, which they had no idea about. This in turn hindered them from delivering what was promised to the customers.

Duplicate data entry in spreadsheets caused errors in the final quotes 

Sales reps had no visibility into revenue reporting and were falling behind in terms of forecasting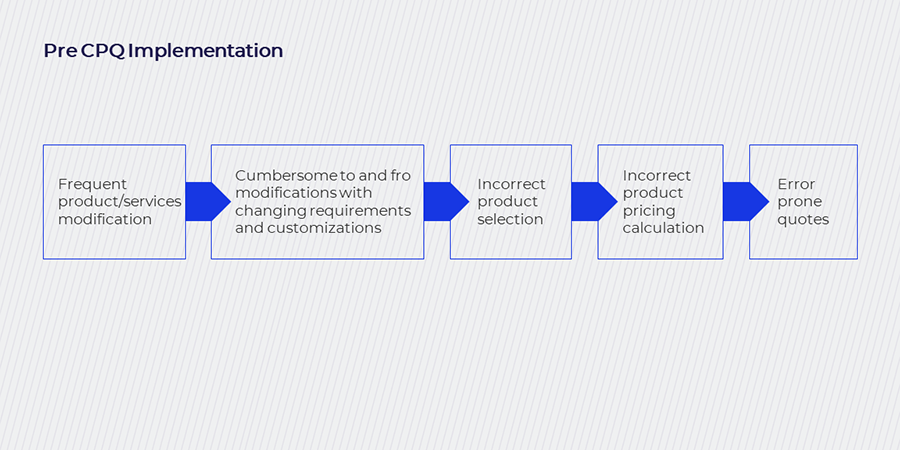 AFTER CPQ
As CPQ brings in dynamic product bundle configuration, this can help the sales teams to navigate various preset rules in each product bundle quickly and generate better bundle options automatically. 

They can access all customer information on the go just using their phones or tablets and get approval from their customers in just a matter of minutes. 

The sales team now closes incoming deals faster than ever.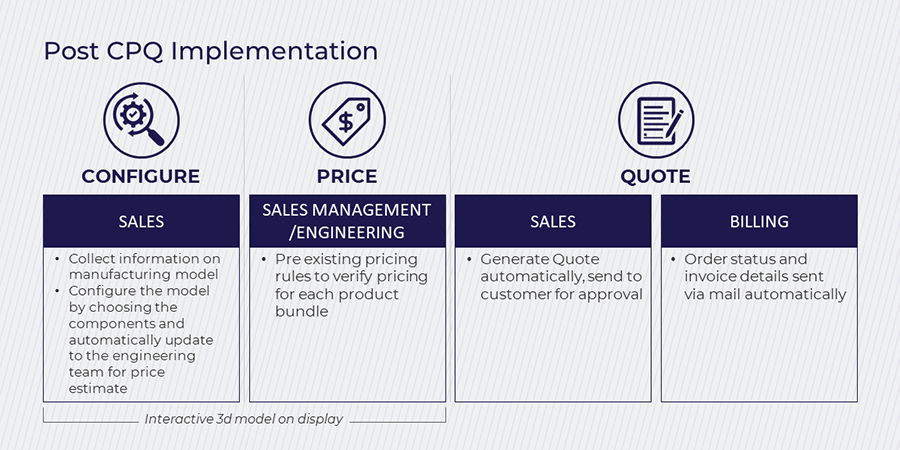 WRAPPING UP
These Examples of CPQ Facelift you would have a clear understanding of CPQ in real life. With the right implementation partner, the staggering benefits of CPQ can be leveraged by your sales team, regardless of which industry you belong to. Need more information on how a CPQ solution can help your business grow? Stay tuned for our upcoming blogs!