Managing field service can be overwhelming, particularly when the managers are unable to get a clear picture of who does what, when, where, and for whom. All these can snowball and be hard to stomach. 
According to Field Service News, 77% of companies are still using an on-premise field service solution. As a result, they are unable to achieve first-time case resolution and the managers lack visibility across all customer touchpoints, which is crucial for developing the 360 degree  customer view that every business needs today.
This is where Salesforce seized the opportunity by introducing Field Service Lightning (FSL).
Before getting into what FSL is and how it works, let's take a look at how it came into being.
I liked the product, so I bought the company!
Salesforce which grows at an incredibly fast rate (25% per year) is well known for their accretive acquisitions. They are always on the lookout for cutting edge technologies that help them stay ahead of the innovation curve and do not flinch to  bring in stellar products under the Salesforce umbrella.This habit of excellence continued when the CRM giant entered the Field Service Management (FSM) landscape in 2016 with the launch of Field Service Lightning. 
It may not have been publicized much, but ClickSoftware, which is a pioneer in field service was heavily involved in building this product from the very beginning. However as it was not a home grown product, it was not yet ready for the enterprise game. It was not until 2019 that Salesforce finally decided to acquire ClickSoftware to beef up their field service offerings. Through this deal, Salesforce now aims to meet the diversified set of customers in service industries like utilities, manufacturing, telecommunications etc, which are now heavily relying on cloud field service apps.
FSL was perhaps not in the limelight for some time unlike the other products released in the same period such as Wave Analytics and IoT Cloud. But it received an astounding uptick with a $100 million turnover in the year 2019. So far FSL is the fastest growing product in Salesforce's history! Now with Salesforce Ventures funding ServiceMax with a whopping $80 million deal, it is well on its way to  tighten its grip on the FSM market.
What is FSL? 
In simple words, Field Service Lightning (FSL) is a robust field service solution developed on the world's #1 service platform, Salesforce Service Cloud. Talk about real-time collaboration capabilities, FSL is all about it! This highly customizable tool is all you need to empower your customer service team with it's best-in-class features, all within a single platform. 
Let's consider a simple scenario where an online retailer got 3 orders from 3 different people living on the same street, which needs to be delivered on the same day. There are 2 delivery boys available for the particular slot.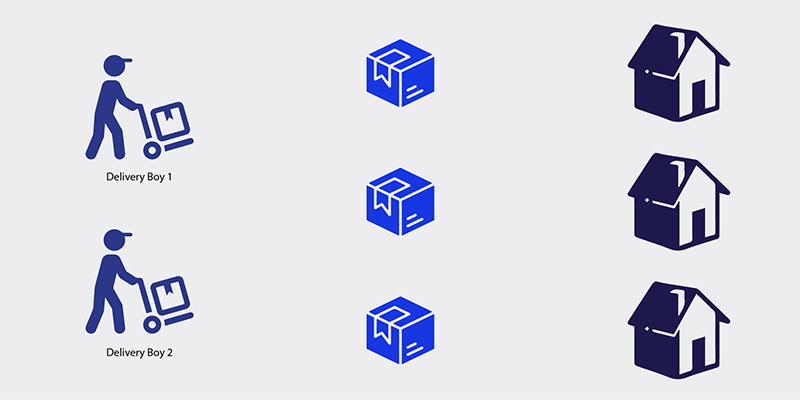 Now the question is who delivers them?
Both are available at the preferred time slot, both have the same communication skills and  both live on the same street. Do you give all three to the first delivery boy and leave the other guy with no work or do you utilize each resource equally? How do you trace their KPIs?  
Companies from different industries send agents for various purposes ranging from installations and repairs to regular maintenance, into the field. But they are faced with several unique challenges including disconnected teams out in the field, lack of efficient resource allocation, poor mobile support, and lack of integration with CRM which make it excruciatingly painful to manage field service operations. To make things worse, most organizations rely on multiple tools and solutions to try and address these challenges leading to information silos and lack of a 360 degree view. Even more treacherous it is for the  52% of companies that are still manually handling their field agents, states the 2016 Salesforce Connected Service Study.
This is where FSL comes into the limelight. The best part? It simplifies both the customer and employee experiences.
With FSL, you can :
Streamline your Entire Workforce


Provide 360 degree support to agents, dispatchers, and employees within a single platform. 

Schedule & Dispatch Employees With Ease


Intelligent and automated scheduling based on skills, availability, and location to optimize on-site service.

Manage Jobs in Real-time


Update work orders, change requests and work status no matter where you are. 
How does FSL Work?
To really understand how FSL works, you need to first get to know the three essential partners in the whole process: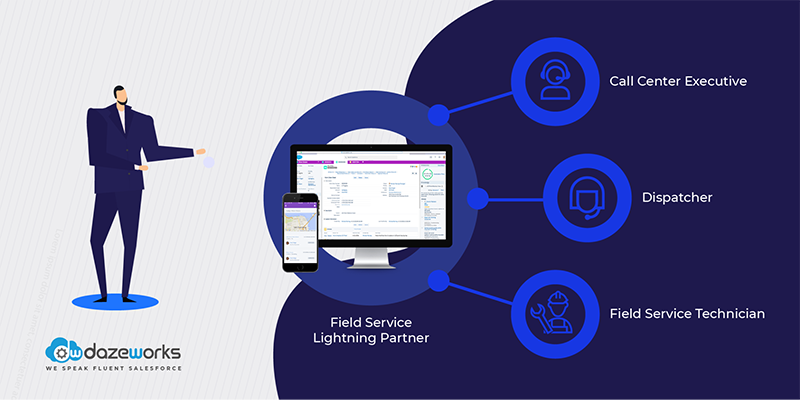 Call Center Executive (CCE) – A CCE is the first point of contact who provides assistance to the client. When the client requests service, the executive makes a corresponding record in  Service Cloud. The CCE can also book an appointment for a specialist, but cannot usually take any other actions beyond that. 
Dispatcher – The dispatcher handles the records, work orders, and appointments and then coordinates with field professionals and experts. The Dispatcher Console which is built on Service Cloud Console within Salesforce is the main working space for dispatchers. 
Field Service Technician – The FSL technician takes care of the service orders and updates them using FSL mobile applications on their cell phones. They get a complete picture of  client records and all related data through the application. 
Now let's get into the areas taken care of by FSL that makes the life of field executives a lot easier. 
Service Cloud Console:

Automated appointments and work orders within Salesforce which can also be integrated into existing records, accounts, contracts, etc.

Smart Scheduling

: Increased efficiency in  managing  field workforce. 

Dispatcher Console:

The crisp and clean Dispatcher Console helps dispatchers to schedule, optimize and dispatch service requirements all within a single platform.

Mobile App

: The highly customizable tool helps field service executives to stay on the go, no matter where they are. 
With a unique suite of tools and leveraging Salesforce's robust CRM features, Field Service Lightning has undoubtedly turned out to be a game changer in leveling up field services. Now that you've got a basic understanding of what FSL is all about, we will cover some important topics around the product in our upcoming blogs. Stay tuned!