Salesforce Sales Cloud is touted as the world's #1 CRM and for good reasons. It streamlines all business processes and workflows giving full control to the leadership team to work on their core business objectives. To empower its customers with a host of extended features and benefits, Salesforce introduced AppExchange in 2005, not just for Sales Cloud but for their entire suite of products. We analyzed the top 10 apps that power up your Sales Cloud based on the customer experience.
What is AppExchange?
AppExchange is the official marketplace for Salesforce customers to discover and access apps, consultants, and much more to enhance the overall Salesforce experience.
Salesforce states that 88% of Salesforce customers have installed at least one solution from AppExchange with total app installations exceeding over 6.5 million.
Here's what you can find on AppExchange.
Apps


These are ready-to-install third party applications for businesses and nonprofits. Some are paid while some are free.


Skip to the top 10 apps for Salesforce CRM
Components


Components are pre-built modules that can help you build your own custom business apps quickly even without much coding expertise.

Bolt Solutions


These are industry specific templates mostly built by Salesforce partners to reduce the time to market.

Lightning Data


Lightning Data is an easy, reliable and native way to datasets from third party applications to Salesforce without the need of complex APIs

Flow Solutions


Flows can be used as the building blocks to automate business processes. They are pre-packaged, can be customized to specific needs and are faster to deploy in comparison with starting from ground zero.

Consultants


This is a comprehensive  list of Salesforce approved consulting and implementation partners across the globe. As on June 2020, there are around 1440

Salesforce consulting companies
Choosing the right app for your organization
AppExchange is a vast marketplace featuring 3000 plus apps, plugins and systems exclusively meant to empower businesses to get more out of their CRM investment and extend Sales Cloud functionalities irrespective of departments or industries. According to a Salesforce report, Nearly 90% of Salesforce customers- SMB and enterprises businesses, are taking advantage of the AppExchange marketplace. So it's not surprising to know that it has been installed more than 5,000,000 times as of last year!

Of course, at first glance, it may seem overwhelming to you with so many cool apps and proprietary systems to choose from. For starters, you can always check on the following details while searching for a particular Sales Cloud app from the AppExchange search listing:
Average user ratings;

Previous reviews from customers who have already installed the SFDC app;

Editions- Essentials, Professional, Enterprise, Unlimited etc;

Price of the product – Free, Paid or Discounted for non-profits;

Your pain points, for example – Improving sales rep productivity, better sales team collaboration, proposals management etc.
Speaking of pain points, be rest assured that for every sales need that you have, there is an app in this ever growing digital storehouse.
Here are 10 of our favorite apps which can help you improve your entire sales cycle.
1) D&B Optimizer
OVERVIEW
| | |
| --- | --- |
| Category | Lead Sourcing |
| Lightning Ready | Yes |
| Average Rating | 4.9 |
| Edition | Enterprise & Up |
| Pricing | Starting at $5,000 USD per company per year |

Image Source: https://gzconsulting.org/2017/11/03/dun-bradstreet-announces-deal-with-sfdc-for-data-com-transition/
The D&B Optimizer helps sales teams derive strong customer data from multiple sources which can then be used to prioritize critical accounts. It can be used to uncover cross-sell and up-sell opportunities with greater visibility into family trees and corporate hierarchies. Also, D&B Optimizer is refreshed every 15 days and updated 5 million times a day which is a great plus. But be mindful that it requires users to gain access to a Common Data Service environment and an active subscription for Dun & Bradstreet services.
You can get started here.
Pros 
User friendly platform.
It quickly pulls relevant information.
Great customer support.
Easy to install.
Cons
Limited customization options.
Expensive compared to its competitors.
2) Ring DNA
OVERVIEW
| | |
| --- | --- |
| Category | Lead Qualification |
| Lightning Ready | Yes |
| Average Rating | 4.9 |
| Edition | Enterprise & Up |
| Pricing | Free |
A leading CTI for inside sales teams, it combines many features such as telephony, SMS, automated voicemail, call scripts, call recording and conversation intelligence. The local presence feature is a key highlight which empowers sales teams to automatically call domestic and international prospects with local area codes. So even if you are dialling prospects away from your base location, there is a higher chance of them picking up the calls since they see a local caller ID. Also, the drag and drop built IVR & ACD aids in maximising inbound call conversions.
Pros 
Great local calling presence.
Saves the precious time of sales rep as it helps in automatically dialing numbers once added to the list.
Easy to set up.
Cons
Call quality is compromised at times.

Check out RingDNA here
3) VanillaSoft
OVERVIEW
| | |
| --- | --- |
| Category | Lead Qualification |
| Lightning Ready | Yes |
| Average Rating | 4.9 |
| Edition | Enterprise & Up |
| Pricing | Free |
VanillaSoft is a companion integration app exclusively meant for organizations who do a major share of their selling over the phone. It simplifies outbound sales processes and enables sales reps to respond to new leads quickly across various channels and derive fruitful sales opportunities. VanillaSoft converts Sales Cloud into a powerful sales call tool with real time integration, scripting, call recording and call routing facilities.
Pros 
User friendly.
Great technical support.
Intellectual routing.
Cons
Occasional server outages are reported by customers.
The system freezes at times.
4) Geopointe
OVERVIEW
| | |
| --- | --- |
| Category | Geolocation |
| Lightning Ready | Yes |
| Average Rating | 4.9 |
| Edition | Essentials & Up |
| Pricing | Starting at $45 USD per user per month |
Image Source: https://www.salesforceben.com/app-assessor-geopointe/
Geopointe combined with Google Maps enables sales teams to turn their Salesforce data into valuable geographical insights. It's extensive breadth of features helps in powerful route planning and optimization, territory management, geographic analysis and automatic lead assignment based on location.
Pros 
Great geographic visualisation
Powerful route planning
Salesforce mobile ready
Cons
Additional costs required for accessing other functions
5) Salesforce Maps
OVERVIEW
| | |
| --- | --- |
| Category | Geolocation |
| Lightning Ready | Yes |
| Average Rating | 4.9 |
| Edition | Professional & Up |
| Pricing | $75/user/month, offers discounts for non-profit organizations |
The Salesforce Map App developed by Salesforce Maps boosts field productivity and sales performance with location intelligence. It helps field reps to visualize accounts and other related Salesforce data on a map and enables them to create schedules and routes for field sales. This way, they can prioritize their sales territory efforts on critical accounts in very less time while on the road.
Pros 
View customers and opportunities in the field
Auto assign leads based on location
Build routes and optimize schedules directly from the map
Track wins and losses
Cons
It's expensive compared to competitors
6) Docusign
OVERVIEW
| | |
| --- | --- |
| Category | Quotes & Proposals |
| Lightning Ready | Yes |
| Average Rating | 4.6 |
| Edition | Professional and Up |
| Pricing | Starting at $30 USD per user per month. Discounts available for nonprofits |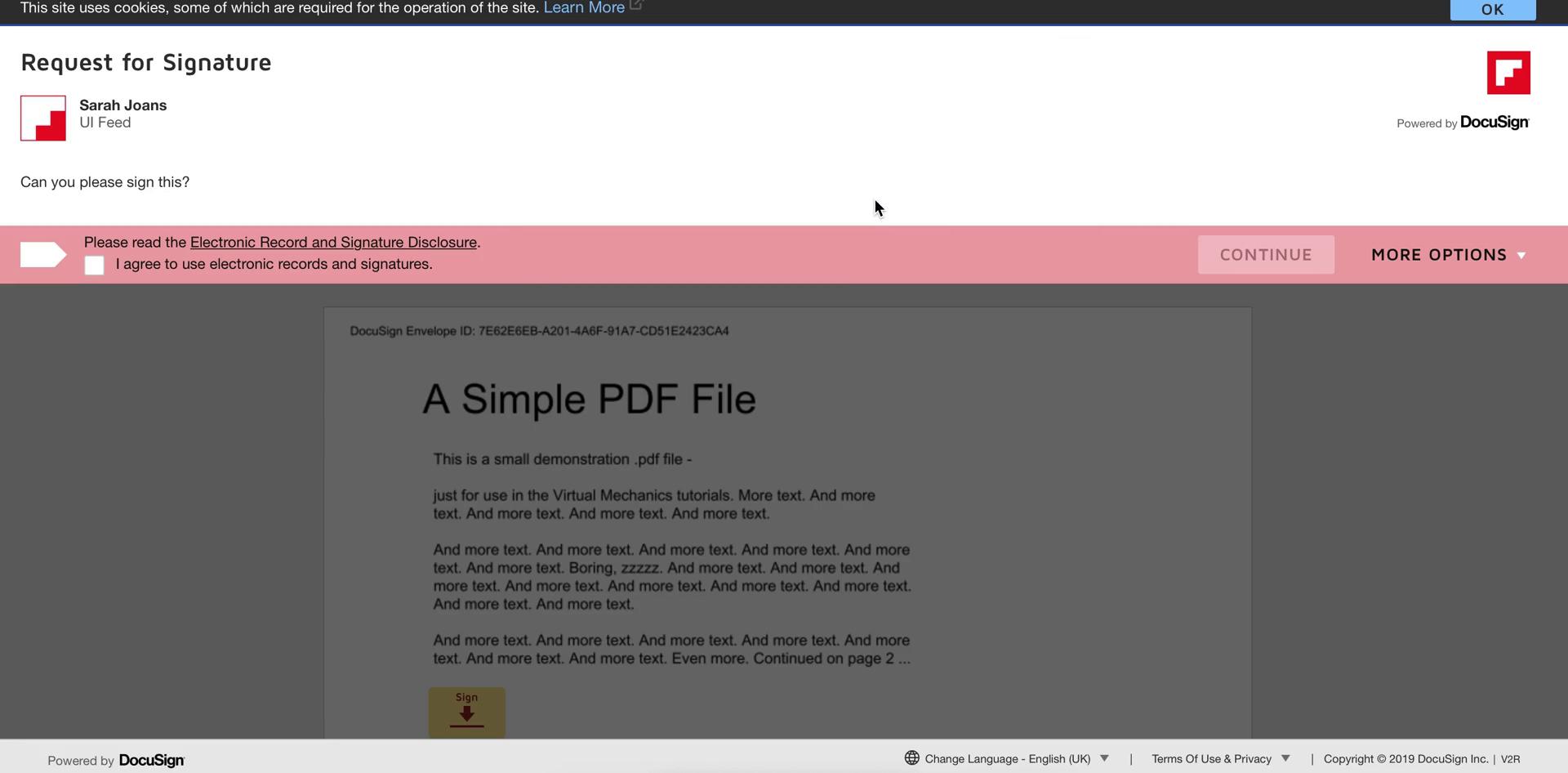 Image Source : https://pageflows.com/post/desktop-web/signing-a-document/docusign/
DocuSign, enables the sales team to stay connected, whether they are in the office or on the go. It helps them send signed and approved documents anytime from any device in a fast secure manner. Whether it is legal documentation or sales orders, Docusign simplifies the approval process by speeding up business workflows.
It has a simplistic layout which integrates well with Salesforce, allowing you to pull out your customer information instantly into any document and modify it directly in Salesforce. It is compatible with any device you use and you can easily send, sign and track agreements and approvals anywhere and anytime.
Pros 
Simplified approval process
Documents can be easily set up and edited
Cons
Expensive compared to its competitors
Check out DocuSign here
7) Nintex Drawloop DocGen
OVERVIEW
| | |
| --- | --- |
| Category | Quotes & Proposals |
| Lightning Ready | Yes |
| Average Rating | 4.9 |
| Edition | Professional & Up |
| Pricing | Starting at $20 USD per user per month |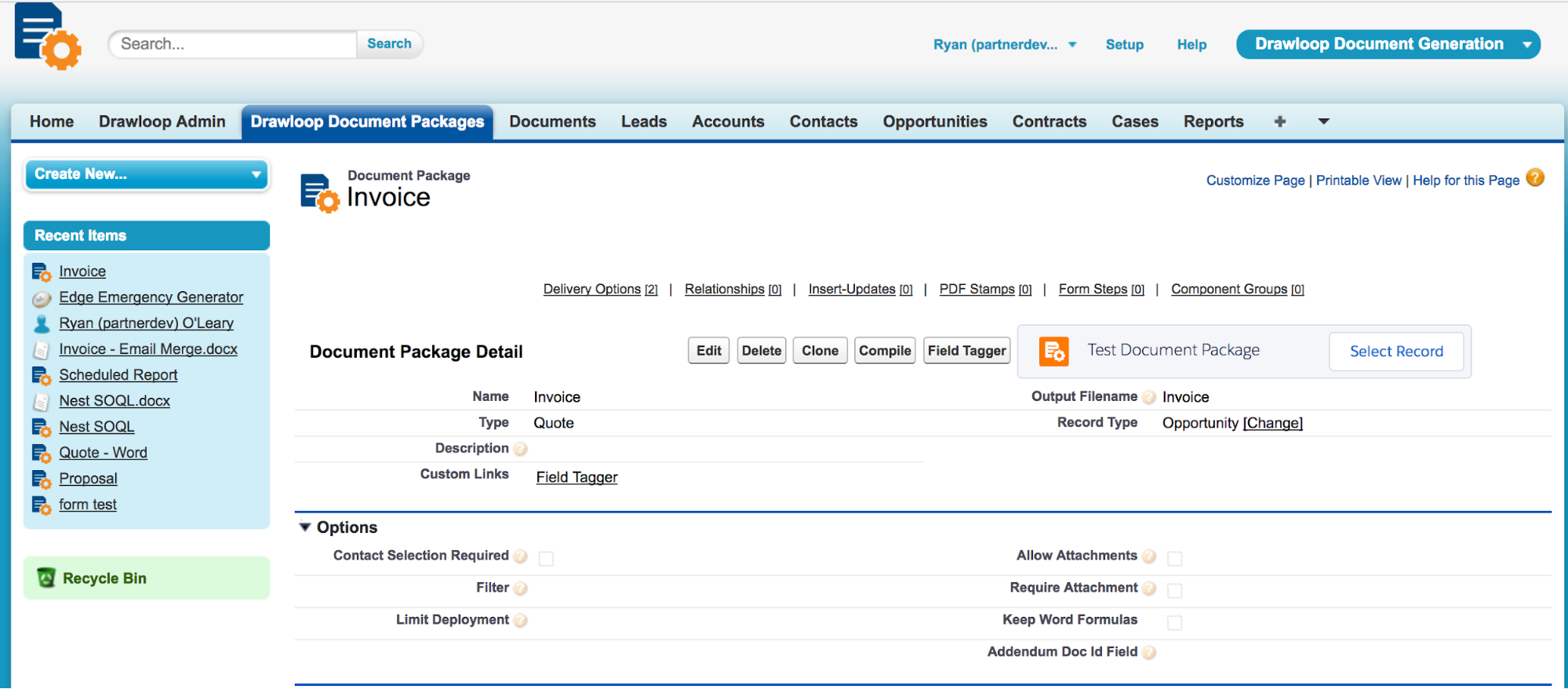 Image Source: https://www.g2.com/products/nintex-drawloop-docgen-for-salesforce/reviews
Nintex Drawloop DocGen is an application designed by Nintex in 2007, which allows any and all types of document generation in Word, Excel, PDF and PowerPoint inside the Sales Cloud. This app helps Sales reps to effortlessly create mission critical documents such as proposals, invoices, RFPs (Request for Proposal), contracts etc without being burdened by copy pasting or switching tools. Nintex's Drawloop DocGen offerings eliminate the manual errors that distract sales teams from focusing on more important tasks such as identifying, nurturing, and closing deals. It is the only no-code generation available on AppExchange. The drag and drop interface helps Salesforce admins create automated solutions even without any coding experience.
Pros 
Process automation
Easy integration with an already existing line of business applications
Ease of use – no code development of forms and workflow
Efficient process mapping
Cons
Several functions under Office 365 are still missing in Nintex Drawloop DocGen. Hopefully they will address these concerns in their upgraded versions.
Check out Nintex Drawloop DocGen here
8) Salesforce CPQ
OVERVIEW
| | |
| --- | --- |
| Category | Quotes & Proposals |
| Lightning Ready | Yes |
| Average Rating | 4.9 |
| Edition | Professional & Up |
| Pricing | Starting at $75 USD per user per month |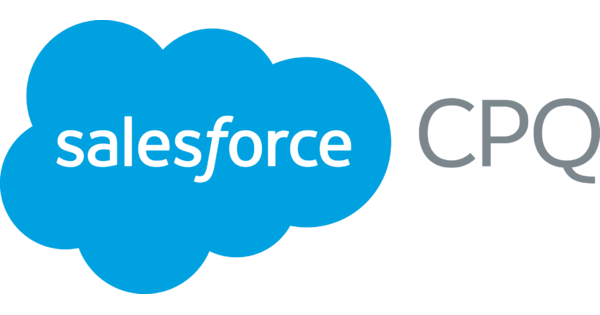 Introduced by Force.com, Salesforce CPQ is a sure shot winner among traditional CPQ applications. This Lightning-ready quote generation app can cut down your proposal creation and signature integration time to minutes. It delivers several out of the box capabilities such as pricing and discount schedule, guided selling and automatic add-ons & renewals. Customizable templates, built-in reports and dashboards are some of the key highlights of Salesforce CPQ which helps you save a lot of time while creating branded sales quotes and proposals without really leaving Salesforce. Even better, you can also integrate it with eSignature apps like DocuSign which helps in closing deals much faster.
Pros 
Speeds up the sales cycle.
Strong guided selling configurations.
Very flexible and user friendly.
Streamlines the entire quoting process.
Creates error free quotes.
Users can create multiple quotes at a time.
Cons
The quote templates have limited customization options.
Integration from other platforms is hectic at times.
The speed of the system needs improvement.
Implementation can get complex and hence requires an experienced implementation partner who can work around CPQ and Billing.
9) Salesforce for Slack
OVERVIEW
| | |
| --- | --- |
| Category | Collaboration |
| Lightning Ready | Yes |
| Average Rating | 3.5 |
| Edition | Professional & Up |
| Pricing | Free |
Image Source : https://www.empiricaldata.org/dataladyblog/top-15-salesforce-appexchange-apps-for-2020-empiricals-selection
Slack is widely adopted among many businesses due to it's crisp, well thought-out and refined user interface. The best part about Slack is it's group chat facility and it's robust integration facilities which has turned out to be a game-changer in team collaboration.
With Slack-Salesforce integration, you can notify everyone on your team whenever there is a new opportunity incoming and send a direct message on Slack. This allows the team to stay updated on leads and helps them respond faster and collaborate more efficiently. Users can also send Salesforce records directly to Salesforce channels and link important customer interactions with related Salesforce records.

Pros 
Excellent collaboration features.
It's a free app, with most of the tool's functionality available at no cost.
New features are rolled out every month.
Can create and edit Salesforce objects from the app.
Cons
The search option has room for improvement
Check out Salesforce for Slack here on AppExchange
10) Rollup Helper
OVERVIEW
| | |
| --- | --- |
| Category | Analytics |
| Lightning Ready | Yes |
| Average Rating | 4.9 |
| Edition | Essentials & up |
| Pricing | Free |
Rollup Helper is a free Salesforce AppExchange app which rolls-up any Salesforce data such as count, sum, max, min, average, percent, lookups, text, formula, and multi-currency roll-up, without coding. It's a great platform for admins, developers and business analysts as it helps them to stop coding where it is not necessary and focus on key business goals backed with actionable real-time data insights.
Pros 
Real time and scheduled rollup functionality.
Makes roll-ups easily.
Cons
It has only 3 active roll ups
Check out Rollup Helper here.
Final Wrap
The apps listed are some of the most popular ones on AppExchange. But it does not mean that all these apps are compatible and customizable with your specific requirements. During consultation, discuss with us about all possible apps that will take your Sales Cloud implementation to the next level. Whether you are looking for expert guidance on building cost effective and robust Salesforce applications or even a customized app bought from AppExchange, our team at Dazeworks can help you anytime. It's all just one free consultation away!