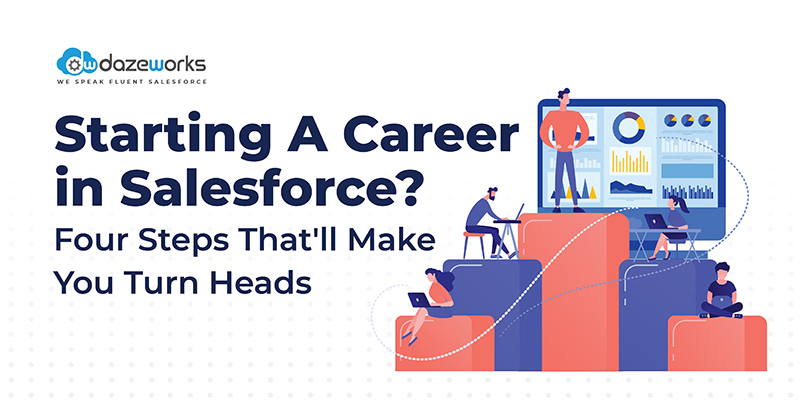 Starting Your Career in Salesforce? Here are 4 Steps That'll Make You Turn Heads
minutes read
We're seeing a massive surge in the number of programmers who choose Salesforce as their career path. According to a whitepaper released by IDC in 2017, 3.3 million new jobs and $859 billion new business revenue was predicted to be generated between the end of 2016 and 2022. So it's not surprising that the demand for various Salesforce roles are at  its peak now.
Salesforce has grown quickly to be the biggest name in the cloud CRM space. This has made it a hot shot among candidates from all walks of life, whether they are a fresher, a senior developer or coming from a completely different background. 
The best part is, Salesforce is really easy to learn given you have  the right resources and a clear understanding of the career path ahead of you. 
At Dazeworks we pave the way to your dream Salesforce career as a Salesforce Developer, Salesforce Administrator, Salesforce Architect, Consultant and so on. Before getting deeper into the blog, have a look at all our available positions here. As you can see there are several possible roles you can take up once ready.
Certifications or Experience?
Let's get real. Yes, certifications do matter in landing a Salesforce job. But at Dazeworks, that is not the only criteria that matters to us, it's a mix of skills acquired through certifications and experience.
Here is a list of steps you need to go through while chasing a Salesforce job. 
Steps to kickstart your Salesforce Career
#1 Improve your Salesforce Skill Set 
Salesforce provides many resources that you can put to good use while developing or polishing your Salesforce skill set. Trailhead being Salesforce's official training playground is where you should lay your hands on first and foremost, whether you're taking the direction of a developer as a fresher or looking for an overall career change.
Salesforce is not just that quintessential CRM anymore. It has evolved into a software that caters to every business requirement and scales as the business grows. Hence when you start learning from Trailhead, make sure to devour knowledge from the perspective of a Salesforce Administrator as well as an end user of  the CRM. This means that before you aspire to become a Salesforce developer, you must familiarize yourself with some out of the box Salesforce features without writing a single code. Remember that an efficient Salesforce Developer is also an efficient Salesforce Administrator. Learn more about process builder, reports and dashboards so that later on you will understand what custom development means to a business. 
Another point to be aware of is the huge number of trails provided by Trailhead. So do you really need to take all 185+ trails? Not necessarily. You may only need to focus on these Trailhead badges listed here. Likewise there are 30 different certifications available on Trailhead. Choose and learn those certifications that provide real value to your resume and not just for numbers. 
#2 Apply your Knowledge to Real World Projects 
Whether you are a fresher or an experienced Salesforce professional, you can be an integral part of the Salesforce Answers community and answer real world business related questions asked by fellow members. This is a great opportunity for you to learn Salesforce in a business environment and make you a better professional than 'just a developer'. Also work on sample projects that actually matter to the business world. This way you can quote your experience while you are being interviewed. Have a demo prepared and link it to your social media accounts. 
#3 Be an Active member of a User group Community
The Salesforce Trailblazer community is a force of nature that you can't afford to miss when you're trying to get noticed and create a name for yourself. So do yourself a favor and get enrolled in developer group and user group meetups in your area, which may happen every quarter or even on a monthly basis. This is one of the best ways to find people of similar interests and understand job opportunities around you. Find a user group in your area here. If you don't find a user group created in your location, why not create one on your own? In fact, most of our ninjas currently working with Dazeworks started off as student ambassadors who took initiative to create Salesforce groups while they were still studying. See how Shivam Kumar, who is one of our top performers, started out as a student ambassador here. 
Another great way of networking is to regularly participate in Salesforce community events. This along with your Trailhead presence gives you the extra mileage in landing a job. 
#4 Make use of Social Media Channels 
Social media channels are a great way to network with people without even meeting them. A major part of the Salesforce community is active on Twitter. Did you know that Mark Benioff intended to buy Twitter due to its wide popularity in the Salesforce universe? You can ask any question with #AskForce and you will most likely get it answered in no time.  Keep following all popular users and pages and do not shy away from interacting with them. The amount of information flowing through Salesforce users on Twitter is more than enough information to get started. LinkedIn is also great when it comes to job opportunities as many companies seek out potential candidates directly through LinkedIn. Follow our Linkedin page here for open positions at Dazeworks.
Ready to jump-start your Salesforce career? Now that you know how to get started, all you need to do is to work on these 4 steps and send in an awesome-sauce resume to iamawesome@dazeworks.com!