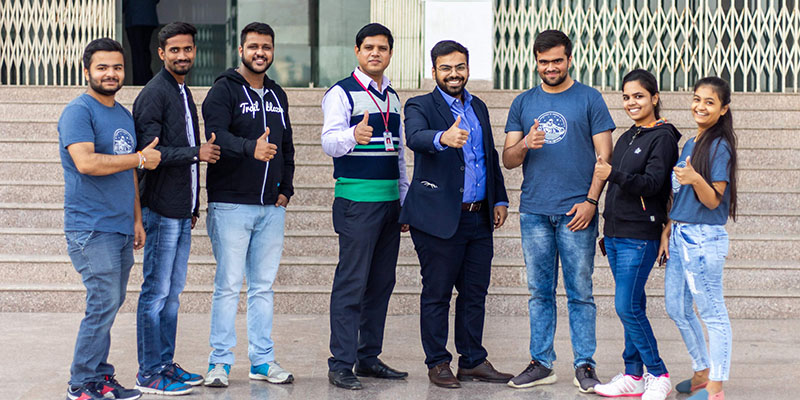 My little Steps to a Salesforce Career
minutes read
My mission in life is not merely to survive, but to thrive; and to do so with some passion, some compassion, some humour, and some style.
– MAYA ANGELOU
To be honest, my inner voice always told me to believe I am good at numbers & communication, and no matter how many wrong paths I took, my boat sailed all the way to the shore I was meant to be on.
I was in the midst of my 6th semester when I began thinking about which coding language to learn and which takes me closer and quicker towards the corporate world. At the time, I did not really focus on a single language. I was just switching from one to another.
My First Salesforce Experience
In the beginning of my 7th semester, Mr Rajesh Rajagopalan Nambiar (Academic Alliance Program Manager, APAC, Salesforce) came to our college for a session on Salesforce Ecosystem as a collaboration with ICT Academy (Bangalore). This was when I got to know about the Salesforce ecosystem and that it was totally based on cloud computing.
On the same day, Rajesh discussed with one of my friends Aviral Agrawal about initiating a Salesforce group from our college. I joined the group and started researching about Salesforce. One sunny morning I got an email from my college that a Salesforce DEV-401 training was scheduled at our college. This was officially the beginning of my learning path towards Salesforce.
Learning through Trailhead
I got to know about the fun way of learning Salesforce through Trailhead. This platform is free and has detailed content for learning. Whenever I got stuck while doing badges, my college mates helped me a lot.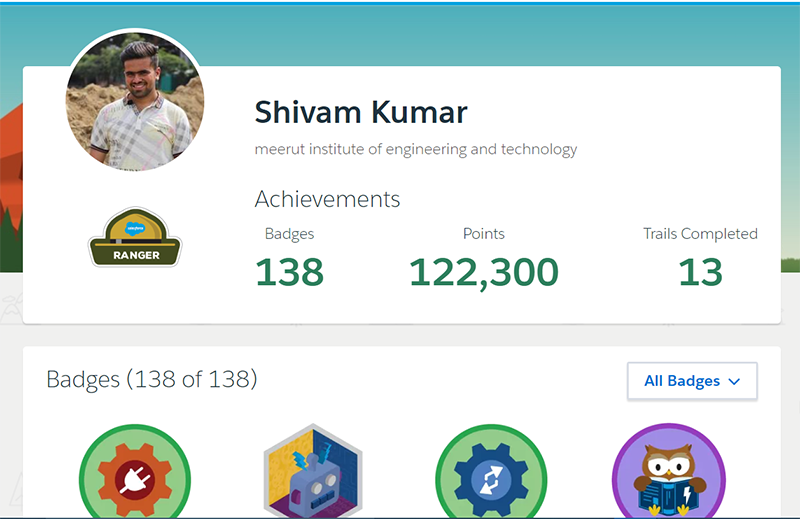 Salesforce Ohana and Community Events
One day I got to know from Twitter about JDF'18 (Jaipur Dev Fest) – a Salesforce community event organized by the Jaipur community. The JDF team were giving away event tickets to those who had earned maximum Trailhead Points. I participated in that competition along with my friends. Three of us came in the top 5 and a total of 11 students from our college came in the top 25. At the event, I got a great opportunity to learn more about the amazing Salesforce ecosystem. I attended a number of sessions on different Salesforce products. At JDF'18, I saw the Booth of Dazeworks for the first time .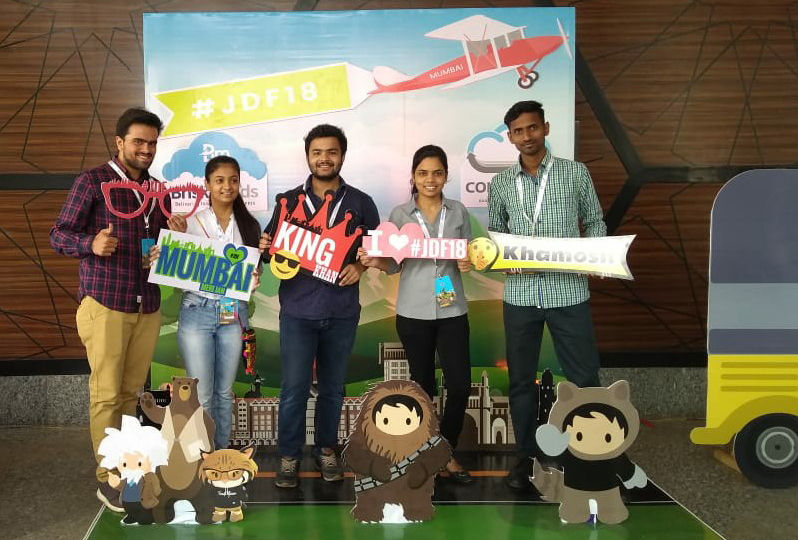 After JDF'18, I also got to know more about community events and the Ohana. Going back to our college, we were inspired to start the Student Salesforce Group. We started doing various activities based on Salesforce in our college and got the chance to distribute fun Salesforce swag among students. Through Trailhead, I began learning Salesforce and began attending interviews. In the mid of 7th semester, I was thrilled to get placed in a company which works on Salesforce.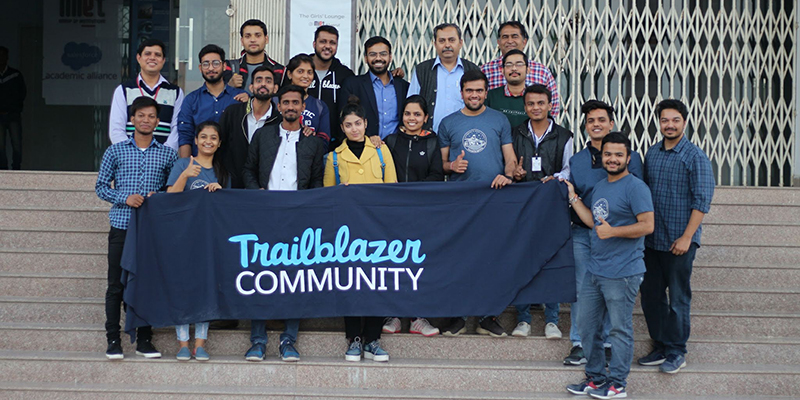 Aviral Agarwal, the guy who always tells me about the latest updates from Salesforce became my inspiration. We initiated various events and workshops in our college to enable students to learn about Salesforce and grow the student community. We also organized BAM(Be a multiplier) sessions engaging different students all over India.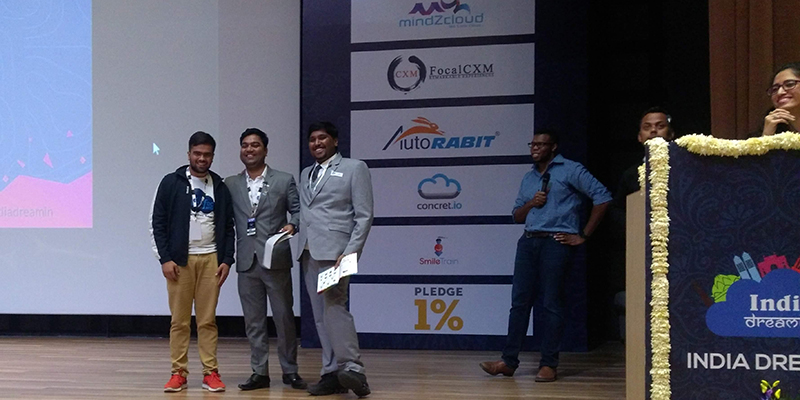 Then, I got to know about India Dreamin – the world's biggest Salesforce community event and got in touch with the India Dreamin team. I also got an opportunity for volunteering in India Dreamin'18. This was my best event and I also won a certification voucher for completing 3 super badges in 2 days. At both JDF and India Dreamin, we interacted with the Dazeworks team at the Expo booths and learned more about the company.
My Path towards Dazeworks
Soon, I got a call from the Dazeworks team for a role as a Salesforce developer trainee in Kochi. The city was 2800 kilometers away from my hometown of Meerut. But I decided to join Dazeworks because it purely works on the Salesforce platform. When I reached the Dazeworks office, the first thing I saw was the sign "WE ARE THE DREAMERS, THE BELIEVERS, THE MOVERS, THE SHAKERS, THE PLANNERS, THE DOERS" – a perfect welcome.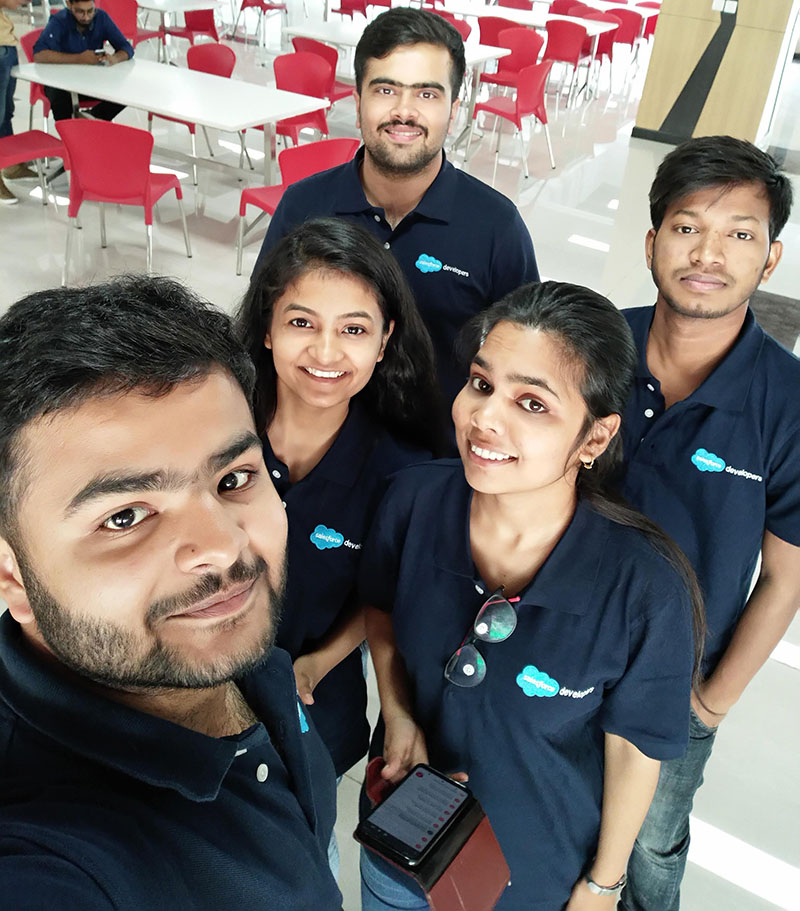 I am thankful to Dazeworks for giving me such a great opportunity to begin my career with Salesforce. My dream is to become a Chief Technical Architect and clear all the certifications along the path.
"Design is not just what it looks like or feels like. Design is how it works and how it attracts."
I just had to design myself to work in the Salesforce ecosystem!