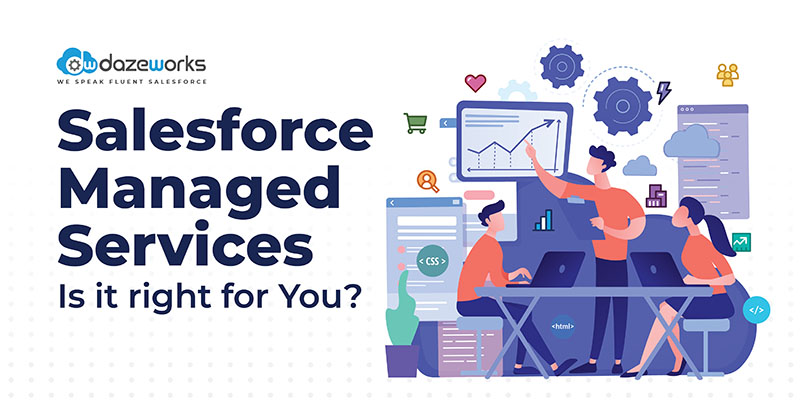 Salesforce Managed Services – Is It Right For You?
minutes read
With its exceptional capabilities to blaze trails in an organization's sales, marketing and customer service departments, Salesforce has made itself an absolute necessity for over thousands of companies all over the world. Chances are you are one among them. But it's not an easy task to extract its full potential unless it is well maintained and updated, considering Salesforce itself is evolving.. When it comes to Salesforce, implementation is just as important as maintaining it, or it could result in backlogs and an unhealthy org. To make matters worse, companies are struggling to hire full time resources with The Great Resignation trend. A record 4.4 million employees in the US left their jobs in September 2021. Organizations must analyze if they have an environment which enables them to keep up with those sudden changes and quick turnaround times. This is where you need a dedicated team to manage and support your Salesforce operations. 
Here is what you will learn in the next 3 minutes about Salesforce Managed Services.
What is Salesforce Managed Services (SMS)?

What's included in Salesforce Managed Services?

Benefits of Salesforce Managed Services?

Is it a right fit for your organization?
What is Salesforce Managed Services?
Salesforce Managed Services brings together resources for all services based on your Salesforce CRM requirements. It's a scalable and economic solution when you are not in a position to hire full-time Salesforce resources. Salesforce Managed Services enables you to take care of your thriving business without worrying about background work like regular updates, security checks, and other Salesforce administration tasks.
What's included in Salesforce Managed Services?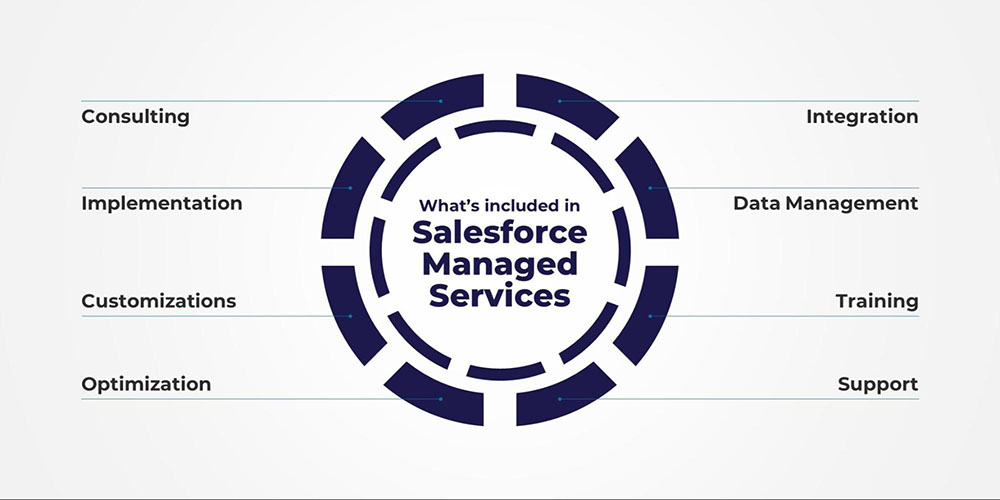 Consulting
Analyze existing business processes and build strategies on how Salesforce can bring value to your organization. 
Implementation
Deploy Sales, Marketing, Service, and other Salesforce Clouds to create a Salesforce solution that is exclusively tailored to your business needs. 
Customization
Build customized apps,  dashboards, reports, campaign setups, etc. 
Optimization
Free your org from technical debt and merge new functionalities to sync all processes.
Integration
Integrate third-party systems to the Salesforce org and ensure it is relevant as per Salesforce's new releases every year. 
Data Management
Create a flawless data architecture that aligns with business strategies and user requirements. 
Training
Conduct training for end-users to impart best practices for using the Salesforce platform.
Support
This includes bug fixing and periodic security checks to make sure the platform is in absolute compliance with security best practices. 
Benefits of Salesforce Managed Services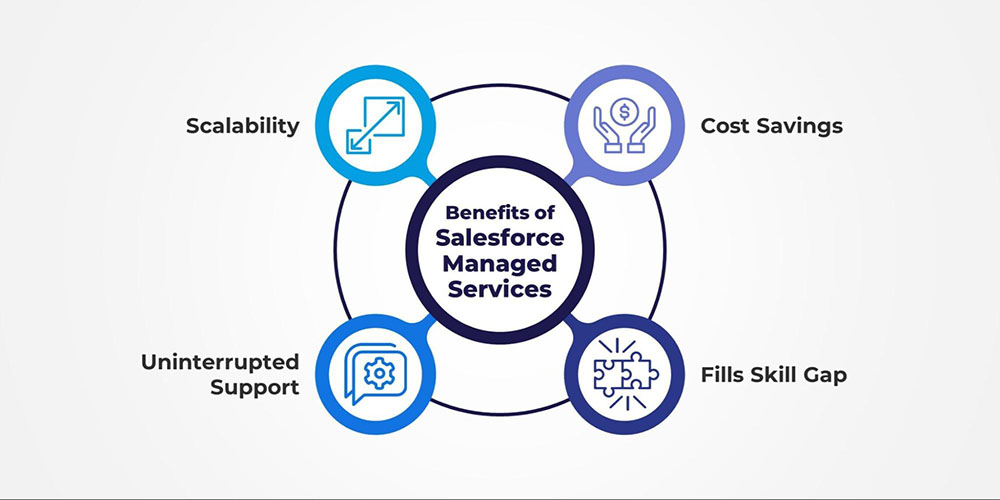 Cost Savings
The average salary of a junior Salesforce administrator is $97,350 in the United States.   The average salary of a senior administrator is $122,350. Hiring a Managed Services team helps you cut down money spent on recruiting, hiring, and onboarding the right people in-house, which can be excruciating at this time.
Fills Skill Gap
87 % of companies say they have skill gaps or expect to within the next three years. Salesforce Managed Services can easily fill such skill gaps as it provides flexible options to avail the right resources at affordable prices. So whether you need an admin or a developer, this model helps you tap them for a particular task or project. 
Uninterrupted Support
Salesforce Managed Services takes care of frequent updates demanded by Salesforce three releases every year without interfering with current business processes. 
Scalability
As your organization grows, your vision and goals evolve. The managed services model enables you to get additional assistance and support without really having to hire or re-hire a resource. You will never outrun your resources or your tools. All you need to do is to update your contract and the rest will be taken care of.
Is Salesforce Managed Services Right For Your Business?
We are not claiming that Salesforce Managed Services is the only solution that fits your business. If your inhouse team meets all the Salesforce expertise and experience criteria, be rest assured that your Salesforce org is in good hands. But there are certain signs that tell you if Salesforce Managed Services is indeed the need of the hour: 
Your IT costs are skyrocketing and you are unable to predict what it would cost you on a monthly basis. 

Your existing Salesforce admin cannot effectively maintain the Salesforce org and you need a resource or a dedicated team of experts with broad Salesforce experience and understanding. 

You know deep down that your team is not prepared for a surprise phishing attack since there is no proper data management in place. 

Strategic growth is mission-critical now that your business is growing. 

Peace of mind! Simple as that. You are tired of micromanaging your in-house team when clearly there is so much more that can be brought to the table. 
If you are going through similar obstacles and are ready to make a change, consider getting into a free 1:1 consultation with our team at Dazeworks. Our Salesforce Managed Services will cover all your Salesforce needs that evolve as your business grows.
References:
https://www.nagarro.com/en/blog/why-salesforce-managed-services