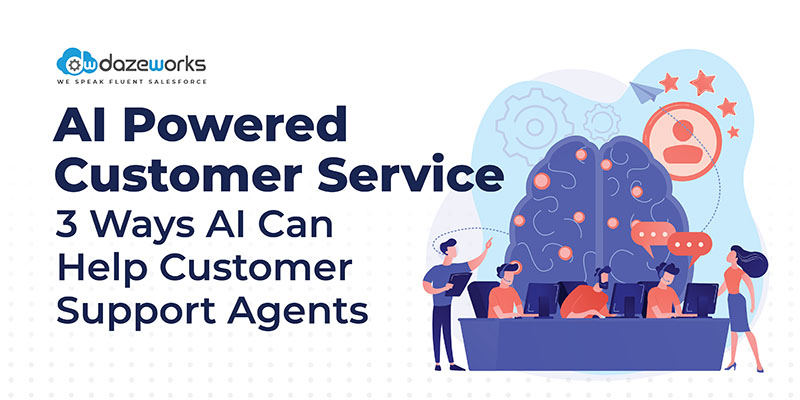 AI Powered Customer Services: 3 Ways AI Can Help Customer Support Agents
minutes read
Business leaders consider customer service their top priority as they plan for a post-pandemic future. They are reinforcing their strategies using new tools to address customer support problems in this era of hyper-connected customers. There are a lot of  AI powered customer services, we are only going to discuss a few.
Many companies are incorporating artificial intelligence into their customer service solutions as they realize it's not just hyped anymore. However, some are still unaware of how AI can transform their customer service operations. According to Salesforce's  "State of Service" report, 56% of service leaders are discovering ways to use AI, but only 24% are actually using it today. 
Through this blog, we explore 3 ways AI can help customer support agents: 
Case Classification and Routing Automation
Support agents have a hard time gaining visibility into customer details and routing them to the right agents. This is particularly true when there is heavy inflow of requests through multiple channels. This results in not knowing how to prioritize calls and an increase in Average Handle Time (AHT). Infusing AI in your contact centre can help support agents to efficiently classify cases and route the call to the right agent the very first time. An AI tool captures information from various case histories and automatically routes cases to the right agent.
An example is Einstein Case Classification (ECC) of Service Cloud Einstein, which has AI capabilities directly integrated into the Salesforce module. This out of the box functionality uses ML to analyze past cases and auto-populates certain checkboxes and fields to help agents get the job done faster. This enables them to identify high priority cases quickly and reduces the time of resolution.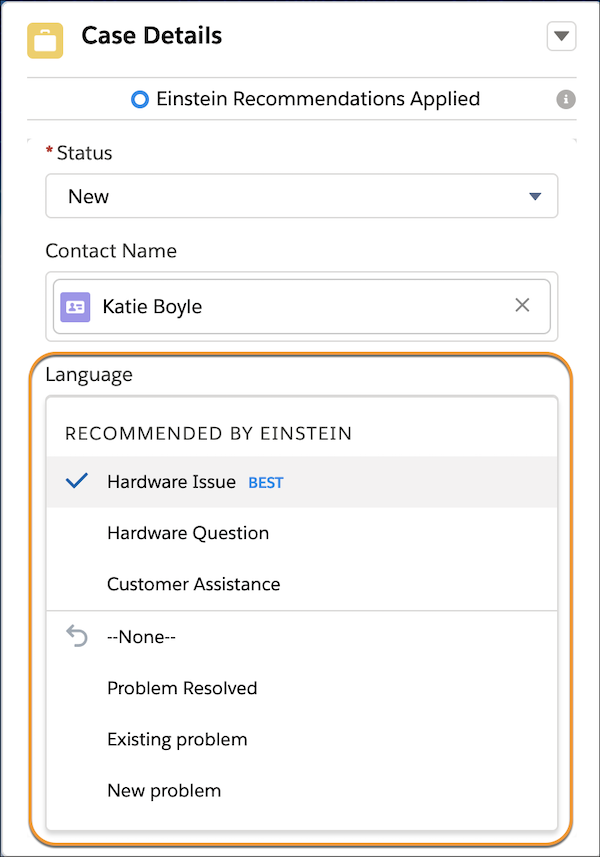 Based on the results from the case classification,  Einstein Case Routing can now be used to triage the cases to the right agent. It uses the current routing logic to analyze which support agent has the right skills and knowledge to address the query. So now that the manual effort put into the triage of incoming cases has  reduced, the agents can now spend  quality time assisting customers. 
Article Recommendation and Next Best Action
Often when a customer reaches out to the support agent with a problem, it is difficult to understand the emotion behind the text mentioned in the Description Field. AI tools guide the agents to present them with right recommendations for maximum impact. It uses predictive models and maps data using cross references to create personalized recommendations which is instrumental in building customer loyalty. 
For instance, the Einstein Article Recommendations provide hundreds of knowledge articles based on previous closed cases. With this, cases can be solved  without any delay. The support agents can access these articles based on the relevance of the recent case and mark them as  helpful or not.  Then there is Einstein's Next Best Action which helps in delivering personalized and optimized recommendations based on specific customer requirements. This feature recommends the right action to be taken at the right time. So if you have noticed a high account attrition rate recently, this feature can be used for proactive actions to rectify a negative customer experience, like sending an apology mail and providing suitable new product offers. 
Chatbots
When a customer does not have the time for a direct conversation with an  agent, chatbots are a great way to resolve their concerns. While nothing can actually replace the essence of a face to face conversation, the hyper-connected nature of customer service asks for the intervention of technology in addressing their concerns. This is exactly where AI chatbots can help. AI based chatbots like Einstein  understand what the customer wants by going through repetitive behavior patterns and give immediate answers to customer queries. Whether it is to book a product or to change the order status, AI chatbots provide the right information. Support agents can now handle challenging cases while AI chatbots take care of the mundane and predictable work in the background. 
These are a few AI powered customer services, comment if you know more Ai powered customer services.
Want to learn more about Salesforce Einstein? Read our blog on how Salesforce Einstein can boost the marketing efforts of your organization.
Image Source: https://www.salesforceben.com/10-salesforce-service-cloud-einstein-features-use-cases/