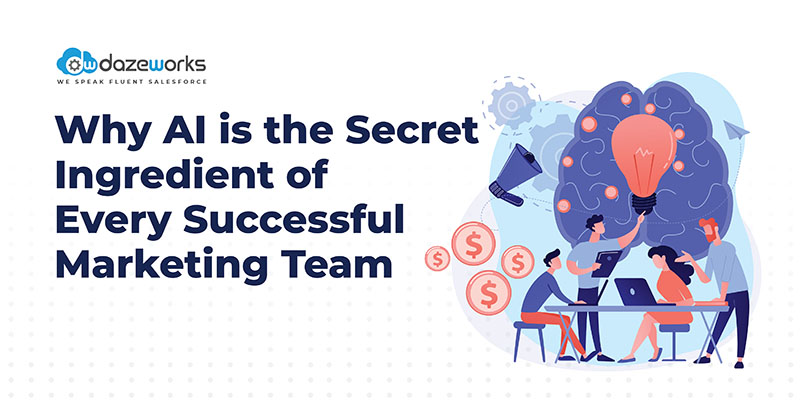 Why AI is the Secret Ingredient of Every Successful Marketing Team
Posted by Seethu Maria Mathew
minutes read
Ever wonder why your marketing team is having trouble getting through to customers, even when you know you are sitting on top of a data mine of potential customers? If you haven't got the hint already, it's not your team that needs a shake up. Instead it's time to look out for better tools that enable them to reach the right audience.
AI helps marketers who struggle with data explosion incoming from various channels and guides them to build meaningful connections with their target audience. Be it understanding customer requirements, providing them the right product and service recommendation and subconsciously encouraging them to buy, AI tools are what you need to move ahead. Let's discuss how every intelligent marketing team uses AI as their secret ingredient.
Increase Lead Generation Efforts
Your marketing team might already have an idea about the best leads out there. But digging out leads from high volumes of data is like finding a needle in a haystack. Guess who has that superpower? AI! It pulls  out relevant information from huge data sets and uses them to make accurate predictions. It will give answers to the following questions:
Who is that ideal lead in your database?

Is there an ideal lead outside your database?

What is the next best action to convert a lead?

What would probe the lead to take an interest in you?

Is this lead actually worth chasing? 
Deploying AI considerably reduces the amount of time your team spends on finding these answers. A great example of this is Salesforce's Einstein Scoring which creates a score on each customer that is likely to be converted as a customer.
Personalize Interactions
Marketers can use AI enabled tools to automate email campaigns and send the right message at the right time. These email campaigns will be generated on previous user history like their browsing patterns and interest in certain products. AI finds the perfect time to send the email, which could be for example, a customer who is about to unsubscribe or contemplating on subscribing to your newsletter. This gets even more interesting when AI helps you find answers to specific scenarios, say, if you send a mail at 5 PM EST, will he/she open the mail? Or how much is too much? What one-liner should you avoid so they don't feel invaded? Also let's not forget about the massive influence AI chatbots have in lead conversion. Nearly 6 in 10 executives said bots can improve their organization's ability to handle customer queries by networking with other bots, and that they can deliver personalized attention to website visitors by being more conversational (Credits:Accenture). 
Customer centric companies like Salesforce are already determined to change the age old 'one-size fits all' user experience design. Through its newly introduced Einstein Designer feature, it aims to design a unique UI for each customer visiting the website, that too in a matter of minutes. How cool is that? 
Actionable Customer Insights
There is an ocean of data flowing through the internet and simple surveys and polls are not enough to perform deep market research. It becomes even more difficult to find a buying pattern in the B2B space. Gaining actionable customer insights lets your marketing team  capture customer purchase patterns and provide them with relevant product recommendations. AI tools equip the team with marketing insights to keep customer interests high. AI enabled tools use predictive analytics to garner real time customer insights aiding in  sentiment analysis. It effectively cuts through unwanted chaos and highlights market trends that help understand customer behaviour patterns. It answers all the why questions like
Why is the click through rate higher at a particular time?

Why is the customer interested in a particular product/service?

Why do customers regularly visiting a page remain undecided about  purchase?
A notable feature to mention here is Salesforce Message Insights which pinpoints you to all changes in marketing performance like click rate, open and subscribe rates etc.
Now that you have data-based answers, you can start your email campaigns to the right audience at the right timing. This takes us to the next area where AI contributes to the marketing team.
Target Audience/ Segmentation
Finding the right audience and breaking it down into the right segments changes your whole marketing game. AI helps you narrow down your audience to those who are genuinely interested in learning about your product or service. Contrary to traditional market segmentation, AI uses real customer data to create target segments and automatically tweaks marketing campaigns based on target audience. Machine learning capabilities cater to the varying individual segments and tweak each variable such as email subject lines, the content inside the mail, image and even CTA. For example, the Einstein Content Selection feature under Marketing Cloud helps you personalize your content, which customizes every email based on the customer information you provide.
Parting Thoughts
There are several AI tools out there, but you need to find a tool that grows along with your business and is accessible to all market segments.
Salesforce's Marketing Cloud Einstein offers a plethora of features that'll take care of your entire marketing campaign efforts. You can find more information on Salesforce Einstein Marketing Cloud here. 
Datorama in partnership with Salesforce released three Datorama connectors-Social Studio, Email Studio, and Mobile Studio to make the most out of marketing analytics. It acts as a one-stop solution for all marketing reporting needs which spans across social media channels, emails and mobile campaigns. 
As you can see, Salesforce is a major player in AI driven marketing tools. And they continuously strive to extend their capabilities by building new connections with companies that fuels their AI+Marketing innovation initiatives.
Interested in reading similar articles? We've also written a blog on the influence of AI in transforming a sales team. Let us know your opinion in the comments section.
Reference:
https://www.salesforce.com/eu/products/marketing-cloud/why-salesforce/
https://www.salesforce.com/products/marketing-cloud/best-practices/artificial-intelligence-for-marketing/
https://www.salesforce.com/in/products/marketing-cloud/best-practices/marketing-ai/
https://www.forbes.com/sites/forbesagencycouncil/2021/08/26/five-ways-artificial-intelligence-will-change-the-b2b-marketing-industry-in-the-next-four-years/?sh=b52fae950b22
https://www.destinationcrm.com/Articles/CRM-News/CRM-Featured-Articles/Salesforce.com-Announces-New-Datorama-Connectors-129547.aspx