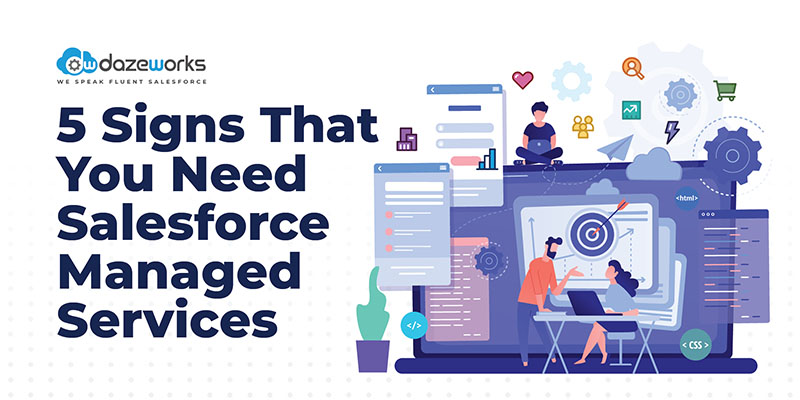 5 Signs That You Need Salesforce Managed Services
minutes read
As a Salesforce user, you would have already figured out a post implementation plan, either by hiring a Salesforce implementation partner or any other Salesforce consulting service. But more companies are moving away from the time-worn break-fix models and adopting Salesforce Managed Services for Salesforce maintenance and management. So how do you know you need an extension to your in-house team and your Salesforce partner?
In this blog post, we will discuss 5 signs that you need Salesforce Managed Services.
What is Salesforce Managed Service?
Salesforce Managed Services caters to any Salesforce requirement from your organization. It is intended for those businesses that look for maximum returns from their Salesforce investment without having to hire full-time Salesforce professionals.
What Are The Benefits of Salesforce Managed Services?
Managed services give more accessibility to Salesforce certified professionals on a need basis, from a basic concept to periodic upgrade and support. This saves the unnecessary monetary investment associated with building and maintaining an in-house team. For instance, at Dazeworks, we cover everything including Salesforce consulting services, Salesforce implementation,Data Deduplication, org health audit, Salesforce optimization, Release management, AppExchange app development, Salesforce integration, User training and Salesforce Admin Support Services.
Signs That You Need Salesforce Managed Services
1.  Strategic Growth over a Break-fix Approach
A break-fix approach is beyond the point of return for your organization. You are currently looking for re-engineering via forward-thinking management and technical guidance around design, feature configuration, and best practices. If you are tired of the old school break-fix model and desperately need professional guidance on maximizing your Salesforce investment, you should immediately sign up for Salesforce managed services.
2.  Increase in Costs
If you are used to getting support only when a problem happens, it can create unnecessary and unpredictable expenses. Chances are you may already be paying way too much if you are using the break-fix model. As we are going through the great resignation era, it is even more difficult to find top Salesforce talent as your full time resource and it's not cheap. If hiring, onboarding and maintaining full-time Salesforce employees is taking a toll on your bottom line, it's time to consider an alternative.
3.  Inadequate Inhouse Team
You have relied on your inhouse team for so long. But now you may see things differently and realize that they don't have the required expertise or are stretched thin. They are used to taking reactive decisions. This does not help your Salesforce org's growth as it has three new releases to get accustomed to every year. Hot fixes are not a solution anymore and being proactive is the smartest choice for Salesforce success.
4.  Looming Security Threats
Is security and compliance a major concern for your business? Do you fail to conduct regular Salesforce org health check ups? Are you worried sick of possible phishing attacks? Your inhouse team may at times be too busy to incorporate preventive measures against security breaches which can lead to system failure. If you have limited resources to manage and optimize your Salesforce org, it's time to consider a Salesforce Managed Service provider.
5.  Salesforce Admin is Not Enough
You don't have a system admin with extensive Salesforce knowledge to handle complex business requirements. Now that your company is in a growth mode, you need to  integrate your Salesforce org with other systems. Your business needs customized reports and insightful business dashboards that your in-house resources can't build. This is when you need Salesforce Managed Services so that you get unlimited access to resources with a broad understanding of how that works for your business.
If you're facing similar challenges and would like to get maximum results from your Salesforce implementation, look up our Salesforce Managed Services.