The business world is in a period of digital transformation. As innovations develop, businesses over the globe are finding that time-tested methods that have kept them above water earlier may never again be sufficient. 70% of consumers say that new technologies have made it easier for them to take their business elsewhere.
Salesforce CRM is an award-winning solution created by Salesforce as part of its extensive sales and marketing solutions under the Salesforce brand including separate systems for analytics, marketing, service, and community cloud. It is the #1 CRM solution provider and has been listed seven times consecutively on the Forbes list of companies to watch out for. The implementation of Salesforce has now become almost mandatory for small and large businesses wishing to survive and grow. It has constantly been graded high due to its flexibility, administration, customization, and implementation. Salesforce is named a Leader in the 2018 Gartner Magic Quadrant for Configure, Price and Quote Application Suites. Vendors are positioned in the Gartner Magic Quadrant based on completeness of vision and ability to execute.
Are you Lightning Ready?
The next level of faster, simpler CRM is here – Salesforce Lightning! Lightning is a new, fast and improved experience from Salesforce helping you reinvent your sales process. Lightning components and apps are the future of the Salesforce platform. You can get a completely reimagined user interface with a seamless experience across all your devices.
Image source: Salesforce.com/in/products
Why is Salesforce considered the best?
It's in the cloud – so your team can use it anywhere.

It's a CRM – helping you create & manage great customer experiences.

It's flexible – so you can get it working like YOU want.

It's more than a CRM – a signed up customizable stage for your business so you can influence it to work like you need it to.

It's customer-friendly – enhances customer support and customer service.

It's best for maintaining standards – amplify Customer Data Management & Quality.

It's more effective – improves Marketing Campaigns, customer retention, loyalty, and satisfaction.

It's highly productive – rise in profit limits.

It's versatile – improves the mobility of the business.
How does Salesforce help your Business?

Meet your Sales Targets Faster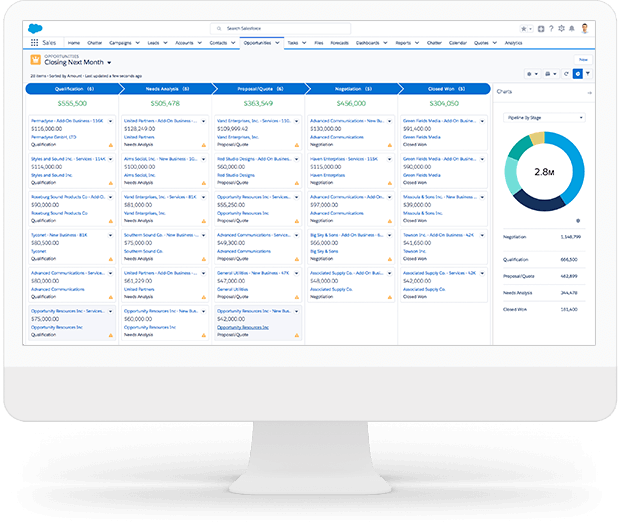 Image source: Salesforce.com/in/products
With Sales Cloud, your sales team can grow accounts, find new customers, and close deals faster. It includes features such as Web-to-lead to support online lead capture, with auto-response rules.
Achieve 100% customer satisfaction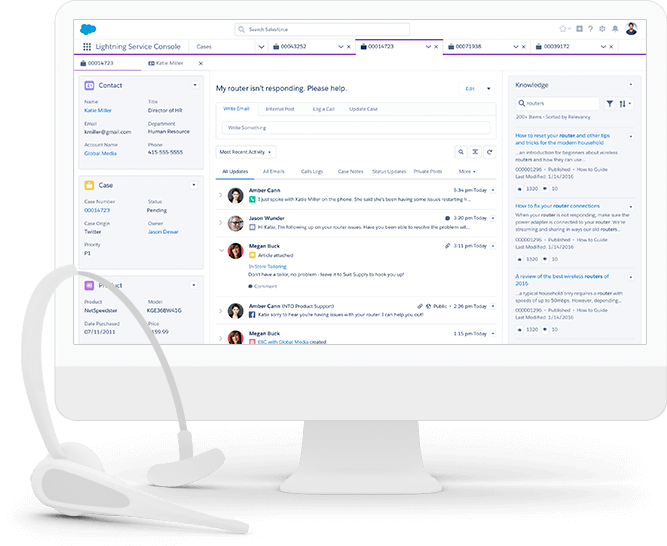 Image source: Salesforce.com/in/products
Service cloud helps you empower agents on the path to customer success with smarter, faster service tools. It encompasses features such as the Public Knowledge Base, Web-to-case, Call Center, and the Self-Service Portal, as well as customer service automation.
Market your products and services online
Image source: Salesforce.com/in/products
Marketing Cloud incorporates integrated solutions for customer journey management, email, mobile, social media, web personalization, advertising, content creation, content management and data analysis.

Boost growth and productivity with insights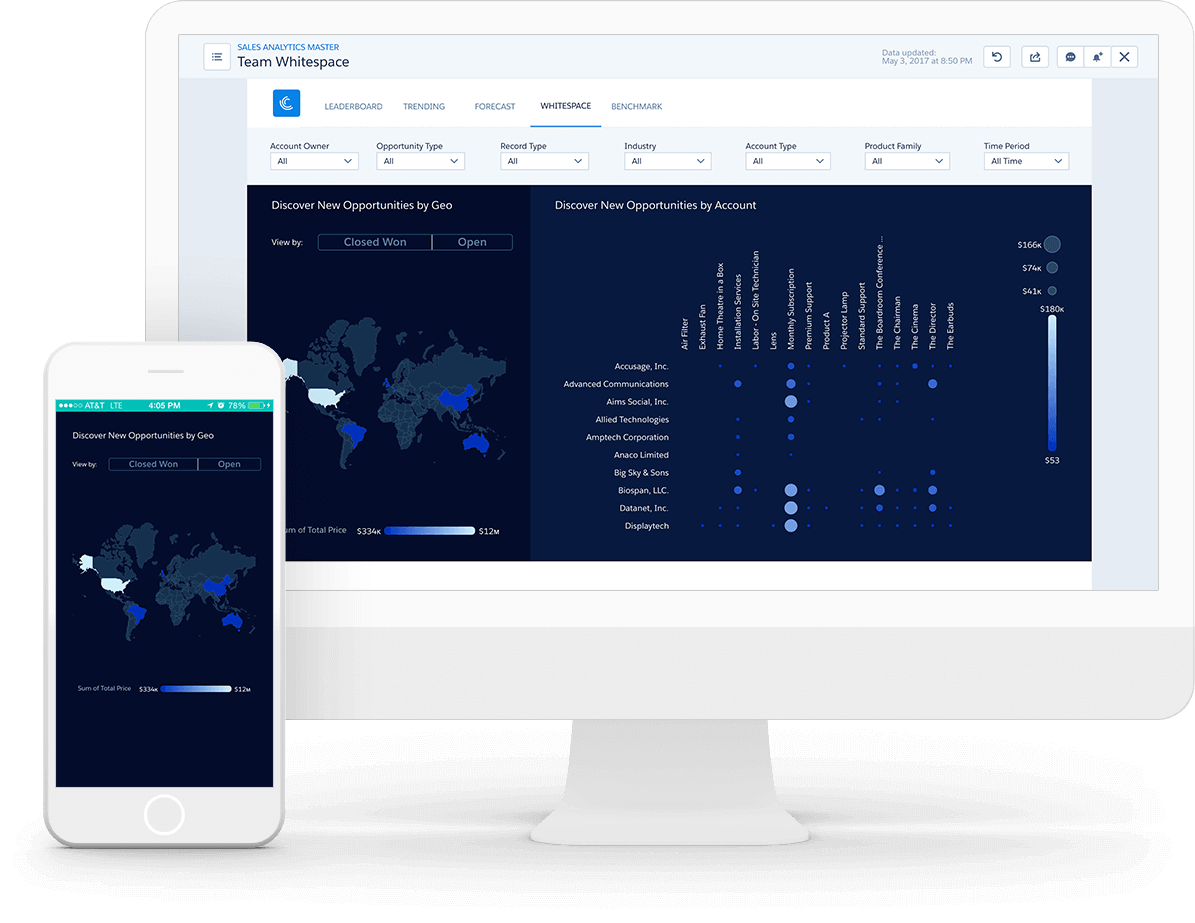 Image source: Salesforce.com/in/products
Salesforce Analytics Cloud gives you the insights that you don't currently have so that you can constantly improve your service. Automatically dive into data to uncover answers to all aspects of your business! Analytics combines dynamic, interactive data visualization with the power of machine learning to deliver insights and data-driven applications for every business user.
Easily access data

Image source: Salesforce.com/in/products
A typical enterprise uses many applications, many or most of which are not designed to work with one another out-of-the-box. Integrating separate but related apps help organizations achieve greater levels of operational consistency, efficiency, and quality.
One central canvas to power smarter marketing programs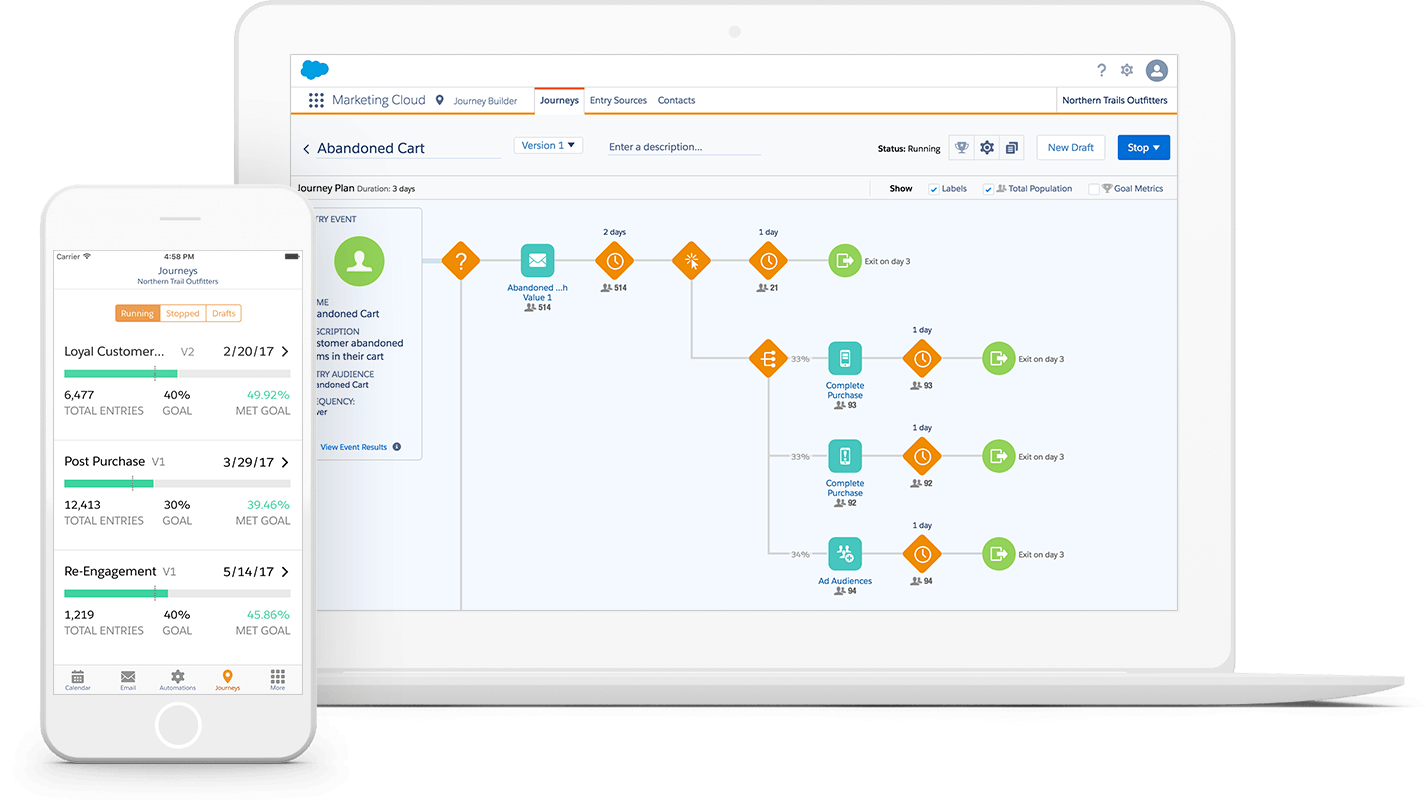 Image source: Salesforce.com/in/products
Pardot is the next generation of B2B marketing automation which is smart, powerful and keeps you connected. It allows marketing and sales departments to create, deploy, and manage online marketing campaigns from one central platform. Together, Pardot and Salesforce empower every rep to act at the time of engagement, and every marketer to drive greater outcomes from campaigns.
Have a question on how Salesforce can fit your business? Reach out to our expert ninjas for a free consulting hour here.