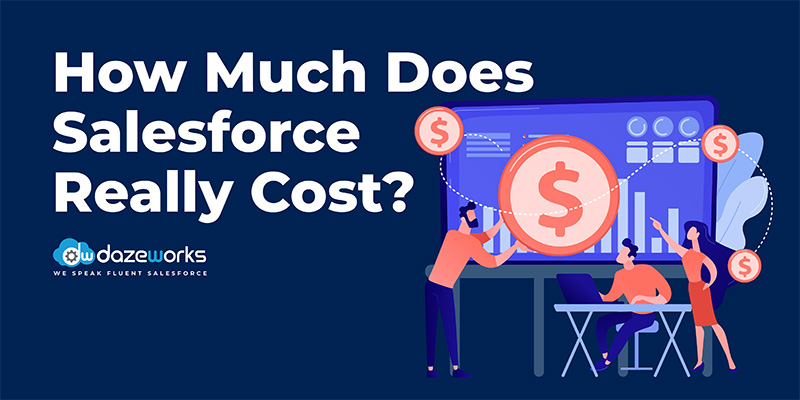 How Much Does Salesforce Really Cost?
minutes read
As the #1 CRM in the world, Salesforce is the go-to solution for many organizations. SMBs and Fortune 500s sought out this solid platform with equal passion. But how equipped are you when it comes to understanding the cost structure? The Salesforce pricing may look pretty straightforward, but it's layered and more complex than at first glance. Due to lack of understanding, many organizations pay more than they need to. 
Having spent considerable time with our Salesforce clients,  we are here to help you get a grip on how much Salesforce will really cost you so that you can make smart decisions to save your money with laudable results. Here are some hidden costs you should watch out for while determining the overall Salesforce cost.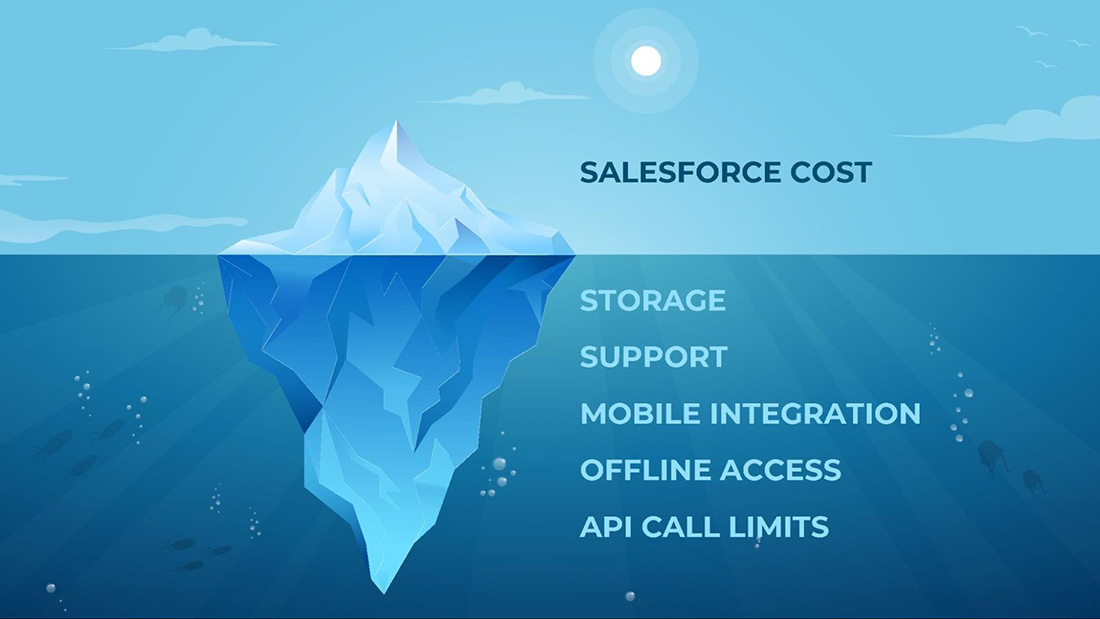 Storage
As crucial as it is to the Salesforce system, data and file storage is pretty much the most expensive add-on irrespective of the license you've chosen. The basic storage limits granted by Salesforce is:
1GB of data storage- Accounts, Article Types, Contacts, Google docs, Leads etc.

10 GB of file storage- For all documents and attachments used per organization.
If you're buying Professional or Enterprise as an additional purchase you will get access to 20 MB data storage per user, 612MB file storage per user, and 120 MB data storage if you buy the Unlimited edition.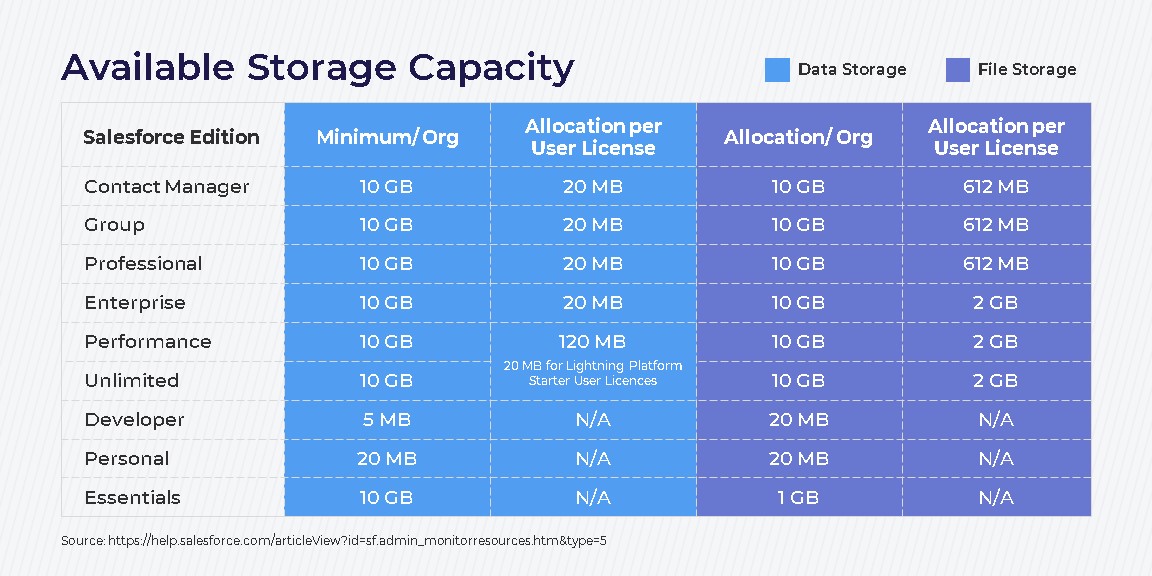 Sounds great? Now here comes the hard part. 
As your business expands and your Salesforce CRM matures, your needs will increase. The flow of customer information will be too huge to handle and will thus hit the storage limits. In this case, you have a choice to buy extra storage. This is available as data storage blocks, 50 and 500 MB blocks at a cost of  $125USD/month for 500MB. File storage can be purchased at $5USD/month. 
Did you notice that it's not charged per user but per amount of data used? As this is not a one-time payment, brace yourself to pay an exorbitant amount, way higher than what you've initially invested in for your license.
Support
Salesforce provides basic support in their starter plans for example, a 2-day response time and a gateway to the Salesforce community. Sales managers often shy away from buying a premier plan without actually realizing the importance of customer service and support in the success of their CRM implementation. To get the most out of Salesforce you must get 24* support, via phone,  developer support, lightning fast response and success guidance. And in order to access these privileges, you need to buy Premier or Premier+ Success plans with an additional 20%-30% of your total license cost.
Mobile Integration
If you want to access Salesforce CRM on the go, you can do so with Mobile Lite which is a free mobile-based solution provided by Salesforce. But this service has restricted functionality and does not include key features such as custom objects, configuration customization and so on. An alternative here is to buy the full version of Salesforce Mobile Lite, so that you can customize the entire solution at your will. If you are already a Salesforce Unlimited customer, you can avail this for free. But for Professional and Enterprise plans, you'll have to pay an additional upgrade cost of $50 per user per month.
Offline Access
This is one of the most crucial aspects to be considered when determining your Salesforce cost. Getting access to CRM offline is crucial as you may at times need your CRM info on the go even if you are in a situation without internet connectivity. Salesforce does provide a possibility to access CRM offline through a facility called as briefcase which is an online and offline edition of Salesforce CRM. This edition is free for customers using Enterprise and Unlimited plans. But if you're about to purchase the Professional edition, get ready to pay $25 per user per month.
API Call Limits
API call limits literally decide your CRM's near future.
It can cause a butterfly effect in your CRM strategies especially in case of any complex integration projects planned. 
In simple terms, Salesforce limits the number of API calls which means the total number of system interactions such as inquiries between your CRM and external data sources. 
Salesforce API call limits are locked at 15,000 calls within a 24-hour period.
We wish it was as simple as it sounds. 
Think about this. Every time a request is made, even for a page of CRM data, you are consuming the API limits. The total number of requests across all your applications in Salesforce can reach this limit quicker that you can imagine. This gets worse for large companies. 
In this case, you may have to purchase more user licenses or upgrade all users to the most expensive tier which is the Unlimited Salesforce Performance edition. It is available at a price of $300 per user per month.
Wrapping Up
By now you've understood that Salesforce pricing structure needs careful consideration. What looks like a basic quote as cheap as $25/month can escalate to $1000 per month if you are not aware of the hidden costs of Salesforce.
If you need any additional information regarding Salesforce implementation costs or you want help optimizing your Salesforce license cost,  do get in touch for a 1:1 call with our Salesforce MVP.
Reference:
https://www.workwisellc.com/wp-content/uploads/2020/04/TheRealCostofSalesForce_Update.pdf
https://www.maximizer.com/the-hidden-costs-of-salesforce/
https://www.janbask.com/blog/salesforce-price-in-2019-uncovering-the-hidden-cost/#Salesforce_Hidden_Fees
https://medium.com/@dlog/salesforce-integration-managing-hidden-costs-69ea67128760