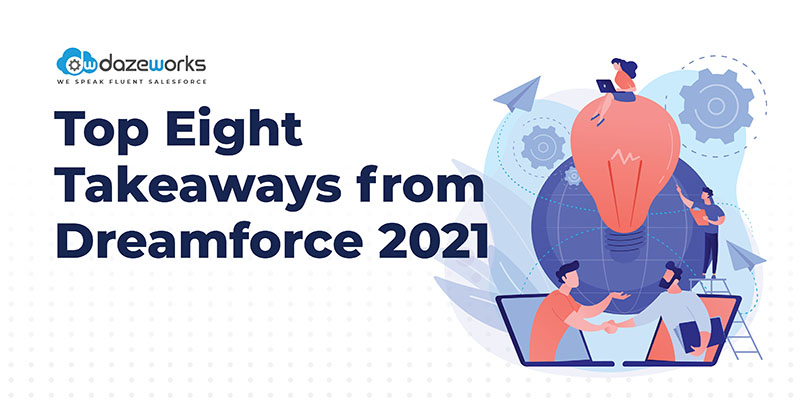 Top Eight Takeaways from Dreamforce 2021
minutes read
We never thought we'd ever see a gala event like Dreamforce getting confined to a limited in-person conference. Well now we've  seen everything, thanks to you know who! 
But like every cloud has its silver lining, Salesforce gave us an opportunity to watch the full event through Salesforce+, literally from anywhere in the world!
A lot happened during the coveted Salesforce annual meet-up, and this time the discussions were focussed on the long term vision of Salesforce as a platform rather than major product displays compared to the previous Dreamforce events. But there were key announcements which you must certainly take notes on as they will be game changers in how Salesforce powered organization will function in the future. 
Here are our top eight takeaways from Dreamforce 2021.
Slack Steals the Show
If there is one announcement that stood out to us during the DF'21 event, it's about the Salesforce + Slack updates. Slack is now officially proclaimed as the digital Headquarters. You'd have already noticed that Salesforce has been big on promoting Slack ever since the acquisition happened in December 2020. Integrations around Slack have been the key focus at Dreamforce 2021. Salesforce discussed how combining Slack with Customer 360 will be a transformative experience for organizations who are looking out for new methods to work in this pandemic era.
Native Backup and Restore Product
Salesforce has been enhancing ease of use in each update made this year. A major one to be noted here is Native Backup and Restore Product. Salesforce already had a number of backup solutions, but this is purely native to the Salesforce platform. It has several features that will cater to data protection with more flexible options. With Backup and Restore, you can now automatically create daily backups of business data such as custom and standard objects, files, attachments and even metadata. In this age of remote working environments, many organizations are relying on cloud systems than before. An advanced backup solution like Native Backup and Restore Product will help them prevent data loss and other errors. 
Unveiling New AI Based Products for the Marketing Cloud
Salesforce has announced new AI driven features that will fuel the Marketing Cloud performance. Datorama connectors, Interactive Studio and Salesforce CDP will help bring in more personalization to marketing campaigns and create a more human touch to their interactions. 
Salesforce CDP– The Einstein Engagement Scoring feature of Salesforce CDP will help  better understand the subscriber list and improve engagement with them. 
Interactive Studio– New additions to Interactive Studio includes Interaction Studio Templates, Interaction Studio + Experience Cloud Integration and Interaction Studio + CRM Integration. These help understand customer behavior and purchase patterns while they are on a website and customize messaging accordingly.
Datorama Connectors: New integrations like Einstein Marketing Insights will help marketers to build personalized marketing campaigns. 
Sales Cloud Gets Three Much Needed Additions
As expected, Salesforce announced new Sales Cloud and Revenue Cloud features to enhance revenue intelligence. This has also been in alignment with the current "remote, digital-first world" theme. 
Salesforce Revenue Intelligence: New revenue intelligence tools such as Einstein Deal Insights and Pre-built Analytics will help sales teams to predict the future of a deal using AI. 
Sales Enablement: The Enablement feature which is infused intoSales Cloud is highly beneficial for on-boarding and training sales teams. Tools like Einstein Call Coaching will give insights on how they can make better sales calls. 
Subscription Management: Revenue Cloud subscriptions will be now easier to manage through its self service features. With these features customers will be able to take care of their customers from all channels, be it a website, mobile app or even in-store. 
Introducing MuleSoft RPA to the Einstein Space
As an extension of the Salesforce-Service Trace acquisition that happened in August 2021, Salesforce has now released MulesSoft RPA to enable administrators to automate mundane tasks even if they have no technical knowledge. The Mulesoft RPA tool will be part of the Einstein Automate group. Customers can use it as a standalone solution also. However it will only be available to customers by the first half of 2022.
The Power of Tableau AI on Display
The Tableau team highlighted its AI capabilities such as Tableau Prep and Data Governance capabilities which will ensure more success with data analytics without compromising on data integrity and security. 
All about Salesforce Health Cloud 2.0
Salesforce used Salesforce Health Cloud to bring back the crowd to DF '21 and showcased how businesses and governments can take care of the health and welfare of their employees using this tool. The Dreamforce events saw how effectively they maintained safety protocols and vaccine management using the Health Cloud Platform. No doubt that this platform will be immensely helpful in conducting in-person events without compromising on safety protocols, which we have been missing for the past two years. 
It's The End of Workflow Rules and Process Builder!
Well, it's a sad day for all Process Builder fans out there as Salesforce announced its retirement. Yes it's actually happening! Salesforce was already pushing everyone to migrate to Flows by adding new functionalities, and let's not deny the fact that Flows are super fast! Also Salesforce is planning to provide tools for smooth migration from Process Builder to Flows. So do yourself a favor and start brushing up on Flows! 
We're curious to know more about your thoughts on these announcements!  Which according to you will impact your business the most? Do mention it in the comments section.
Reference:
https://searchcustomerexperience.techtarget.com/news/252506077/New-features-coming-for-Salesforce-Sales-Cloud
https://techcrunch.com/2021/09/16/salesforce-announces-new-mulesoft-rpa-tool-as-it-expands-workflow-automation-offerings/