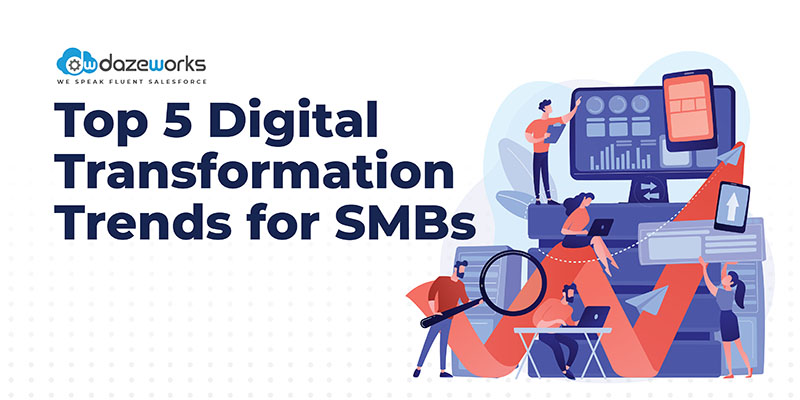 Top 5 Digital Transformation Trends for SMBs
minutes read
99% of small businesses globally plan to offer contactless services even after the pandemic, in fact permanently, according to a Salesforce report titled 'Small and Medium Business Trends'.
Clearly, the pandemic has affected the way SMB leaders look at their business operations. It has shaped the digital transformation movement. Let's have a look at the Top 5 Digital Transformation Trends for SMBs that will be pivotal in the way SMBs function in the year 2022 and beyond. 
#1 Cloud Solutions
The emergence of cloud solutions have helped SMBs to compete with global enterprises which would not have been possible a decade ago. Cloud solutions act as a catalyst for SMBs to scale quickly and deliver quality services to their customers. 
According to a Salesforce study, simplicity and ease of use were the main factors cited by growing businesses while evaluating new technologies. For this reason, many SMBs chose cloud for smooth implementation. Software as a Service (SaaS) models like Salesforce,  Microsoft Office 365 are getting a lot of attention among SMBs as they are easy to set up and cater to their long term needs. 
#2 Artificial Intelligence
Gone are the days when SMBs stayed clear of AI. Growing businesses foresee drastic changes from the pandemic, and have started integrating AI solutions into their existing processes to increase operational efficiency. They will continue to incorporate AI chatbots and voice assistants to deliver hyper personalised customer service. 
Meredith Schmidt, Executive Vice President and GM of Essentials and SMB at Salesforce predicts that AI will be accessible not just for high-end enterprises, but also for  SMB operations in the coming future.
"AI will help small businesses offer more personalized experiences to their customers by maximizing their time and automating manual tasks" says Meredith. 
#3 Cyber Security
Based on Salesforce's Connected Customer survey report findings, almost all SMBs (90%) , especially growing SMBs, are focused on data security and taking steps to ensure safety of their customer information. 
As more SMBs and startups adopt digital transformation, large volumes of sensitive data are being stored and transferred through various digital channels making them vulnerable to security threats. Hence, SMBs consider cyber security as mission critical to secure customer information. They are building strong IT infrastructure that has advanced defense mechanisms against cyber attacks. 
#4 Data Analytics
Mere data is not enough for businesses to grow. They need to make sense of this huge volume of data to get actionable insights and make informed decisions. SMBs focus on employing data analytics to identify and anticipate unique customer requirements. It is evident that there is no room for assumptions anymore. Hence they are implementing various forecasting solutions and predictive analytics to understand what exactly the customer wants at the right window of time. 67% of small businesses are spending more than $10K a year on analytics. The key takeaway here is that the data analytics tools are now not just made for large enterprises, but many tools like Salesforce Einstein are designed keeping SMBs in mind.
#5 Personalized Customer Service
SMBs are prioritizing customer experience and engagement more. They are aware of the impact of digital transformation solutions in enhancing customer experience in a structured manner. Most SMBs particularly in the ecommerce vertical are saying yes to a contactless shopping experience to improve their customer service operations.
As mentioned in Salesforce's latest Connected Customer survey, 71% of SMB leaders say their customers expect them to have an online presence. Interestingly, 63 % SMBs currently have an e-commerce presence which includes the 31% of new companies that moved online in the past year. 
To sum up, SMBs are putting customers at the heart of their services to achieve sustainable growth. They are adopting digital technologies like AI, data analytics, and automation to get valuable information on customers expectations and deliver a holistic customer experience across all touch points. 
Parting Thoughts
SMBs and large enterprises are no longer considered unequal in the market. SMBs can offer any product or service if they become part of the digital transformation movement. All they need to show is a positive attitude towards investing in new technologies to unlock their true potential.
What do you think about these Top 5 Digital Transformation Trends for SMBs? Would you like to add more to the list? Let us know in the comments.
References: