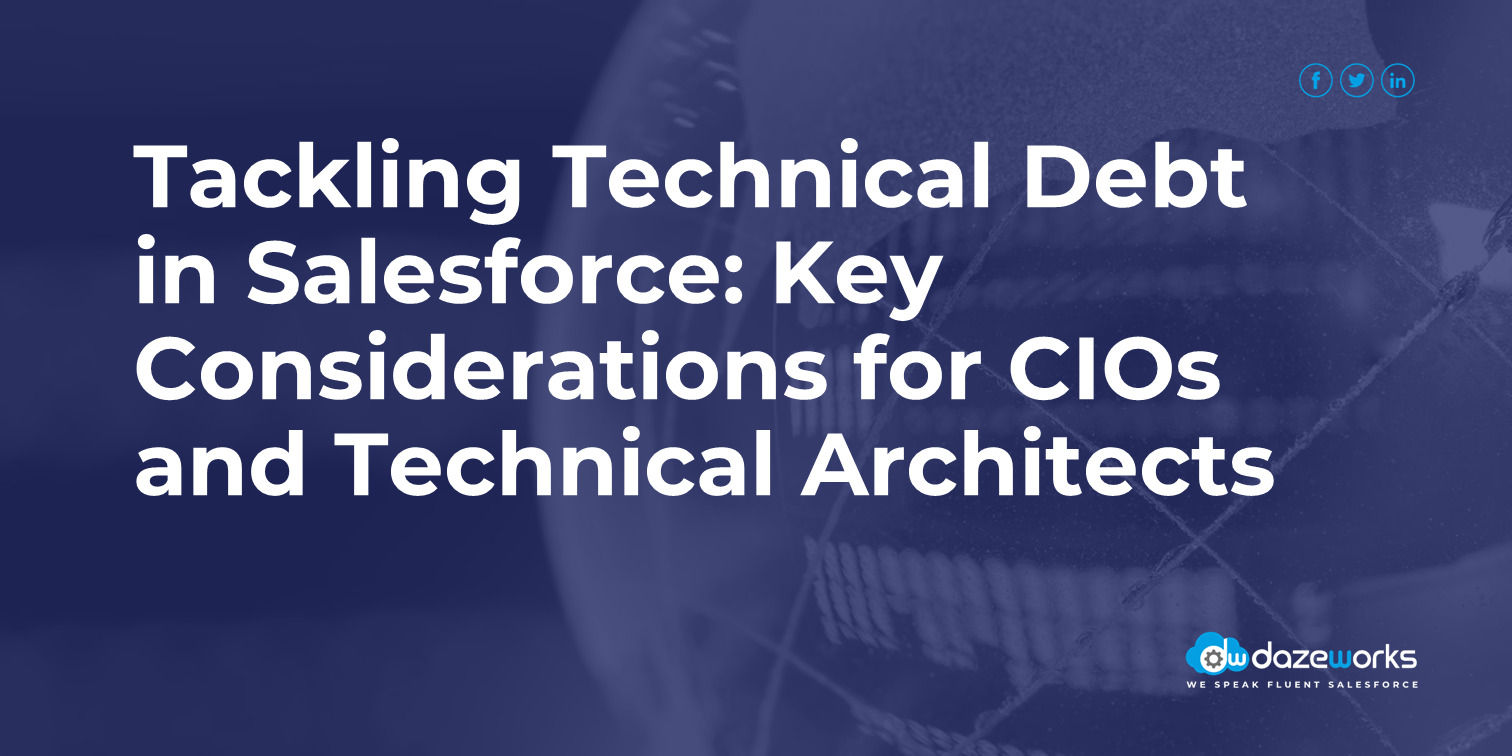 Tackling Technical Debt in Salesforce: Key Considerations for CIOs and Technical Architects
minutes read
Salesforce is an incredibly powerful platform, but like any complex system, it can accumulate technical debt over time. In this blog post, we'll discuss the importance of addressing technical debt in Salesforce, outline the considerations for technical architects and developers, and provide actionable steps for managing and reducing technical debt.
Why CIOs Should Prioritize Solving Salesforce Technical Debt?
Technical debt in Salesforce can lead to a variety of issues, such as reduced system performance, increased maintenance costs, and decreased agility in responding to business needs. By proactively addressing technical debt, CIOs can unlock the following benefits:
Improved system performance
Reduced maintenance costs
Increased ability to adapt to changing business requirements
Enhanced user experience and adoption
Higher ROI on Salesforce investments
Considerations When Solving Technical Debt in Salesforce
Understand Your Salesforce Environment
The first step to addressing technical debt is to thoroughly understand your Salesforce environment. This includes:
Analyzing your org's metadata, including objects, fields, and Apex code.
Reviewing integrations with other systems
Identifying areas of customization and potential improvements.
Establish Clear Goals and Priorities
Before embarking on a technical debt reduction project, it's essential to establish clear goals and priorities. This may include:
Identifying critical business processes that need optimization.
Prioritizing areas with the highest impact on system performance or user experience.
Aligning with the organization's strategic objectives and business requirements.
Assess the Scope and Complexity of Technical Debt
It's important to evaluate the scope and complexity of the technical debt in your Salesforce org. This may involve:
Evaluating the number of customizations, unused features, or redundant configurations.
Assessing the complexity of your Apex code and triggers.
Identifying outdated integrations or deprecated features.
Structuring the Project to Tackle Technical Debt in Salesforce
Assemble a Cross-Functional Team
A successful technical debt reduction project requires collaboration between various stakeholders, including:
Technical architects and developers
Business analysts and process owners
Salesforce administrators and end-users
Develop a Roadmap and Timeline
Create a detailed project roadmap and timeline that includes:
The prioritized list of technical debt items to be addressed
The estimated effort and resources required for each task
The timeline for completing each phase of the project
Implement a Governance Framework
To ensure long-term success in managing technical debt, establish a governance framework that includes:
Clear roles and responsibilities for maintaining Salesforce org health.
Regular reviews and audits of customizations, integrations, and code quality
Guidelines and best practices for future development and configuration work
Steps for Architects and Developers to Solve Technical Debt
Refactor and Optimize Code
Identify opportunities to refactor and optimize Apex code, such as:
Eliminating duplicate or unused code
Implementing best practices for error handling and logging
Consolidating triggers and streamlining logic
Simplify and Streamline Configurations
Review and streamline Salesforce configurations, including:
Removing unused fields, objects, and customizations
Consolidating similar workflows or processes
Optimizing validation rules and formula fields
Upgrade and Modernize Integrations
Upgrade and modernize any outdated or deprecated integrations, ensuring they are:
Compatible with the latest Salesforce APIs and standards
Optimized for performance and maintainability
Aligned with your organization's data and integration strategy
Conclusion
Solving technical debt in Salesforce is a critical undertaking for CIOs, technical architects, and developers. By considering the key aspects outlined in this blog post, organizations can effectively reduce their technical debt, unlock business value, and maximize their Salesforce investments. Start tackling your Salesforce technical debt today and reap the rewards of a more efficient, streamlined, and agile Salesforce environment.
Frequently Asked Questions (FAQs)