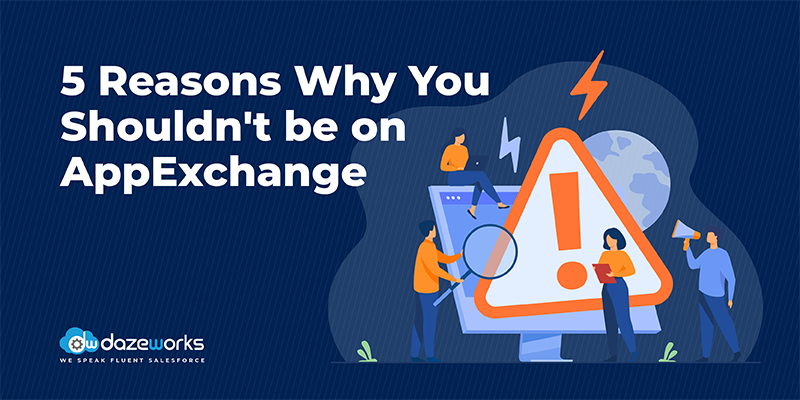 5 Reasons Why You Shouldn't launch your App on AppExchange
Posted by Seethu Maria Mathew
minutes read
From our years of experience working and partnering with Independent Software Vendors better known as ISVs in Salesforce circles, here is what we've understood – they are willing to put themselves out there and explore their business idea, but not on AppExchange. The reasons they gave us were worth pondering about and made it a necessity  for us to respond.  So here are the reasons why we think you should steer clear of AppExchange:
Explosive growth isn't your game plan
If you're a newbie in the business who wishes to remain a 'start-over' for the next 10 years, then the Appexchange is not the right playground for you! Perhaps your business idea is so exceptional that you don't need to research the market or audience before translating it into a venture – that's awesome! But AppExchange is a place for companies who wish to turn themselves into a powerhouse. Did you know that in 2016, 85 percent of Fortune 100 companies connected with their customers with at least one Salesforce AppExchange app? Some might even say that the AppExchange is a gateway to Salesforce's massive ecosystem with a worldwide community of millions of customers. But if you're finding excuses to avoid aggressive growth, then it's best to wait (at times endlessly) for your customers to swoon over the app. 
Accelerated speed to market is a myth to you
Keeping speed to market low on your priority list doesn't hurt always, unless your competitor beats you to the punch with a painfully irresistible/relevant product. Remember how users abandoned the Blackberry for the iPhone? The crazy thing about the AppExchange is, customers out there truly believe that 'only the paranoid survive'. The FOMO effect has gotten to them so much that they cannot afford to lose even one upgrade, let alone a new technology. We'd say Salesforce is a compelling reason for here, conditioning and grooming companies to believe in the sense of urgency while developing a product through its Clicks not Code feature. It's urging everyone to plan, develop, test and distribute – all in the comfort of one platform. To make matters worse (for you), AppExchange churns apps over apps, opening windows of opportunities and a wide base of customers to your competitors. If you enjoy the reputation of being a follower than an industry leader, you don't necessarily need a vast marketplace like AppExchange. It's okay to build something from scratch over and over again until you get it right, even if it means you burn out your team sometimes. 
Bug-free and secure products isn't your priority
So, no no one told you that quality is the key differentiator in a competitive market. Or you just chose to ignore it, because hey, who would resist buying an app which is so brilliant and affordable? Unfortunately, the millions of customers who look up to AppExchange have high expectations regarding the product they buy, and they are not willing to compromise on even a single mistake. There is an airtight  security review done by Salesforce on all build updates with each security review taking upto 4-8 weeks. Hope you are catching our drift. Even if you get listed on AppExchange by doing the bare minimum, the high expectations set by the global community of Salesforce customers including Fortune 50s will catch you off-guard. If this does not excite you, frankly, it's best to stay in your comfort zone. 
You believe in delivering sub-par customer experiences
As an ISV, you may have several focus areas around your business.  You can be competitor focused, product focused, technology focused, business model focused, and so much more. But if customer obsession is not your focus area, there is no point wasting your time on AppExchange. We've said it once and we'll say it again, Salesforce is extremely serious about customer experience. For example, there are 3 releases every year and these are not namesake build updates, or security patch releases done to check off an outdated Excel sheet kept by an old-school program manager. We are talking about ground-breaking enhancements and even brand new product releases. It's difficult to keep up with this kind of a thriving ecosystem without a clear product roadmap or adequate Salesforce expertise. If your only aim is to cut corners, it's best you stay out of the AppExchange world. 
You are willfully ignorant of Salesforce's dominance in the Cloud
It's incredible how Salesforce, which started off  as a straightforward cloud-based CRM software company, has now become a ubiquitous part of  every small, medium and large enterprises around the globe. And then AppExchange happened, playing hell with decades of bad practices and the way apps were found by the potential customers, integrated, developed and leveraged by businesses. Think about this. 3500 plus apps (as of March 2021) currently published on the AppExchange have been installed more than 9 million times! Still, this doesn't mean you have to take this path, even if you lose the trust factor and marketing opportunities you get through associating with the Salesforce brand. Ignorance is bliss!
Looking for more answers? Hold tight, I am sure there are plenty more out there as you  stand back and admire the plethora of opportunities slipping away in front of your eyes. On the other hand, if you want to let bygones be bygones, turn over a new leaf, and build a killer AppExchange app, then learn more about our AppExchange development services.
If it helps, then try out our free AppExchange consulting and talk to us about your plans.