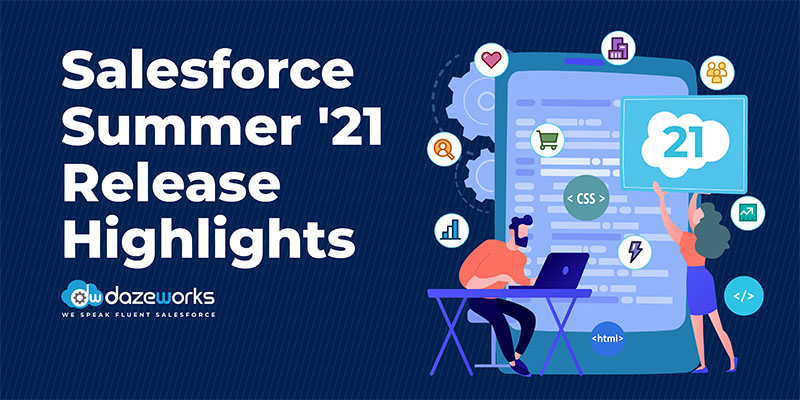 Salesforce Summer '21 Release Highlights
Posted by Seethu Maria Mathew
minutes read
The Salesforce Summer '21 release is here and packs  great news for Admins and Developers alike. Not only are many important features and updates in line, most of them are included with your initial purchase. We have got it rounded up to save you the trouble of sifting through the full release notes for now.
Source:https://thespotforpardot.com/2021/04/30/top-8-new-features-from-salesforces-summer-21-release-notes/
Notable Features/Updates from Salesforce Summer '21 release
1. Sales Cloud
The Pipeline Inspection is a new feature that enables sales managers to forecast revenue more accurately by getting a single view of their pipeline metrics and incoming opportunities.
2. Field Service
Recommendation Templates
The Einstein Recommendation Builder is a new feature that enables Admins to bring in the capabilities of AI into their workflows. This recommendation engine helps in creating custom recommendations in real time and thus helps the field techs to be more prepared by understanding unique customer requirements. 
Field Service Mobile App 
The new update simplifies choosing and sharing multiple records for offline employees. It enables mobile workers to know customer details on the go and vice versa helps customers understand their mobile workers' location.
3. Service Cloud
Service Setup Assistant
Did you just say time to value? Say no more! The Service Setup Assistant is back with some important updates in the Summer '21 release. It will help you get up and running with the Service App and all the  Service Cloud best practices.
Workforce Engagement
It's common to see service managers struggling to assign their employees in the right place and at the right time. Well, great news there! The new Omni-Channel Planning feature enables  them to predict workload demands and make data-based decisions to fill the gap in the workforce.
Omni Flow (Beta)
Use Flow Builder to redefine routing and figure out the best agent for each customer dynamically. You can even route the agent to customers based on the website they have visited or even their current location or language. It's interesting to see how Flow is becoming an inevitable part of the Salesforce platform through this release.
Einstein Case Wrap-Up
Salesforce is continuously trying to better Einstein for agent productivity. This release also brings in a cool new feature called Einstein Case Wrap-Up which is now generally available. It enables agents to predict case field values when they finish their call with customers.
4. Security
Access Control-Multi-Factor Authentication Assistant
The MFA Assistant gives you guidance and enables you to preview MFA before you deploy it. This gives Admins the ability to test the roll-out process and gather user feedback before the actual release. This way they can drive better change management activities and create onboarding materials beforehand for the end users.
Enable Enhanced Domains
Now you can easily include your company specific My Domain name in your URLs using enhanced domains. As there are no instance names, users can now easily remember enhanced domain URLs. The enhanced domains were brought in to comply with the latest browser and security standards. The best part here is, even if your org is shifted to another Salesforce instance, there won't be any issues of disruption. 
5. Lightning Experience
Perform Mass Actions in Split View 
The previous version of Split View was adored by everyone. However this one flaw of switching back to a List View to perform mass actions irked some. This release has addressed this specific concern! Now you can choose multiple records in a split view and perform mass actions on all of them. 
Custom Lightning Components 
If there was any reason for the Admins and users to NOT choose Lightning over Classic, it was the page load time. Yes, there is no denying that it was painfully slow. Great News! Admins are definitely going to rave over the new addition to page layouts which is the Analyze button. Not only does it improve the overall page performance, it now gives critical insights and page load predictions for better performance and user experience. 
Track Record Access Reasons 
Tired of switching back and forth to check why the user just accessed a record? Now just use the Access Sharing Hierarchy button to keep track of all record accesses. 
6. Flow Enhancements
Salesforce coming back with new updates to Flow release after release is now a given. Let's quickly go through some notable Flow enhancements in no particular order:
Salesforce releases can be overwhelming especially when there are 3 releases every year! Our team at Dazeworks is more than happy to guide you with their expert Salesforce release readiness strategies. Feel free to have a 1:1 chat with our Salesforce consultant. to figure out ways to maximize Salesforce ROI with the new Salesforce Summer '21 release features. 
By the way, which is your favorite among the latest additions? Let us know in the comment box.
Reference
https://help.salesforce.com/articleView?id=release-notes.salesforce_release_notes.htm&type=5