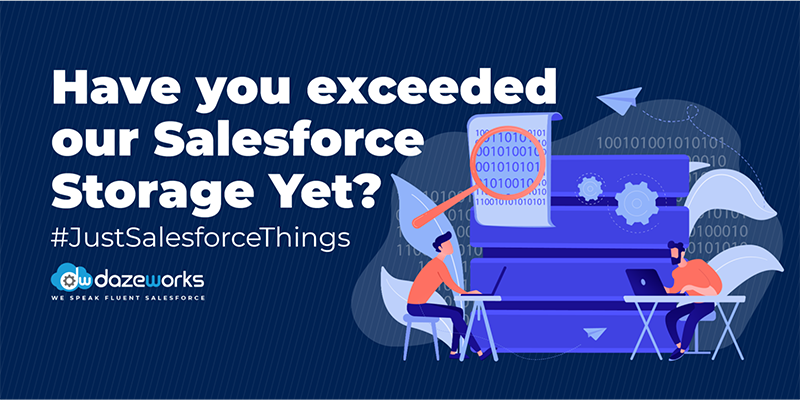 #JustSalesforceThings – Have You Exceeded Your Salesforce Storage Yet?
Posted by Kishan Kishlay
minutes read
Welcome to every Salesforce administrator's nightmare – the dreaded Storage Limit Exceeded message. When an org runs out of storage, you need to either 
Clean up your storage space by deleting old files  or

Purchase additional storage. 
In both instances, it helps to know what actions can be taken next. Many a time, Salesforce customers are not fully aware of the storage caps placed by Salesforce on their orgs. We recently came across the storage space issue with our client org and thought we'll save you the trouble of digging up the solution. 
But before that, let's refresh our knowledge of Salesforce storage types and the amount of storage available for each type. 
What is the Available Storage Capacity?
Time for some facts and figures! Salesforce storage is of two types – File Storage and Data Storage. The storage capacity for each type depends on your Salesforce edition and the number of users you have within your organization.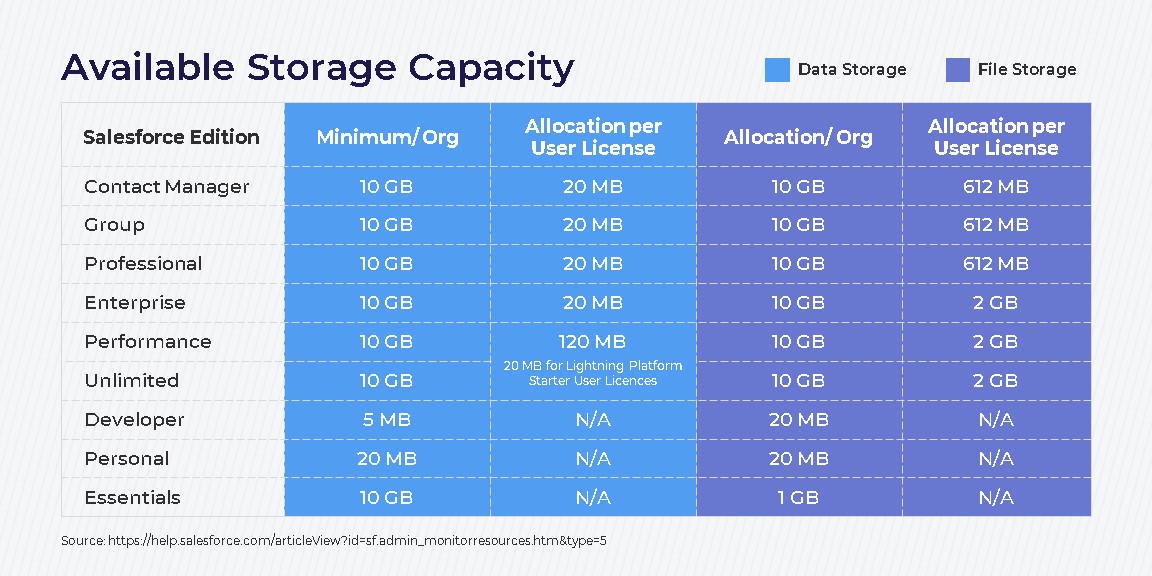 Even if you are aware of the theory behind it, chances are that you may be caught off guard unless you are watching out for the storage limits. Why? Salesforce updates data and file storage asynchronously. This means large data uploads may not be immediately reflected in storage space calculations and you may have unknowingly exceeded your storage limits already. Our client is on the Enterprise Edition of Salesforce and enjoys a seemingly endless (not really!) Data Storage limit of 21.8 GB and File Storage of 200.9 GB. They had been a Salesforce customer for more than three years. They had recently extended their Salesforce functionality adding more to their toolkit through a Service Cloud with Community piece.

What was the storage issue they faced?
Our client is a community website with users logging in daily to update their profiles. They frequently add files to their profiles such as images, videos and text updates, quickly depleting the org's file storage. Any updates to records will also take up storage space. The support team receives notifications of updates as Cases. 
What was the direct impact of the issue?
Once the storage space limit was exceeded, the client's service agents found themselves unable to add files to their Cases. Since the storage space value is calculated asynchronously by Salesforce, there is no real-time update on the actual space available at any given point of time. This in turn created a lot of 'unknowns' for the admin team.
What is the short-term solution to overcome the issue?
The single best option available currently as recommended by our consultant and Salesforce is to raise a Salesforce support ticket monthly to recalculate the file storage and then manually delete the files to meet the limits.
What are the long-term solutions available to fix the issue?
Manually clean up the instance to free up storage space 

Use an archiver app that stores specific data in a third party app and retrieves when called. Eg:

OwnBackup Archiver

starting at $1,000 USD per company per month or

Own Backup

starting at $2.75 USD per user per month

Purchase additional Salesforce storage or evaluate an alternative such as AWS storage
An ideal solution that we look forward to is the ability to recalculate Salesforce storage weekly without having to rely on the support tickets. Do you have a favorite hack for this issue? Share your thoughts in the comments below.