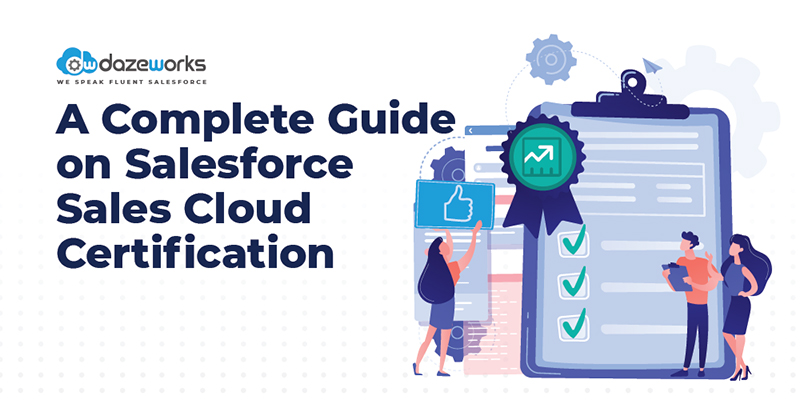 A Complete Guide on Salesforce Sales Cloud Certification
minutes read
From American Express, and Y-Axis, to HCL and Vodafone, today conglomerates worldwide have invested in Salesforce Sales Cloud to boost their sales potential. The robust system is gaining more popularity each day, and the demand for a skilled Salesforce Sales Cloud consultant is skyrocketing. So acquiring a Salesforce Sales Cloud certification can be a great way for admins to take their careers forward. And, if you are someone looking to get this certification, you are in the right place. 
Sales Cloud certification is for consultants who hold experience in offering Salesforce Sales Cloud implementation services to clients. The certification tests the following skills of the consultants:
Experience in Sales Cloud implementations

Structured skills for the consulting practice 

Analytical and problem-solving skills 

In-depth knowledge of Salesforce product lines 

Strong understanding of data management and database concepts 

Knowledge and understanding of cloud computing and internet technologies 

Know-how of software development life cycle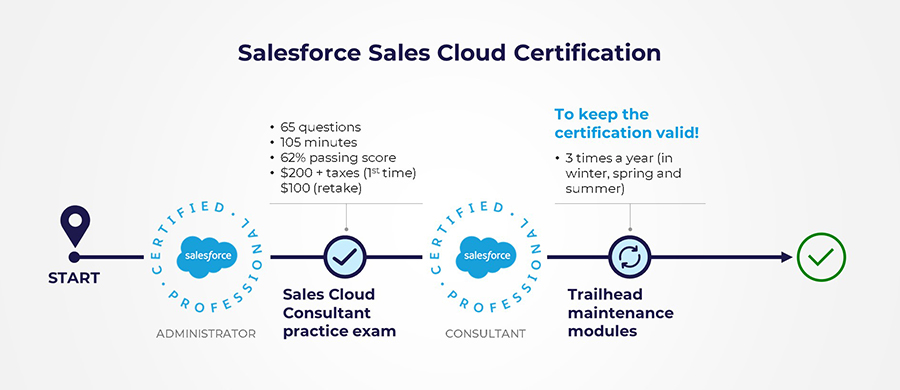 Who is the Ideal Candidate for a Sales Cloud Certification?
This exam is ideal for consultants who work with customers and hold experience in implementing Salesforce solutions. Salesforce Admins who wish to exhibit their advanced Salesforce knowledge and skills are the ideal candidates. 
How Difficult is Getting a Salesforce Sales Cloud Certification?
Acquiring a popular Salesforce Sales Cloud Certification is challenging. The exam contains 60 multiple choice questions along with 5 unscored questions. The candidate has to complete the test in 105 minutes either at the test center or online. Furthermore, to pass, they have to score at least 68%. You must try to attend to all the questions since there is no negative marking. The exam reviews candidates based on their ability to implement Sales Cloud with regard to KPIs.
How Long is the Sales Cloud Certification Valid?
Salesforce releases system updates thrice a year, and the certification is valid up to the next release. Additionally, to maintain the certification, the candidates must pass the Trailhead maintenance modules. You do not have to make any additional payments  to maintain the certification. 
How Much Does the Sales Cloud Certification Cost?
The certification cost is $200 for the first attempt and $100 for every retake. Candidates can take up to 3 retakes within one release. Other than the test fee, there is also tax applicable, which varies depending on the country. 
What Happens if Your  Sales Cloud Certification Expires?
If certification owners do not complete the maintenance module on time, they will lose their Sales Cloud consultant credentials and have to retake all the exams to regain them. Typically, they have a couple of months post the release to complete the module. 
Benefits of Clearing a Sales Cloud Certification
Although a Sales Cloud certification is challenging to acquire, it comes with tons of benefits. Once you get the certification, you can 
Leverage a Dynamically Updated, Current Knowledge Base

Deploy Efficient Account Planning Knowhow

Improve Your Analytical Skills

Optimize Salesforce Implementation

High ROI

Broaden The Scope For Success
Sales Cloud Certification Prep Tips
Preparing for such a reputed certification can be a bit overwhelming, but with the right planning, it becomes more manageable. Here are some important Sales Cloud certification prep tips to help you along the way:
Schedule the exam for a realistic future date. This will allow you to stay focused, prioritize your studies and stay on track. 

Go through the exam guide in detail to understand the format. Check out the questions, weightage, duration, etc. to figure out the weightage. This way, you can focus on topics that hold more points.

The more hands-on experience you have, the better it is for your exam. Your practical experience will allow you to use that knowledge and skill in the examination. 

Be thorough while reading about the topics; instead of merely focusing on concepts and features. Cover all functionalities to prepare yourself.

Give a mock exam to identify any gaps in knowledge and focus your preparation on filling those gaps.
What Next?
Sales Cloud is one of the most popular products of Salesforce. Subsequently, there are tons of resources available within the community. Thousands of companies worldwide are looking for qualified professionals to help them get the most out of the investment. This certification reinforces your profile and paves the way for better opportunities.