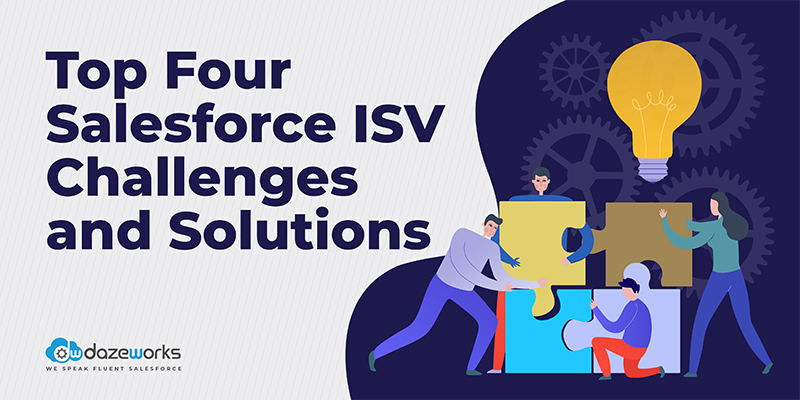 Top 4 Challenges for Salesforce ISVs
Posted by Seethu Maria Mathew
minutes read
IDC predicts that Salesforce and its ecosystem of customers and partners will drive 3.3 million new jobs and more than $859 billion in new business revenues worldwide by 2022. 
For Independent Software Vendors (ISVs), Salesforce represents a thriving universe that helps them fast track their business growth. As more and more enterprises adopt Salesforce, ISVs have access to a larger playing field by building custom apps and extending Salesforce functionalities exclusively catering to their business requirement. But is it always an easy ride to get to and retain the Salesforce ISV Partner status? Many ISVs are apprehensive about launching on Salesforce due to their high quality standards and  the time consuming procedures associated with it. This blog digs through common challenges faced by newbie ISVs around Salesforce and solutions to successfully overcome them. 
Who is a Salesforce ISV?
A Salesforce ISV is a partner who has created a product on the Salesforce platform made available on the AppExchange. Being a product company, they tweak some of their own services and solutions on top of the Salesforce platform to cater to the unique business needs of existing customers. Salesforce ISVs are more focused on building packaged applications that can be seamlessly installed into the Salesforce org once downloaded from AppExchange. As a result, the customers get updates and functionalities exclusive to their business requirements. 
Why is Salesforce Becoming the Favorite Battleground for ISVs?
Collaborating with the fastest growing economy

A whole host of Salesforce tools and technologies to help ISVs launch apps

Exposure to millions of Salesforce users through the AppExchange

Wealth of technical resources available through the AppExchange Partner Program 

Unique marketing force..
Common Challenges Faced by ISVs in the Salesforce Ecosystem
Challenge #1: Reducing Time to Market
ISVs get immense opportunities like declarative programming to develop products faster within the Salesforce environment. But the real challenge here is to get their product to the market at the right time. Most ISVs still hold on to their legacy application architecture for several reasons like customers taking time to transition or being unwilling for change, difficulty in migrating complex applications with large data and so on. By the time the development team re-engineers the product (which can take upto months or even years), a similar product may have already created a storm in the marketplace. 
Solution: Catching up to Salesforce speed can be achieved by bringing in efficient partners. Rather than building applications from scratch all by yourself, consider hiring an experienced partner who will help you blend into the Salesforce space without compromising on your application's core value. 
Challenge #2: Developing Marketing Strategies
While marketing a product looks like an easy job, most ISVs struggle in getting the right messaging to the audience. They have the extra role of pitching themselves as the best product in the market compared to competitors as well as highlighting the benefits they bring into the Salesforce platform. 
Solution: Make sure to bring in all your internal teams such as strategy, finance, sales & marketing, IT and legal ops under one umbrella to discuss your unique marketing messaging. Leverage all resources through the AppExchange Partner Program. Make sure to get reviews from your customers as it will help your app get listed at the top of search results. 
Challenge #3: Stringent Security Reviews
Before being listed on AppExchange, every app will go through a detailed AppExchange review process. Salesforce is extremely quality-conscious  about the apps they present to their customers and this review process seals the trust they have in Salesforce. The process can take anywhere from 4 to 6 weeks after the app is submitted to review. If it's not approved in the first submission, it will take another 2 to 3 weeks for the next review to complete. Needless to say it takes a long time to pass the security review process and hence can be grueling for your developers. 
Solution: As an ISV, you should be well armed with multiple use case scenarios where things can go wrong and how well your product can perform in such cases. Rigorous testing can rule out vulnerabilities in your product. That said, it's a hectic task to do it all alone and this is where many ISVs simply give up. A little guidance and help from a well-versed partner can take the pressure off your developers. 
Challenge #4: Achieving Customer Satisfaction
Your job is not done just because you launched your app on AppExchange. Ensuring customer satisfaction across all territories is equally important. Providing the best customer support can be a challenging task given the limited resources who are already neck deep in development work. Moreover, spending more time on providing basic support services to users on a day-to-day basis can interfere with creating and selling innovative products and services. 
Solution: Use automation to manage basic customer queries. Chatbots  and self-service portals are widely used for customer support and services. If there is high incoming data volume, consider combining manual resources with Machine Language and AI capabilities. 
How Dazeworks can Help ISVs be Sales Cloud Ready?
We help ISVs like you leverage the AppExchange platform to reach out to Salesforce's large customer base. Our solutions are exclusively designed for ISVs and provide assistance in  developing AppExchange products and creating effective go-to-market strategies to get your app to the top of AppExchange search results. Talk to us to know more about our AppExchange development services.