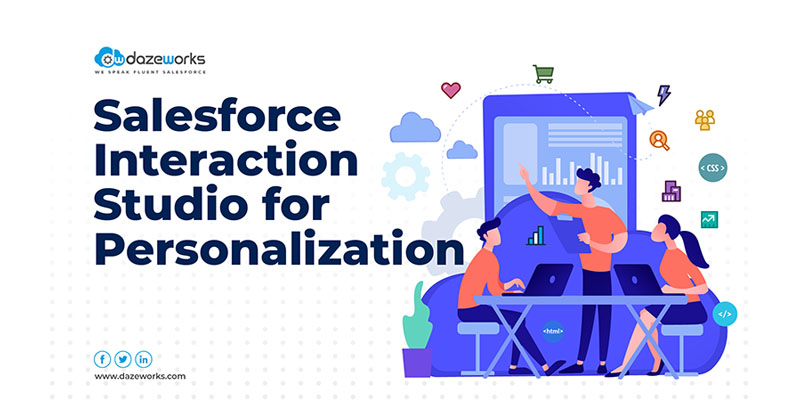 The Road to Personalization through Salesforce Interaction Studio
minutes read
90% of marketers ascertain that personalization significantly contributes to the increase in ROI. It's high that they are empowered with the right technology to deliver a personalized marketing campaign that can target customers at different horizons. Salesforce Interaction Studio helps marketers tick all the boxes. Read on as we dive into everything you need to know about Salesforce Interaction Studio.
What is Interaction Studio?
Interaction Studio (Marketing Cloud Personalization) is interactive and real-time management and personalization tool. It helps in understanding how different customers behave and responding accordingly. The tool can assist marketers to promote customized and relevant products and services to their customers across different channels including mobile, website, email, and social media.
For example, you can monitor the web sessions of your customers while they navigate through your web handles. This empowers you with the right data to customize your offerings, content suggestions, page images, etc., in real-time.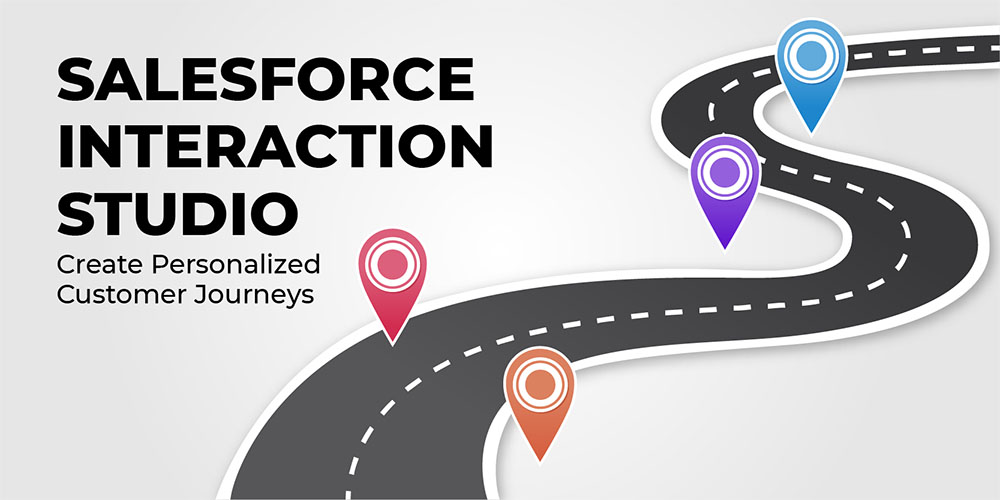 What are the Functions of Salesforce Interaction Studio?
Data and Analytics
The tool collects data on various facets such as purchases, actions, time spent on the website, browsing history, etc. The data can be used to create Einstein Recipes to extend valuable experiences on various profiles of customers. Furthermore, it empowers A/B testing and gets results in real-time.
Bespoke Website Experience
Gone are the days when you could attract customers with a static webpage featuring the same offers. Interaction Studio allows your website to show different landing page content depending on the customers' search history and older purchases. The tool allows you to:
Promote content based on the pages that they visited 

Showcase best offers based on their purchase history 

Generate personalized pop-ups as the customer navigates through your website. 
Personalized Email Campaigns
With over 4 billion daily users, email is a great platform for marketers to pique leads' attention and continue to engage with their existing customers. By using recommendations on product purchases, browsing history, and recent web activities, you can create personalized email messages for each customer. These suggestions can be used by almost all email service providers. Furthermore, Interaction Studio allows you to export various customer segments and use the information in the Marketing Cloud Journey Builder.
Customer Service Interaction
Interaction Studio Connectors for Sales Cloud and Service Cloud help the sales and customer service teams to bring in more leads and turn them into customers. The Interaction Studio Console contains vital customer data such as their profile, recently visited website pages, best recommendations, etc. 
What are Einstein Recipes?
Einstein machine learning algorithms in Interaction Studio are referred to as Einstein Recipes. It is what presents users with unique content and product suggestions. It is possible through advanced machine learning, contextual understanding of the organization, and deep knowledge of customer behavior. The recipes provide configurable algorithmic strategies that help in boosting product and content engagement and brand visibility. 
How Do Interaction Studio and Marketing Cloud Work Together?
There may be  confusion between Interaction Studio and Marketing Cloud. In simple words, Interaction Studio is a part of Salesforce Marketing Cloud.  Together they make your marketing strategies stronger and more effective. Salesforce Interaction Cloud allows marketers to make customized and engaging experiences for every customer, irrespective of the complexities of buying cycles. The tool harnesses logged customer activities and helps companies to capitalize on their engagement with customers. 
Furthermore, marketers can leverage OpenTime Email Campaigns and Item Templates to customers that can  segment lists and even send personalized email messages to them once they open the email.
The Utmost Shift Towards Personalization
Marketing is shifting rapidly towards personalization and for all the right reasons. In a short time, it has proven to be a powerful way to attract and retain customers. Salesforce Interaction Studio is designed to help organizations to build personalized marketing campaigns, expand their customer base, and boost their ROI.