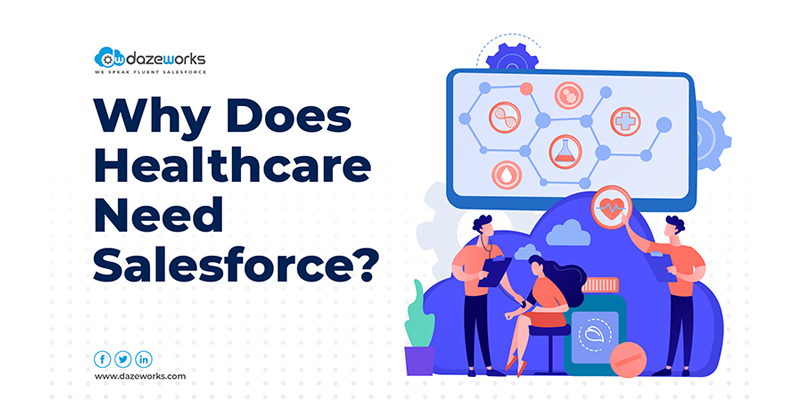 Why Does Healthcare Need Salesforce?
minutes read
According to statistics, by 2030 the global healthcare CRM market will value USD 27.62  billion. Similar to other industries, healthcare wants to be a part of  digital transformation for the right reasons. Healthcare centers across the globe are looking for a reliable CRM to streamline their processes and improve the patient experience. Salesforce CRM has been designed to empower the healthcare industry by providing accurate data at their fingertips. In this blog, we'll guide you through why every healthcare provider needs it.
What is Salesforce Health Cloud?
Salesforce Health Cloud is a comprehensive solution that assists healthcare providers and payers in better monitoring and analyzing the quality of patient care. Health Cloud equips you with 360-degree views that help in improving engagement with patients, employees, partners, and members.
What is Salesforce Health Cloud 2.0?
The future is a mix of on-site, in-person, and online and companies have to transform their existing norms to ensure continuing safety and health of the business and its members. Presently, healthcare is being assessed and delivered from diverse settings and it's imperative for industries to look for effective ways to work together safely. 
Salesforce Health Cloud 2.0 was introduced on September 21, 2021. It empowers governments and businesses to extend better health and safety facilities to their employees, clients, and communities.  It is designed to improve global healthcare capabilities such as health credentialing, vaccine management, contact tracing, and much more. 
Why Does Healthcare Need Salesforce Health Cloud?
Optimized Data Exchange
Salesforce CRM efficiently connects hospitals, clinics, and physicians with data sources like EMRs through data integration tools. This way patients' data is available on a single platform, and healthcare practitioners can gain real-time access. Furthermore, various tools provide actionable insights so that healthcare providers can take proactive steps to improve their care services. 
You can also transfer data from smart wearable devices to Salesforce. This will make it easier for practitioners to monitor their patients' conditions post-discharge. 
Improved Patients' Engagement
Health professionals juggle between various systems to meet the demands of patients, facilities, and care teams. Working on siloed systems can impact the quality of patients' experience. This struggle ends with Salesforce Health Cloud. It is an integrated CRM that combines various systems and organizes the data in one platform. Whether you want to view health records, communicate with different departments, or social determinants, you can do that from a centralized location. 
Additionally, when you have easy access to patients' data, you can improve the overall patient experience. Empowered with accurate data, healthcare practitioners provide customized solutions to patients' queries. Considering you have access to compiled clinical data of the patients, you can create personalized care plans for them. Salesforce provides a number of opportunities to build trust and improve patients' experience with the right data. 
Enhanced Productivity and Team Collaboration
Salesforce Health Cloud increase efficiency by seamlessly connecting manufacturing, marketing, supply chain, patient services, medical and sales teams. By unifying providers, patients, and partners, Salesforce Health Cloud offers a comprehensive view of actions and insights. Smartly organizing siloed data allows the care team and providers to collaborate and provide quality and personalized care solutions efficiently. 
Optimum Data Security
From 2009 to 2021, there have been more than 4,419 healthcare data breaches, resulting in the loss, exposure, and theft of approximately 314,063,186 healthcare records. It is evident that healthcare needs a more reliable way to secure data. Thankfully, Salesforce ensures that your data is in your control at all times. Additionally, it also ensures that you are in compliance with HITRUST and HIPAA. Salesforce cloud and Salesforce Shield together ensure that the data is encrypted and only authorized users can access it.
Scalability At Its Best
While ensuring stringent compliance and security, Salesforce Health Cloud facilitates easy scalability. Through AppExchange, you can add new functionalities without hindering data security. Furthermore, various native apps, such as document management, insurance verification, and telehealth solutions have already passed the security check. Therefore, it becomes easier for healthcare providers to expand their practices while ensuring optimum privacy and security. 
Personalized Solutions for Every Member
Since Health Cloud offers agents a holistic view of all members, they are able to extend more personalized communication and proactive support via intelligent recommendations. Moreover, the extensive knowledge base of the technology empowers agents with real-time information about members. As a result, it allows them to offer comprehensive and personalized solutions and support. 
Seamless Management of Members' Journey
Salesforce Health Cloud allows agents to improve the members' journey at every step of the way. Powerful features including omnichannel communications, in-built templates, and automated workflows enable agents to engage members at various key points; from acquisition to retention. 
Salesforce Health Cloud Use Cases
| | |
| --- | --- |
| Uses Cases | Descriptions  |
| Appointment Management  | Smart appointment management determines which appointments can be self-scheduled and which need to be checked by the provider personally.  |
| Benefits Verifications  | Health Cloud enables users to easily verify benefits while viewing the digital records of the patients. It allows them to check the benefits of medical equipment, medical services, and pharmacy  |
| Smart Case Routing  | The omnichannel workflow function can simplify aftercare and lower operating costs.  |
| Healthcare Relationship Management  | Salesforce enables healthcare systems to set up a mult-level hierarchy that shows their health network. Moreover, the data fields can vary based on respective facilities. This paves the way for a well-structured relationship management system boasted of accurate data.  |
Whether it is in terms of security or operational efficiency, the healthcare industry needs to bring a change, and Salesforce Health Cloud and provide just that. By empowering the healthcare sector with the right data, it paves the way for better and more personalized care services.