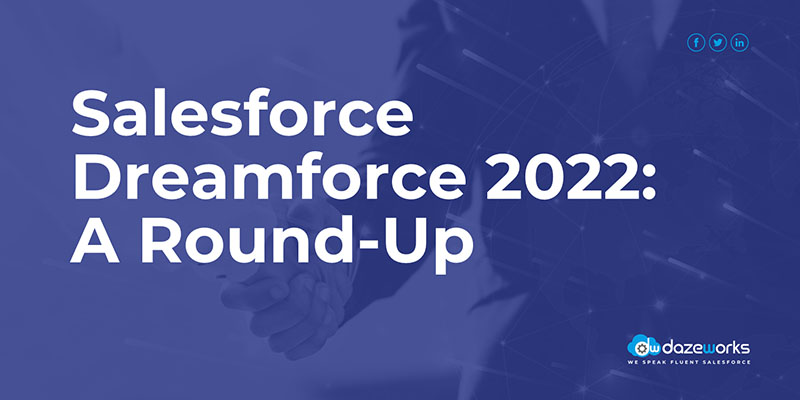 Salesforce Dreamforce 2022: A Round-Up
minutes read
Dreamforce 2022 has come to an end and what a blast it was! Just like every other year, this annual event did not disappoint with all that it has to offer. In this blog, we will give you a complete roundup of Salesforce Dreamforce'22.
Salesforce Genie
Salesforce Genie was one of the biggest announcements of Dreamforce 2022. The new Customer Data Platform can now be integrated across the Salesforce platform; earlier it was only limited to Marketing Cloud.
Additionally, the announcement also witnessed the addition of 18 AppExchange partners into a unified AppExchange Genie Collection. The company highlighted three partners – LiveRamp, Neustar, and Criteo. 
Furthermore, new improvements were announced in Marketing Cloud in alliance with Salesforce CDP. Now marketers can connect in real-time across Salesforce as well as external data points via native connectors, Mulesoft, Salesforce AppExchange, etc. 
There is a stronger integration between personalization and Marketing Cloud Customer Data Platform, owing to Einstein. Lastly, marketers can also benefit from the new connectors through third-data sources such as Microsoft Azure and AWS Redshift to collect data at scale.
Emphasis on Philanthropy
Unlike most years, this year there was less swag in the event as the focus was on sustainability. While it was disappointing to some attendees, Salesforce showcased more efforts on the philanthropy side. Salesforce announced a massive grant worth $25 million in support of education nonprofits and school districts across the states. The funding will center primarily on students' well-being supporting emotional and social learning, and mental and behavioral health programs. 
Moreover, a donation of $60 million was made to the marine research center at UC Santa Barbara. The fund will support the efforts of Benioff Ocean Science Laboratory which include Whale Safe. It is a whale monitoring and alert system that aims to reduce whale deaths due to ship collisions. \
Slack Innovations
Slack Canvas was another big announcement made at Dreamforce 2022. It is the next generation of Quip and allows the organization to curate, manage, and share essential data within the Slack ecosystem. Canvas capabilities go beyond Quip with tighter integration into Salesforce, allowing users to build workflows that harness content within the channels. With more organizations investing in Slack, this integration offers a driving force for companies to completely move away from Microsoft Office altogether. 
Slack's huddles have also received new features that include multi-person screen sharing,  video, and message threads. Salesforce announced the new Slack Platform in a beta release. It also delivers reusable building blocks for developers to create organizational solutions and workflows. 
New Alliances For New Innovations
Salesforce announced a big partnership with WhatsApp to transform how brands communicate with their customers. Additionally, Salesforce strengthened its relationship with AWS. Salesforce users can now leverage AWS's machine learning modeling service, Amazon SageMarkers, along with Einstein. 
It enables users to select an AI engine external to the Salesforce ecosystem without extracting data from the platform. The new platform also comes with integration between Salesforce Genie and Amazon Ads, providing more marketing data to platform users.
A Big Step Towards Sustainability
Salesforce launched its Net Zero Marketplace with an aim to easily connect buyers with ecopreneurs in a transparent carbon credit platform to boost climate-positive outcomes. It is also a part of the Salesforce Winter 23 release as the organization looks to integrate Salesforce Net Zero Cloud to aid organizations monitor and reduce their carbon emissions. 
Developed on Commerce Cloud, the initial unit of carbon credit providers includes 
South Pole 

Pachama 

Cloverly

Climate Impact Partners 

Native

Respira International
Additionally, CO2.com and Calyx Global Sylvera are the two new third-party rating organizations who are inaugural partners.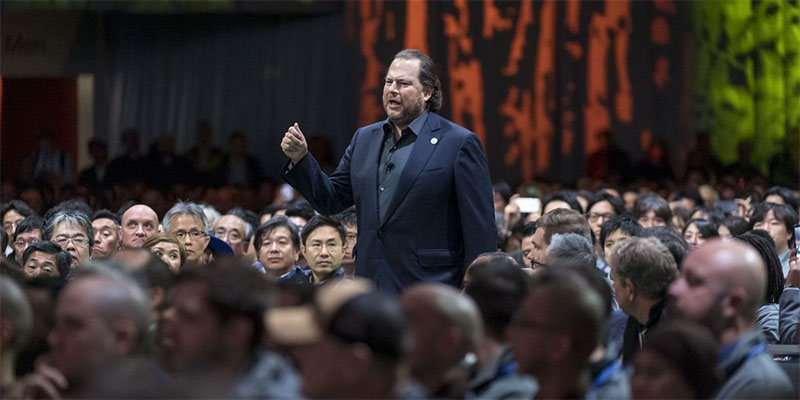 Salesforce Announcements for Developers
Composable API for SDK and Genie
There was a detailed demo of composable APIs and how they can retrieve data from the Customer Data Platform through a single API call in Apex. Its primary objective is to collect data from various sources and use Lightning Web Components to create custom user experiences. 
Local SFDX Simulator 
With this announcement, developers will now be able to test LWC components on a mobile simulator during the development cycle.
Innovative GraphQL APIs
Salesforce launched its GraphQL APIs with a vision to offer flexibility for developers such as:
Resource aggregation

Field selection 

Object query ability 

Schema introspection 
The advantage for developers is that they can control what data they want and don't want from the server. This makes the API request-response mechanism more effective in comparison to REST APIs. 
Screen Flows in LWC
There was a lot of focus on no-code and low-code formats this year at Dreamforce. Attendees witnessed the potential to integrate screen flows in Lightning Web Components. 
DataWeave Support in Apex/Ability to Parse CSV in Apex
Until now, developers had to depend on writing custom code or using open-source solutions to parse CSV files. This new ability of natively Apex will make things simpler for developers by making their codes more efficient. 
Code Builder
The newly launched code builder was a major buzz creator during Dreamforce. It is a fully-functional IDE for development that runs on a browser. 
Salesforce Dreamforce 2022 with its array of announcements has got everyone in the industry excited. It is creating a robust technology stack to fuel growth and competes with other conglomerates.