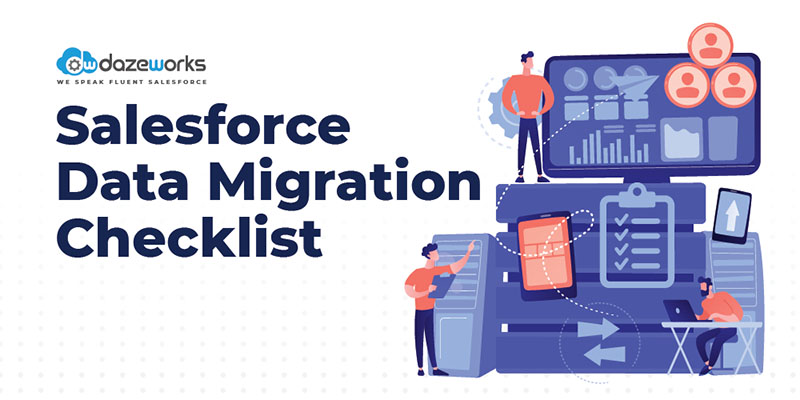 Salesforce Data Migration Checklist
minutes read
Transferring data from an external source to Salesforce can be a challenging task before going live. The efforts involved in Salesforce data migration depend on the kind of data and the sources from which you are retrieving the same. Therefore, it is vital that you plan, assess the challenges, and choose the best data migration practice. It all seems a bit overwhelming, but we are here to help you. This blog provides you with a useful data migration checklist to guide you through the process. But before we delve into that, let's understand how data migration will help your organization. 
Benefits of Data Migration
Optimize Your Business Performance
With the expansion of business, companies find it challenging to scale their resources. Data migration, when done correctly can help businesses streamline and optimize critical processes. By leveraging on-demand resources, cloud services help companies seamlessly adapt to technologies, without bearing infrastructure costs. 
Save Big on Overhead Expenses
Migrating to a cloud platform like Salesfore comes with tons of advantages. Businesses can save a lot of money spent on infrastructure and manpower. Salesforce data migration services offer you flexibility, security, and reliability. Additionally, you don't have to worry about exorbitant service disruptions. 
Security Compliance
Ensuring and maintaining security compliance at all times is an uphill battle for companies. But when you have access to cloud services, that is one less thing to worry about. The provider is responsible for potential failures and interruptions in the virtual infrastructure. This will allow you more time and money to focus on your product or services.
Improved Data Governance
Cloud migration offers an opportunity to implement strategic changes and improve data governance practices. It enables you to identify issues concerning the source data and resolve them during the migration. By assessing your process, technology, and people and you can prepare them for growth
Data Migration Checklist
Data migration when done right can help make your business more efficient. If you are looking for a guide to help with this transfer, we have got you covered.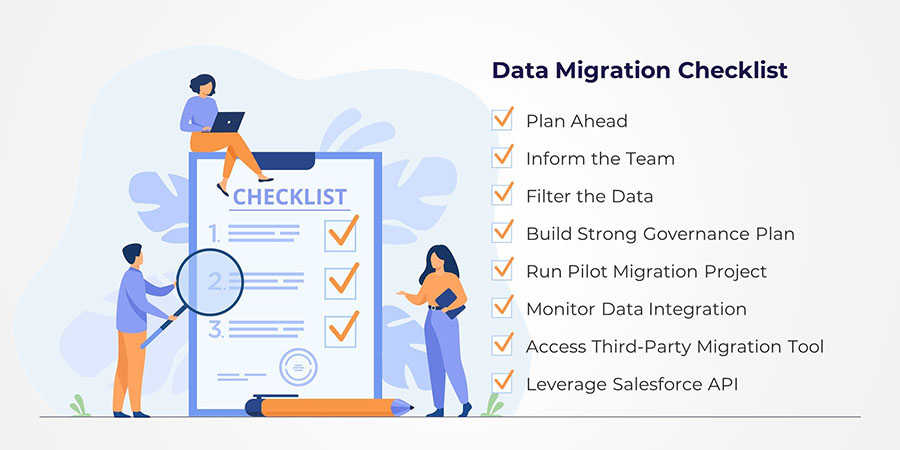 Planning Makes All the Difference
The first step is to determine the data you are migrating and its format and location. It will help you identify potential problems that may need  changes or security measures. Furthermore, be knowledgeable about the scope of the migration process. Perform extensive analysis of the system and work out a flexible timeline. 
Keep Your Team in the Loop
Data migration will impact the day-to-day operations of your organization. Therefore, ensure that your team is aware of the upcoming changes. This will allow them to plan their tasks accordingly. Conduct a meeting and inform the teams about your plans. 
Sort Out Your Data
Filter out the data that needs to be transferred from one location to another. This is when you identify where the data is located and in which format. Furthermore, you'll have to consider types of data from various locations and in several formats in source systems and target databases. You can also create a workbook that contains a comprehensive list of information. This will ensure that nothing gets left behind during the migration. 
Put A Strong Data Governance Plan
An extensive data governance plan provides a clear pathway for your migration. An organized and centralized Salesforce database should be the bedrock of your data governance plan. This will help in streamlining the entire process and tackling challenges that may appear en route. 
Run a Pilot Data Migration Project
When employees have been working with a particular system for a long time, it may be difficult for them to make the switch. Additionally, the database structure may conflict with the existing system, thereby impacting the business process. Therefore, it is wiser to run a pilot data migration project. It will help your team understand how the process works and how it'll be beneficial. 
Monitor the Data Integrations
Make sure that the data is integrated and complies with set standards. You can use a data integration tool for this task. Having a professional write the integration on the tool will ascertain accuracy. When you employ them both, the system will send you accurate alerts when something is wrong with a record. Additionally, Salesforce dashboard tools allow you to create an integration status dashboard to check the duplicacy and quality of the data. 
Investing in a Third-Party Migration Tool
Integration and migration tools such as IRI NextForm, Integrate.io, DBConvert Studio, etc. will automate the process to provide the desired outcomes.
How to Choose the Right Third-Party Migration Tool?
With the plethora of options available, it may be difficult for you to choose the right tool. To simplify this decision, here are some features to look for in the data integration and migration tool:
Configurable Data Pipelines 

Flexible Drag-and-Drop Options 

Data Cleansing and Verification Technologies 

Seamless Automation 

Option to Schedule the Process

High Accuracy 

Varied Data Targets 

Adaptability to Salesforce Instance 

Safety of Integration Processes 
Employ Salesforce API
Integrating the Salesforce API enables the developers to efficiently retrieve or share data via Salesforce. While there is some manual programming involved, Salesforce API is convenient to use. It helps in reducing data entries, boosting data migration, automating data movements, and mitigating manual tasks. 
Don't have data migration expertise? All you have to do is choose a trusted third-party service provider and you are all set to migrate to a newer and improved workplace. The Dazeworks Salesforce data migration team has got you covered.