What Salesforce CTI Integrations Does for Your Business?
minutes read
Companies are fighting tooth and nail to grab their customer's attention to stay in business. There are a plethora of technologies that aim to make customer service easier and CTI for Salesforce is one of the robust ones. With so many options already out there, you would ask 'why do we need it?' In this blog, we are answering what it is, why you need it, and how you can integrate it.
What is Salesforce CTI Integration?
CTI is an abbreviation for computer telephony integration which is a type of technology that allows you to make a real-time phone call from your mobile or computer via a softphone app. CTI is a JavaScript API  that aims to improve overall connectivity. The following are the key features of this service:
Allows VOIP and PSTN calls soft-phone dial pad

Identifies and routes call to the right individual or department

Facilitates pop-up screens to display caller information for better response

Tracks and measures KPIs like first-call resolution, average handle time, dropped calls percentage, etc.

Empowers agents with auto-dial contacts or click-to-dial contacts
How Does Salesforce CTI Work?
Salesforce CTI depends on different kinds of integration patterns: primary aggregation and bidirectional sync. It generates bidirectional communication between the telephony system and Salesforce while aggregating the data to users' desktops.  A bidirectional pattern becomes crucial as it allows both systems to share and receive data from one another. Furthermore, the element of data aggregation also plays a key role here as CTI is used to  access data through a desktop interface.
Therefore, Salesforce CTI needs APIs to make each system and device communicate efficiently.  The softphone application and browser connect to the Salesforce cloud via open CTI JavaScript API. On the other hand, CTI system API is used to connect the telephony system and the user's web browser (it includes a softphone application). These APIs generate the bidirectional sync required to transmit the data from Salesforce into the telephony system and to send conversation data back to Salesforce.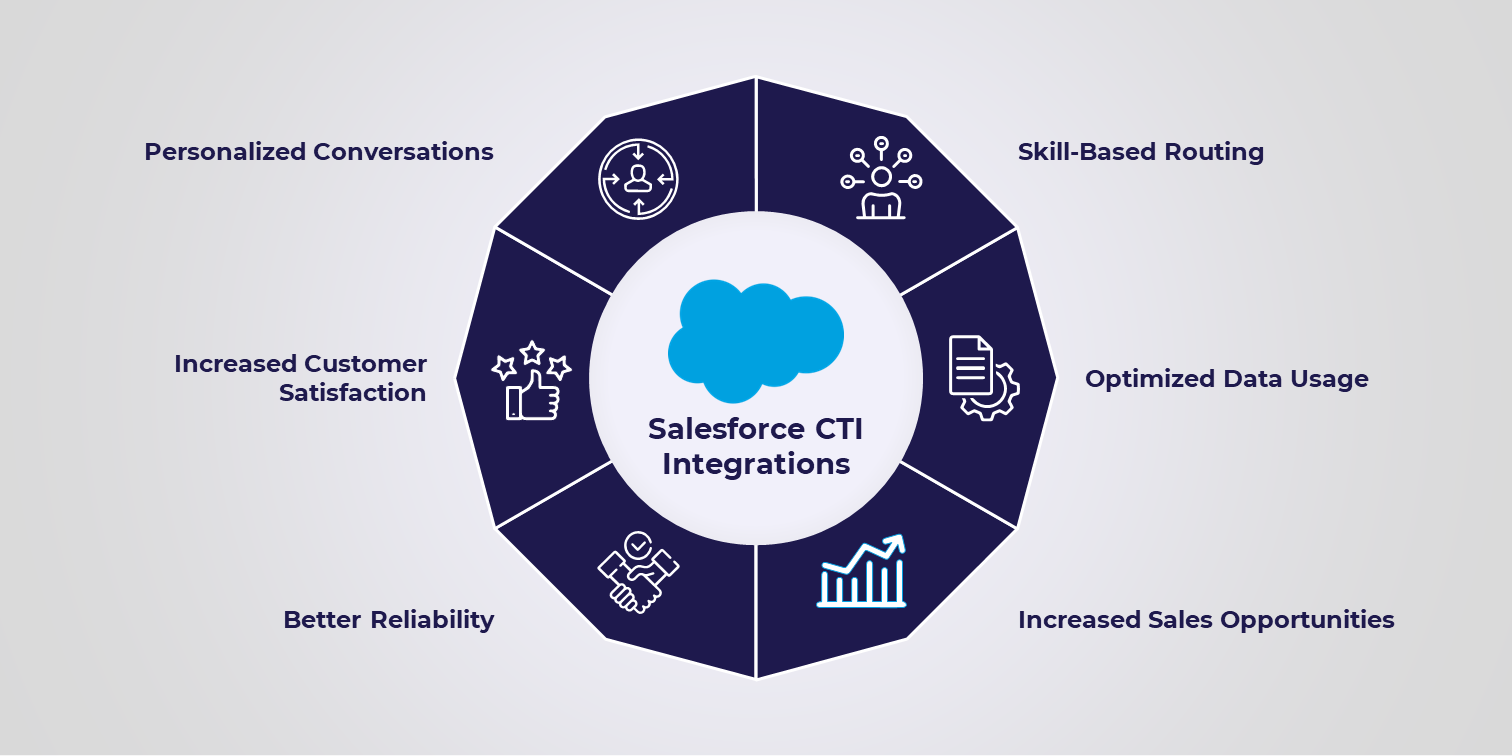 Why Does Your Organization Need Salesforce CTI?
Higher lead conversions through personalized conversation.

CTI for Salesforce aids in improving customer satisfaction by empowering sales reps with the right data and allowing them to close more deals.

Automated dials and click-to-dial help the sales team easily connect with a prospect over phone calls.

Deliver skill-based routing via the system, which can direct calls with multiple options.

Data is stored and updated in the CRM which can help in making communication more accurate.
How to Integrate Salesforce CTI?
Integrating Salesforce into a telephony system through point-to-point integration comes with certain challenges that include:
Wasting IT teams' time in creating duplicate APIs as new systems would require individual connection to the telephony system or Salesforce.

Individual APIs in each system can become messy and make it arduous for the team to get a clear vision of the systems that are integrated, making maintenance difficult.

The integration process becomes slow and limits the scope of innovations within new systems.
These challenges can be solved by building Salesforce CTI using an application network. An application network is a kind of API-based connectivity that enables IT teams to integrate applications, devices, data, and other assets within the network.
Furthermore, application networks allow these APIs to be used again, improving the process of connecting systems and protecting IT teams from duplicating the same codes. Since application networks include a bunch of APIs, they can be categorized by experience or process, making the reuse easy. 
CTI for Salesforce empowers IT teams to efficiently create customer interaction processes using reusable APIs each time there is an addition of a new system or tool. Granted that the correct APIs have already been added, other teams can also integrate the systems easily. This provides more innovation opportunities across the business while saving the IT team's time and resources.
Get in touch with a reliable Salesforce consultant to know the best way you can integrate Salesforce CTI into your system.