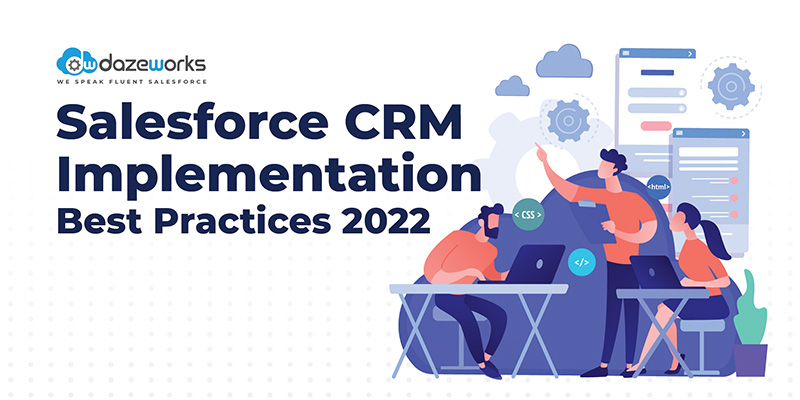 Salesforce CRM Implementation Best Practices 2022
minutes read
Salesforce is a powerful CRM tool, which provides endless opportunities for enterprises to connect with their customers at a personal level. But it is important to get Salesforce implementation done right the very first time to  unleash its full potential and avoid poor use adoption. A typical Salesforce implementation project can take 4 to 5 weeks or take longer. But if you are well aware of the best practices associated with implementing Salesforce like any other new technology tool, you can cut down your time and money spent on implementation.
The purpose of this blog is to guide you through the best practices while moving ahead with your Salesforce implementation. Let's dive in right away:
Ensure That Your Goals are Clearly Defined
Knowing your process is key to a successful Salesforce CRM implementation. You must analyze and understand who your prospective Salesforce users will be across every department. Then, define your business pain points and business goals. You can do this in 3 phases:
Create your company's vision: Understanding your key Salesforce users beforehand will help you big time while defining your company's vision. This is when you can revisit your existing business processes. Do not forget to document your vision statements as this will benefit you while communicating with the end-users.
Define goals around the company's vision: Set goals for each user group in your organization which may include sales executives, managers, IT and administration. A sales manager's expectation from Salesforce would be to have better visibility into their sales pipeline. Whereas the sales reps may want to improve their productivity with quick turnarounds.The key here is to discuss each goal with every user group and analyze whether these goals are doable. Unrealistic goals can eventually stem frustrated business teams and lack of user adoption.
Prioritize your most important goals: Do not take on an unrealistic Salesforce implementation project. Work on implementing features that are absolutely necessary and prioritize them accordingly. Then add on additional features and functionalities according to your current requirements.
Get Stakeholders' Buy-In
Like we discussed above, getting stakeholder alignment is critical to your Salesforce CRM implementation project success. Trying to introduce a newly implemented CRM into an organization where business and IT work in silos is a big red flag. This can destroy the overall vision you had previously planned for Salesforce and impact the desired ROI. The project costs could go berserk and your teams will be overwhelmed with unnecessary work loads. This is why you MUST involve stakeholders right from the start of your Salesforce CRM implementation project. Divide them into various user groups and communicate how this new platform will change their traditional way of working and overcome their existing process hurdles.
Keep your Data Clean
Good data plays a crucial role in Salesforce implementation success. While implementing Salesforce, you are bringing massive amounts of data from various sources to a single location. So if the data is incomplete and inaccurate you will see how users quickly lose their trust in the newly launched tool.. You can ask these questions to various user groups while analyzing data health.
What is the percentage of incomplete data in various sources?
Which particular sources affect the overall data quality?
What are the reasons for recurrent duplicate data? Is it the process or the people?
Do the current validation rules help in keeping data clean?
You can next create a process to establish the desired data quality standards. Conduct rigorous data cleansing processes across all departments and make sure all data adheres to data policies. Build a team that will be in charge of the data cleansing process and improve existing validation rules. All these should be documented and shared across the entire organization.
Have a Change Management Plan
We hate to break it to you, but people hate change. Whenever there is a change within an organization, people from various departments express their aversion and uncertainty towards it. If this is not addressed with the right methods, it can lead to a downfall in your Salesforce implementation project. Having a change management plan can fill the communication gaps between various departments and decrease resistance to change. Take time to train the employees on what to expect from the Salesforce CRM even before it is rolled out. As soon as it is released make sure they are making the most out of it and not just one or two features. Conduct periodic training to each user group on new releases, advanced features and functionalities.
Don't Do It Alone
The journey to a successful CRM implementation is nothing short of a bumpy ride. Our two cents would be to refrain from self implementation as it can be fatal if you don't do it without the right skillset and tools. Yes, Salesforce is a CRM which does not even require prior knowledge in coding, but without having a dedicated team to back you, it will cost a fair share of your time and money. We would recommend you to hire a  Salesforce implementation partner to make your Salesforce implementation journey hassle-free and easy.
Any Questions?
At Dazeworks, we will provide you with assistance for all Salesforce-related queries like configuration and setup, integration, migration, and end-user support. If you find yourself in the middle of nowhere with no idea where to start, we're here to help. Contact us today to understand more about our services.