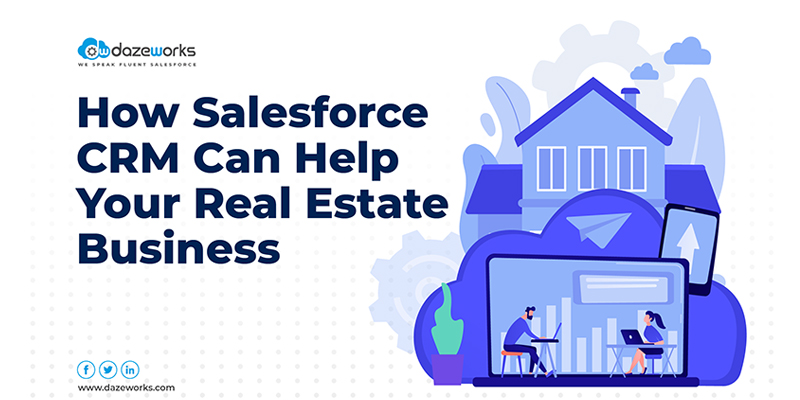 How Salesforce CRM Can Help Your Real Estate Business?
minutes read
If you manage a real estate business, your days will involve high-stakes decisions and the struggle to stay ahead of potential sales opportunities. A real estate decision is very likely to be the biggest investment in your customer's life – no pressure there! The success of your business will depend on how quickly you are able to connect with buyers and sellers and how easily you are able to maintain that relationship. The biggest challenge to real estate players in this is DIGITIZATION. Salesforce CRM can help you there and in this blog, we tell you why it is the best CRM for real estate.
Best CRM for Real Estate: Challenges it Solves
Gone are the days when your company could survive the slow lengthy property buying process and people would still patiently wait. Today, the customer expects you to give personalized services and quick solutions. And if you are not able to give them that, you are losing your customers to competitors. Investing in the best CRM for real estate offers solutions to so many challenges that are holding your business back. Here are some challenges that the right CRM is built to solve:
Inefficient Marketing
Issues with Billing and Invoices
Inaccurate Forecasting
Booking errors
Improper Client-Relationship Management
Unorganized Property Management
Benefits of Salesforce CRM for Real Estate
Quick Response Times
During the property hunting process, clients want to seal the deal as soon as possible. When they have a question or concern, they expect quick answers. Salesforce allows you to receive and reply to clients' messages from any device. But what about the times when you are unable to send a quick response? Salesforce CRM helps there as well by sending a personalized automated response. This way the customers will know why you are unable to reply and when you'll get back to them. 
Visibility into Property Portfolios
A real estate company needs to generate leads from various sources. While more leads are better, managing the database manually can be inefficient and time-consuming. Think Post-it Notes and filing cabinets! Salesforce CRM gives you a dedicated system where you can manage lead information in one place. Furthermore, you can access the data from any device irrespective of your physical location.
Automated Selling Process
Buying or selling property is a big process that is a result of many small actions. While they may seem trivial, they are significant. A real estate CRM automates many of these small steps such as filing forms and documents, sorting the data, and retrieving data to help you and clients to focus on bigger issues. Furthermore, the system takes care of sending out reminders, tracking dates, and contacting clients, strengthening your relationship with clients. 
Result-Driven Approach
A real estate company cannot afford to waste time and money on practices that do not deliver, considering bigger transaction values at stake. CRM is designed to assess and evaluate the effectiveness of the processes in real time. This swiftness allows the company to ditch the methods that are not working and focus on the ones that are. A dedicated CRM like Salesforce can save time, money, and effort and direct them to places where they will be more beneficial. 
Retaining Client-Agent Relationships
Whether you are investing in commercial or residential, in most cases buying a property is usually a one-time experience. After the whole process, it's unlikely for the clients and agents to be in touch. So years later, when the clients decide to buy another property, they are unable to reach out to the same agent. However, the Salesforce CRM system can help you maintain a long-term relationship with your clients. The system stores the contact information of clients and can regularly send friendly or informative emails. The message could be an offer that the company may be having or simple holiday wishes.
How Salesforce Can Help Your Real Estate Business?
Real estate agents jump through hoops to close deals. Investing in the best CRM for real estate can help deal with various issues. Here are some use cases where Salesforce CRM helps agents be more productive:
Use Case 1: Massive Data Volume

Source: salesforce.com
Real estate agents use the official website, advertising, and many other sources to get leads, considering that leads come from all directions, agents have a hard time manually dealing with all the information. A powerful CRM software can combine all these sources and provide the agent with a consolidated database. Additionally, the information can be viewed from any device and at any location. This allows the agents to make quick decisions and improve their services. 
Use Case 2: What's Working; What's Not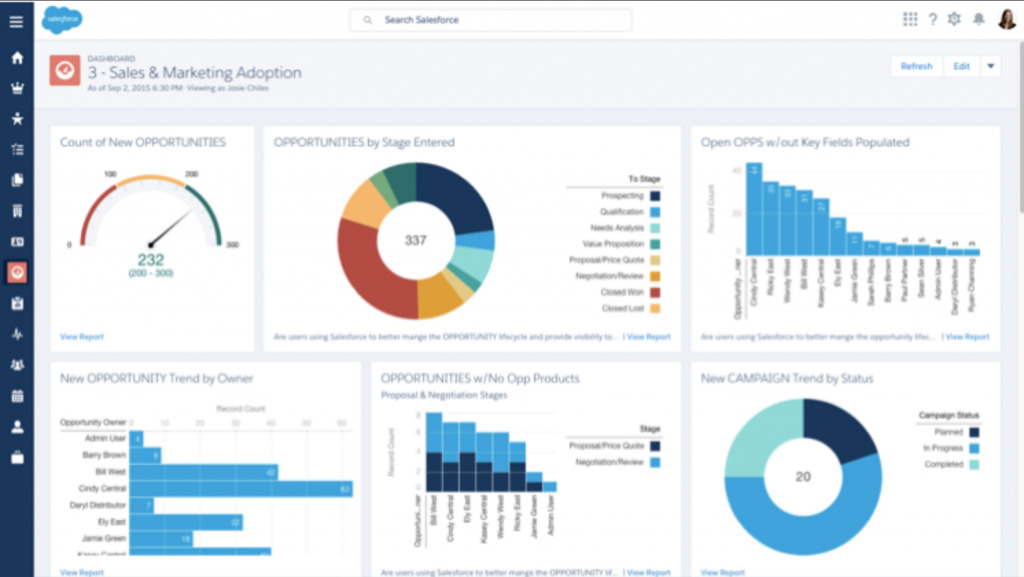 Source: salesforce.com
The real estate industry works on bigger transactions, signifying valuable time investment. As a result, if something goes wrong, the client may opt out of the entire process, resulting in significant losses. Salesforce CRM's data evaluation functionality comprehensively evaluates each situation as and when it happens. Realtors can see which campaigns are running well, which communication medium is most effective, review earnings, etc. When realtors have access to such valuable information in real time, they tend to make more profitable decisions. 
Use Case 3: Data On The Go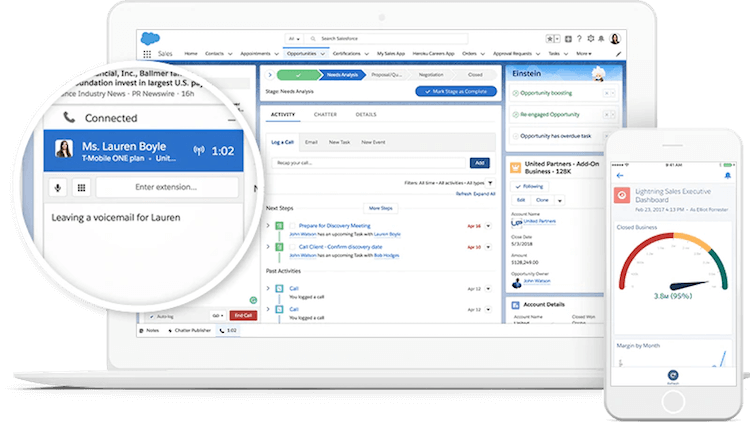 Source: salesforce.com
From showing properties to jumping from one meeting to another, realtors are always on the go. And, a CRM can empower real estate agents with technology and data that can make their job easier. The best CRM for real estate is designed to be fully functional on smart portable devices. This means no matter where the agents are, they have access to all the technologies they need to make the sale happen.  
Salesforce Services for Real Estate
Now that you understand the importance of using the best CRM for real estate out there, it's time to partner with a reliable consulting firm that can make the integration seamless for you. Dazeworks is one of the platinum Salesforce partners that you can rely on, and here are some prominent reasons why:
Functional Expertise:

Dazeworks team has worked with clients from different industries including real estate and holds the industry skill set to deliver bespoke solutions. Our knowledge and experience in working with industry-specific technologies such as CPQ and FSL allow us to make the integration and adoption easier for you. 

Technical Expertise:

Our skilled team is equipped with certification in product clouds and analytical skills to cater to your unique needs. In fact, we have over 120 certified Salesforce developers on board working for you 24×7. By leveraging various products, we have been able to provide customized solutions to our clients from different industries  

Success Stories:

We have 9 globally distributed offices, to ensure consistent development cycles. No matter the time, you will have Dazework experts to rely on. Through our expertise and work commitment, we have successfully completed an array of projects and built a strong clientele worldwide. 
Investing in a CRM means you are one step close to efficiency, productivity, and success. With a trusted Salesforce CRM automating various tasks, you can focus on improving customer services, bringing in more clients, and expanding your business.