How Does Salesforce CRM Help Colleges and Universities in Higher Education?
minutes read
In 2020, when COVID-19 escalated, schools worldwide were shut, forcing 1.2 billion students out of classrooms. Consequently, the entire education system shifted to online learning through digital platforms. The past two years focused on scrutinizing and making pivotal changes in the way we make education accessible. While a rocky start, online learning has been widely accepted worldwide. In fact, the global e-learning market is speculated to value around $345 Billion in 2025. Therefore, in 2022, the focus should be on building long-term strategies to create a holistic digital and hybrid learning ecosystem. 
A Glimpse into Salesforce Education Cloud for Higher Ed
Salesforce Education Cloud connects universities and colleges with the cloud to offer cutting-edge services. These innovative solutions bring students, staff, and stakeholders to a unified place. Additionally, the CRM allows colleges to personalize their marketing and communication, thereby offering more enriching engagement with current and prospective students, alumni, and other stakeholders. Furthermore, the education data model offers a holistic view of students, programs, courses, etc. This allows colleges to address the needs of  students more effectively.
Why Do You Need to Invest in Salesforce?
Salesforce Education Cloud can help universities and colleges to enhance every aspect of their operational system. And here we'll delve into reasons why they should invest in this revolutionary software.
Improving the Experience of Existing Students
Institutions worldwide are investing in digital and hybrid learning methods. This change has brought students to the center of it all. Today, they have become the primary clients, and universities are exploring new ways to offer personalized learning experiences.
The integrated Salesforce CRM empowers institutions to utilize actionable insights instead of depending on soiled data. As a higher ed institution, this will allow you to offer an engaging and customized learning experience. Additionally, the software allows you to have a better understanding of various aspects related to students including courses, grades, financial information, and much more.  
Paving the Way for Streamlined Recruitment Process
Education Cloud for recruitment and admissions allows you to offer a proactive and customized outreach to enroll prospective students. The CRM offers you consolidated data at a dedicated place, thereby eliminating mismanagement and chaos. 
As a result, you can focus on enrolling the right students and improving the overall recruiting process. Salesforce Education Cloud comes with exceptional marketing automation and sales automation features. These solutions take care of social marketing, budget tracking, campaign management, students' journey and personalized messaging, and final enrolments. 
Changing The Work Environment for Faculty and Administrators
Adapting to digital or hybrid learning was just as complex for teachers as it was for students. Lack of proper knowledge and resources were the key bottlenecks. But, today institutes are investing in training and upscaling of the faculty to help them adjust to the new normal. 
A robust CRM like Salesforce will allow you to create a holistic environment where both students and teachers can grow. It empowers teachers with the right technology to make the best use of their time and efforts. Gone are the days, when teachers had to spend valuable time doing paperwork and repetitive tasks. 
The comprehensive data provided by Salesforce Education Cloud allows the teachers to see the bigger picture. Whether it is keeping track of assignments, or interaction with peers and professors, all vital information is available on a consolidated dashboard. 
Enriching Alumni and Donor Experience
Current, prospective and ex-students, donors, and affiliates are all stakeholders of colleges. Salesforce Education Cloud allows you to manage conversations with these prominent stakeholders efficiently. The CRM system consolidates all the important information from various sources and presents it in a single view. Irrespective of the device, you can get a comprehensive view of students and connect with them with ease. By enabling you to send engaging and personalized messages to stakeholders, the software allows you to boost digital engagement.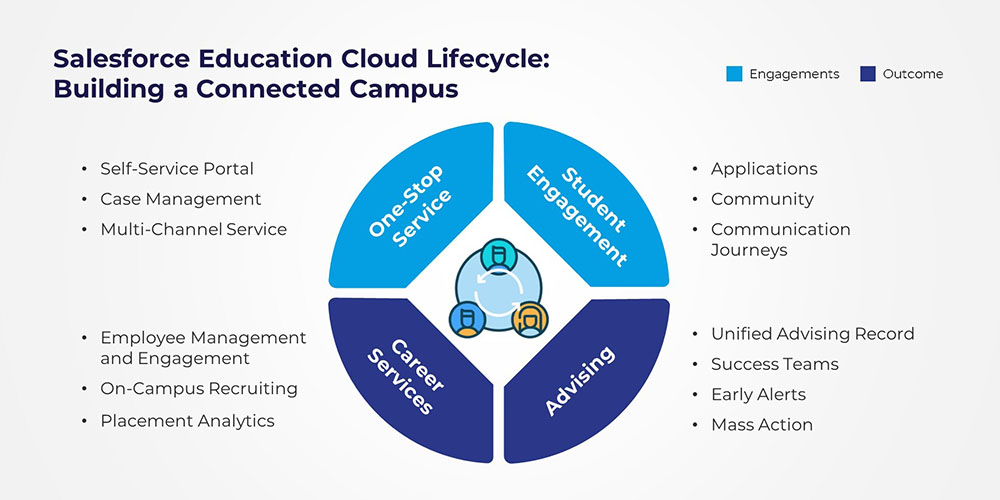 Spring '22 Release: Boosting The Potential
Higher-ed institutions are implementing new business models to enrich the learning experience in institutions. However, the lack of proper data to accomplish this objective has been a hindrance. The Spring '22 release of Education Cloud    addresses this issue. The new update will come with a myriad of excellent features including:
Inline Editing in Reports 

Clear Workspace Tabs for Every Session 

Natural Language Search 

Dynamic Charts 

Sort Past Activities by Completed Data 

No Expiration on Knowledge Links 

Lightning Available on Tablet
The foundation of Salesforce.org is to connect education with technology to enrich the experience. The system is built to streamline the process and make it uncomplicated and student-centric. By offering innovative solutions, it allows universities and students to reimagine the entire concept of education.