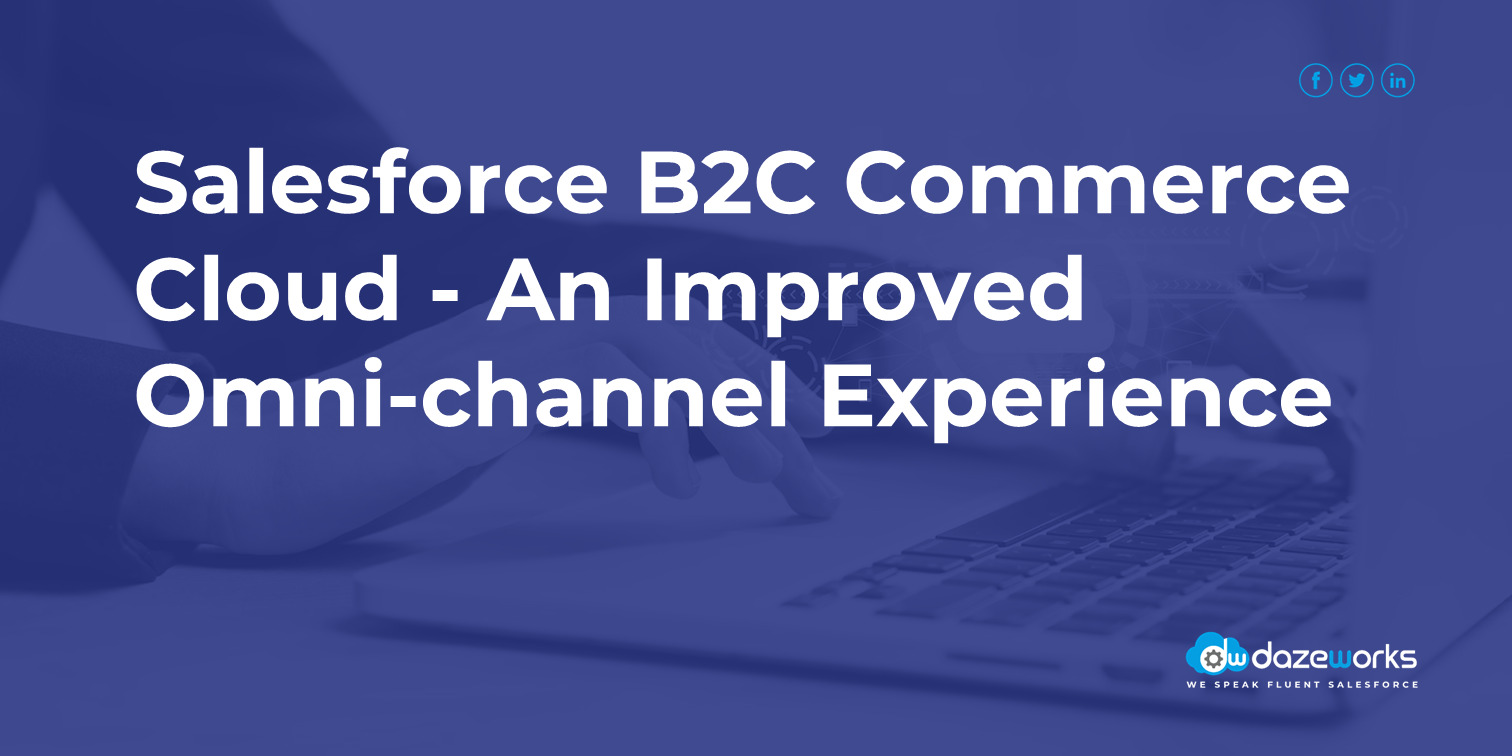 Salesforce B2C Commerce Cloud – An Improved Omni-channel Experience
minutes read
Whether it is a website, mail, e-commerce platform, or social media, as a B2C organization, you are targeting customers from all angles. To manage everything seamlessly, you need a robust platform at the back end to manage all the chaos and Salesforce B2C commerce is the perfect solution. In this blog, we'll discuss how your organization can benefit from Salesforce Commerce Cloud.
What is Salesforce Commerce Cloud?
Salesforce Commerce Cloud is a one-stop cloud-based commerce platform for marketing, branding, customer service, shopping experience, and more. The platform boasts an assortment of features that aim to revolutionize the way brands connect with customers at various steps of their journeys.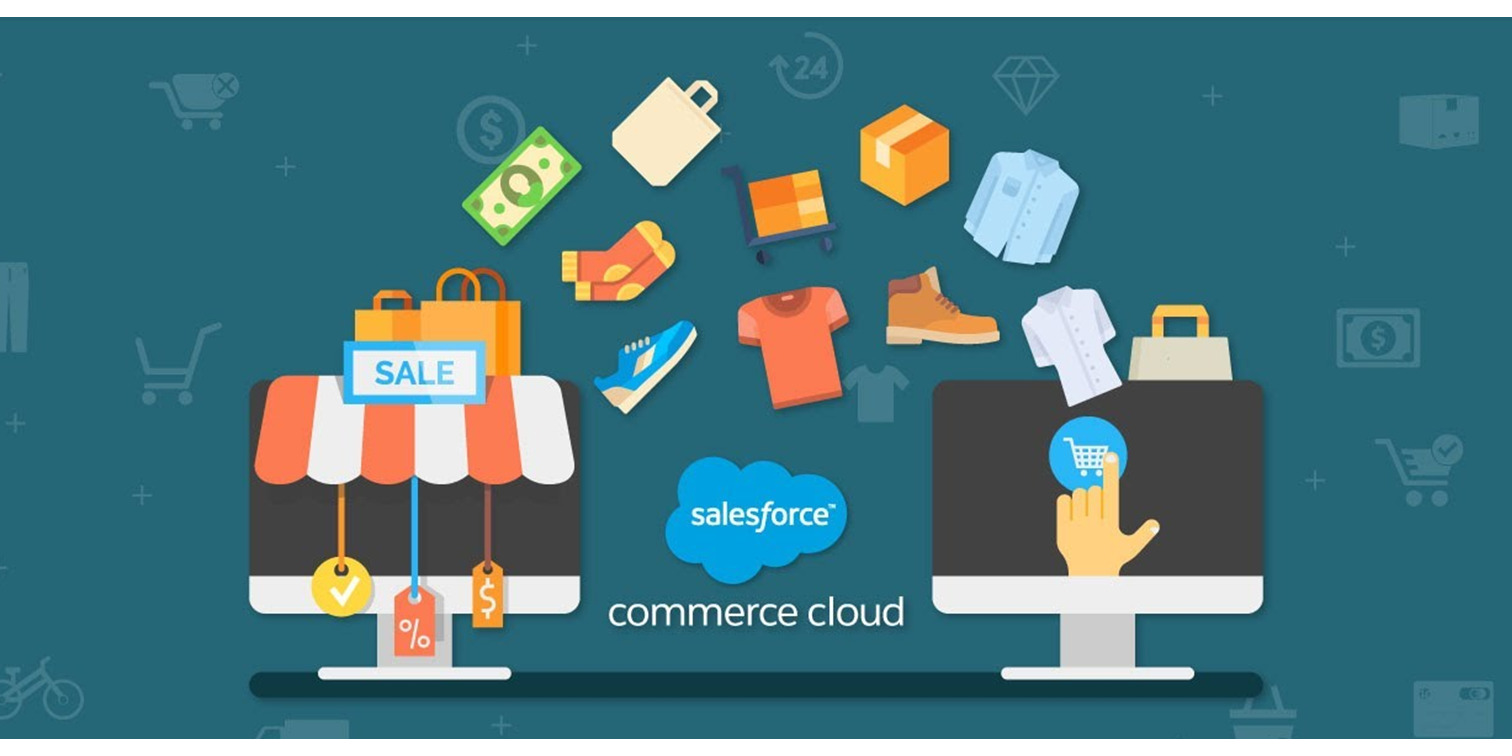 What are the Key Features of Salesforce Commerce Cloud?
B2C Commerce Storefront
It is primarily an e-commerce site that goes beyond an online cart. It allows  companies to segregate, manage and personalize shoppers' buying experience. It is integrated with Storefront Reference Architecture which allows brands to develop and launch websites easily through the best mobile-optimized practices. It is an external feature that is customizable to cater to your needs. For instance, you can create a storefront that supports multiple currencies and languages. 
Multi-Site Management and Localization
This is a robust internationalization feature that enables brands to create geo-specific websites. You can also integrate features to your existing site aligning with the cultures, languages, and currencies of specific countries. Furthermore, the regional marketing teams will have access to the global reference storefront. This empowers the teams to build and launch sites quicker with multiple currencies and language support.  
Merchandising and Marketing
These features are powered by AI, empowering retailers with numerous customization opportunities for better customer engagement. With AI insights, brands can sync products, and pricing across catalogs, currencies, and websites. Furthermore, the collected data will help marketing teams to launch personalized campaigns and promotions quickly. The personalization features will provide product recommendations to customers based on their online journey, helping them find the perfect product. 
B2C Commerce APIs
B2C Commerce APIs allow brands to use digital capabilities across websites, social media, mobile devices, and in-store channels alike. You have APIs that easily connect with third-party applications, facilitating seamless integration. Moreover, there are social media extensions that connect your website to various social communities such as Facebook, Instagram, Pinterest, etc. Lastly, there is clienteling that assists shoppers in-store to find the product they are looking for even if it is not available in a particular store. 
Why Choose Salesforce Commerce Cloud?
Leverage Predictive Intelligence 
As your business grows, there will be more data to separate and analyze. To streamline things and save time in the decision-making process, you can leverage Einstein AI. This AI platform mitigates the need for manual data analysis and third-party extensions.
Mobile-First Approach
Half of the online traffic from mobile devices gets converted into successful orders. Therefore, having a responsive, mobile-friendly website needs to be a priority. Salesforce Commerce Cloud's mobile-first approach makes it easier for you to develop a rich mobile experience. This will make it easier for you to connect with customers and for them to complete the orders. 
Customization
Salesforce Commerce Cloud gives you the freedom to be creative while building customer experiences. Based on your customer's pain points, you can introduce customizations to make life a little easier for them. For instance, you can introduce a one-stop check-out process. Salesforce is among the first commerce solutions to support Apple Pay online. This allows customers to complete their transactions with a single touch. 
Omnichannel Experience 
Salesforce Commerce Cloud can be integrated with e-commerce, order management, and even offline stores, providing you with a SaaS solution. The primary goal of Commerce Cloud is to provide a space where retailers can smoothly run their business across various channels. 
Scalability 
Scalability is a factor that every business needs to consider with its investment. Brands need the capacity to manage growing traffic, transaction volumes, inventories, etc. Salesforce Commerce Cloud provides automatic scaling that helps companies deal with such spikes and ensure the operations run smoothly.
The decision of investing in the Salesforce B2C Commerce Cloud depends on your brand size, priorities, and the level of customization you require. This is where you can benefit from a thorough Salesforce consultation.  Our experts can help you understand how your business can benefit from  Commerce Cloud and how you can get started on it.