Sales Cloud Vs. Service Cloud – Select Your Salesforce Tool
minutes read
You have finally caved in and decided to invest in Salesforce because you want to grow your business. Before you spend your money, here's a look at some basics- Salesforce Sales Cloud and Salesforce Service Cloud. Being educated about these concepts will help you make the right technology decision for your organization. 
Service Cloud vs Sales Cloud: Know The Difference
Before we dive into the details; let's understand the basic difference between Service Cloud and Sales Cloud. 
Salesforce Sales Cloud
Salesforce Sales Cloud is a customer relationship management platform that provides one-stop sales management solutions. From regulating sales cycles, and organizing various tasks, to improving customer relations and reviewing detailed insights, this is the only CRM your sales team needs.  Below are prominent features of the sales cloud that help you generate more revenue. 
Opportunity Management:

This feature allows you to manage all sales deals from anywhere in the world. You can understand your competition, what sales stage you are at, and what strategies you can take to close the deal. It creates up-to-the-minute quotes, thereby simplifying the sales process. 

Account and Contact Management:

This sales management feature ensures that you are up-to-date with all the clients' contacts. You get a complete overview of customers, preparing you better on how to engage with them. 

Reports and Dashboards:

Sales Cloud allows you to create customized sales forecasting reports. Simply drag and drop the required fields, charts, categories, and filters and that's it. You get a complete report that makes the decision-making process easier. 

Lead Management:

Leads management enables you to convert leads into customers. You get to see where the leads are, and offer relevant data to assign the leads to the right person. You get to easily track all your marketing campaigns across multiple channels.

Process Automation: The feature includes a point-to-click interface that automates your business processes. It allows you to create automated workflows and alerts for various deals. As the deal moves through various stages, the system auto-assigns the tasks. This improves the efficiency of workflows.
Salesforce Service Cloud
Salesforce Service Cloud is a customer relationship platform that is focused on optimizing your customer support services. The service Cloud is focused on workflow streamlining and servicing automation. Some of the key features of the Salesforce Service Cloud include
Automated Workspace:

This UI is dedicated to customer service agents to streamline their workflow. It automates task assignments, field updates, and email responses to ensure more efficiency and productivity. 

Case Management:

The service console allows agents to juggle various cases simultaneously across multiple channels. 

Knowledge Management:

This feature enables the agents to create and access resources within the knowledge base of the organization. 

Service Analytics:

Dashboards offer easy access to reports and vital CRM data including chatbot performance, backlog analysis, productivity, etc. 

Omnichannel Routing:

It allows cases and leads to be automatically directed to specific employees based on predetermined factors. 

Service Process Automation:

This feature leverages the power of AI to automate various functions. 

Computer Telephony Integration (CTI):

This feature helps in managing service calls from and to customers with data on hand.

Asset and Order Management: It tracks customer information such as order history, assets, and support history.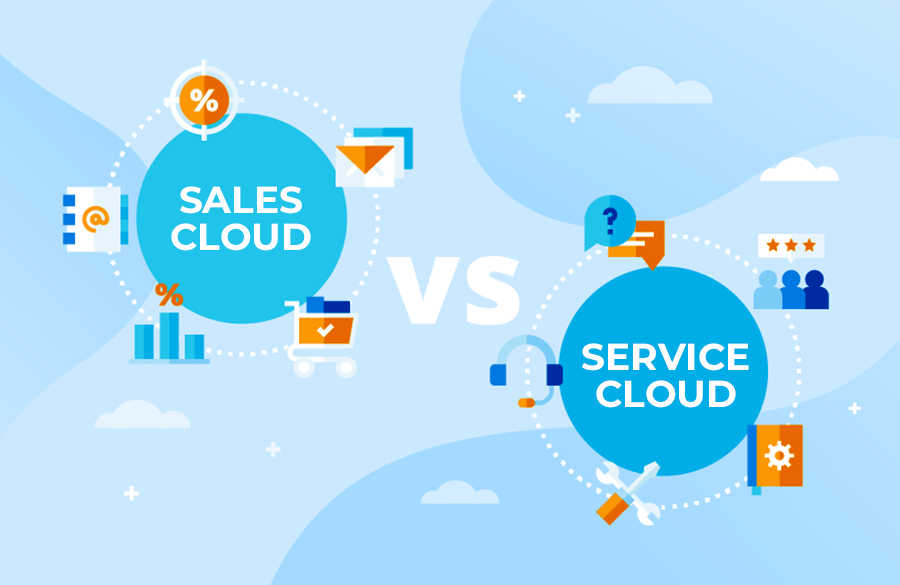 Who Uses Salesforce Sales Cloud?
Salesforce Sales Cloud is designed for sales representatives and managers. The platform allows them to manage their daily tasks efficiently. It extends a powerful cloud-based tool that enables sales managers to seamlessly connect with customers via a customer service portal. 
Additionally, the CRM seamlessly integrates with various platforms including websites and social media. This integration allows the managers to gather information from various sources and provide more personalized solutions to the client's needs. 
The platform empowers sales representatives to work smarter by providing valuable insights, forecasts, and guidance from artificial intelligence. You can evolve your current sales strategy to expand the reach to new horizons.
Who Uses Salesforce Service Cloud?
Salesforce Service Cloud is built for client service managers. The CRM focuses on improving customer retention. It also offers various communication channels, facilitating faster and more seamless communication. There is a live chat option wherein customers can instantly send messages and receive an immediate response.
It allows managers to evaluate the performance of representatives and determines improvement areas. With tools such as keyboard shortcuts, macros, and free templates at your fingertips, the platform helps in improving team productivity. 
Salesforce Sales Cloud vs Service Cloud
| | |
| --- | --- |
| Salesforce Sales Cloud | Salesforce Service Cloud |
| It is the sales module of Salesforce that includes contact, leads, accounts, quotes, and opportunities. It is designed as an extensive setup for the sales team to generate more revenues.  | It is the service module of Salesforce that is dedicated to optimizing customer service. It includes accounts, contacts, and cases, public knowledge base, customer service automation, and a call center. It is designed to efficiently deal with client requests. |
| | |
| It is a web-based platform that can run on browsers, iOS, and Android  | It also runs on web browsers, Android and iOs.  |
| It offers web-to-lead functionality  | It centers on web-to-case functionality  |
| The price package starts at $25 and goes up to $300 per month excluding add ons. | There are multiple packages that range between $25 and $300 per month. The package prices do not include add-ons. |
Conclusion
When it comes to deciding between Sales Cloud and Service Cloud, you need to address the core purpose. With the amazing set of features that both these platforms offer, it can be perplexing for organizations to choose among them. This is where a proper Salesforce consultation can help you to make the right decision. A reliable consulting partner will understand your organizational needs and goals and help you choose the apt platform. 
Sources
https://www.salesforce.com/in/editions-pricing/sales-cloud/
https://www.salesforce.com/in/editions-pricing/service-cloud/