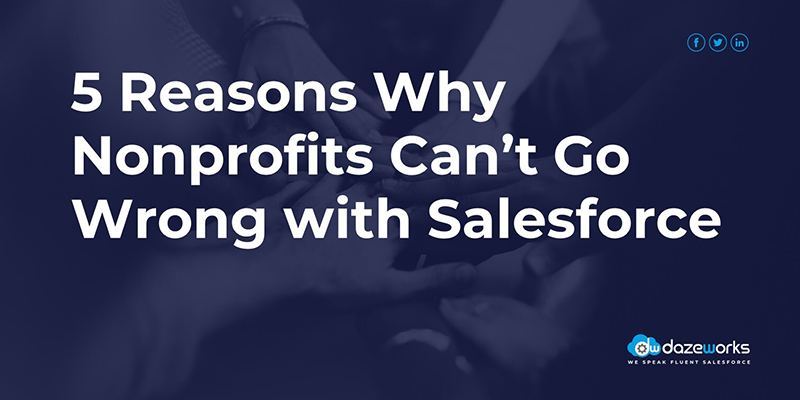 5 Reasons Why Nonprofits Can't Go Wrong with Salesforce
minutes read
As a non-profit organization, you work to make an impact on society. But you cannot achieve your goals if you are stuck doing manual, arduous work. It's time to embrace powerful software that can take up those strenuous tasks, and help you focus on what's more important.
This is where Salesforce steals the show. It has helped thousands of companies optimize their potential and can help your nonprofit organization do the same. How you may ask? In this detailed blog, we will delve into why Salesforce is important for your non-profit organization.
Benefits for Salesforce for Nonprofits
Bring a More Organized Approach
It's challenging to manage the workforce, fundraising events, and grants together. Salesforce helps nonprofit organizations manage the clutter and create more organized and actionable plans. The versatile functionalities of Salesforce allow your organization to design a customized workspace for each team member. It helps by offering a personalized dashboard wherein various teams can easily manage and delegate their tasks. 
Boost Operational Efficiency
When you are more organized, it increases operational efficiency. Furthermore, Salesforce helps in building strong relationships with teams and partners. This open and improved communication channel brings positivity and helps in improving productivity and efficiency.
Value for Money
Is Salesforce the most affordable CRM solution out there? No. But does Salesforce provide excellent value for money? Undoubtedly! Although the price tag may seem a bit high for small nonprofit organizations, they can benefit from the Power of Us Program. 
The Power of Us Program by Salesforce allows nonprofit organizations to take the first 10 subscriptions for free. Once the free trial ends, you can choose among diverse lucrative offers. There are four packages – Essential, Professional, Enterprise, and Unlimited, and each of them includes various features. While you have to spend extra for the integration and implementation, the feature-rich platform makes it worthwhile. 
Customization Capabilities
Salesforce seamlessly caters to the management needs of nonprofit organizations. From tracking donors, and volunteers to managing leads and fundraising events, Salesforce flexibly adapts to dynamic requests. Moreover, if a particular feature isn't a part of the basic Salesforce package, you can always customize it. It provides scalability that allows you to easily add or remove certain features based on your needs. This is a blessing especially when you get a project that comes with a unique set of requirements. 
A Reliable and Staunch Support Channel
Salesforce is backed by massive community support, so there's always someone out there for you. You can reach out to Salesforce experts in case you are having trouble with anything related to it. The community is live round the clock, so the right solution is always just a tweet or emails away.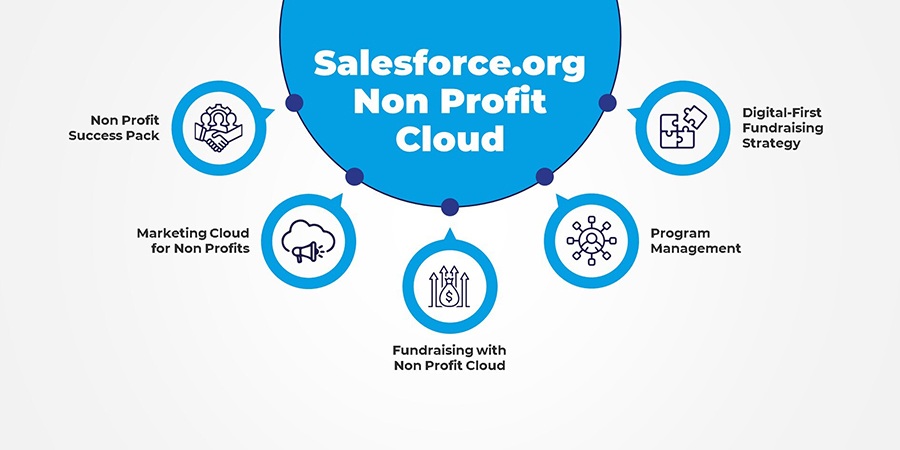 Salesforce NonProfit Cloud Features
Program Management
Fundraising events are the bedrock of nonprofit organizations. Whether it's planning a massive annual fundraising event or various small events, you need to manage a plethora of facets. You have to take care of guests, marketing, logistics, and many other things. And, Salesforce consolidates all the data into one place, making management a hassle-free experience. 
Digital-First Fundraising Strategy
This feature aims at driving more funds to fulfill the objectives of the campaign. The digital-first fundraising strategy assists you in creating a well-planned strategy to connect with more donors and acquire more funds. Through this feature, you can communicate with them on various platforms, thereby facilitating a personal touch to your approach. By providing a seamless digital fundraising experience, you can create a long-term relationship with donors.
Reporting & Analytics in Salesforce Nonprofit Cloud
With the massive quantity of data you are collecting including any apps that you have paired with the CRM, you need a useful way of storing it. The reporting and analytics feature allows you to measure how many new donors you engaged during your last fundraising campaign by running reports on new leads generated or contacts added. Additionally, you can track your performance against goals by creating a dashboard to display a real-time view of your earned revenue toward your end goals.
Fundraising in Salesforce Nonprofit Cloud
Funds are the fuel of any organization and nonprofit organizations are no different. The fundraising feature of Salesforce provides you with the opportunity to connect with supporters. Salesforce CRM allows you to easily connect with the right supporters. Additionally, the comprehensive view allows you to manage and host fundraising events in a more organized manner. 
Community Support
Without your supporters, you can never imagine a successful fundraising campaign. Therefore, being up-to-date with their information is a  vital task. Nonprofit Success Pack is an open-source package with thousands of nonprofit organizations members from across the globe. The platform is developed to empower teams and to connect with different constituents. Moreover, you can add custom elements such as fields, relationships, and objects. There is also a web-to-lead feature that converts online forms into leads. So when someone signs up for a mailing list or volunteer schedule, they will automatically be logged into the CRM. 
Thousands of nonprofit organizations are benefiting from the robust Salesforce system, it's high time you do too. Salesforce paves the way for new opportunities that will help you make a greater impact on society. Get in touch with a reliable Salesforce consulting company and be a part of the Salesforce family.