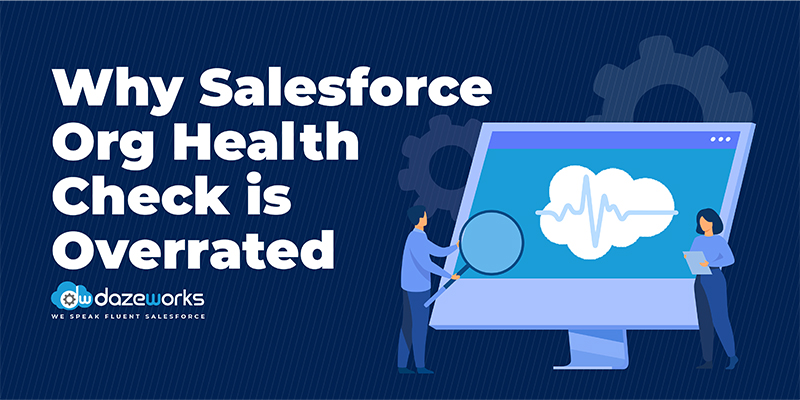 4 Reasons Why You Shouldn't Bother about Salesforce Org Health Checks
Posted by Seethu Maria Mathew
minutes read
Salesforce implementation is exciting! Every organization is investing in it, from large enterprises to small businesses wanting to push their ROI through the roof. But you know what's dull? It's the constant effort to look back and evaluate what you've bankrolled. Like a Salesforce org health check to start with. So what's the best way out of this headache? You could always try implementing your Salesforce org and then forgetting about it. If you are undecided about the need for a Salesforce Org Health Check, here are 4 instances when you shouldn't be too keen on Salesforce Org Health Check. 
1. Your Salesforce Org is not Designed for Growth
If you are all about quick fixes and immediate results, then it's not worth doing a Salesforce Org Health Check. The benefits of a health check takes quite some time to show up and can test your patience. It's mainly intended for organizations who are future ready and looking to scale without disruptions as their business evolves. Making your Salesforce org go through a health check will provide business insights, but it's not necessary if you are strong willed about the future and believe in improvising in the middle of chaos. Just hang in there and say no to org health checkers !
2. You Believe User Adoption is a One-off Affair
If you have invested in Salesforce thinking, "Let's implement it first and the fans will follow later", a Salesforce org health check is not what you need.  Once you have made sure that a killer user functionality is delivered within timeline and budget, continue to sprinkle a few user training sessions once in a blue moon. Proactively analyzing each employee's expectation out of your Salesforce org is utterly mind numbing. So what if your users have issues, you can always address them when they crop up. Go ahead and turn away from a Salesforce Org Health Check.
3. You Don't Believe in 'Technical Debt'
You may have noticed bugs popping up right before a release. If your mantra is that its common for developers to miss the occasional code vulnerability, its probably not important for you to have your code at its creative best. A Salesforce Org Health check is only necessary if you're paranoid about scrutinizing each and every line of code in the Salesforce org and too adamant to be in line with Salesforce best practices.. But we get it, you are more worried about Salesforce working for you in the now.
4. Salesforce Optimization is not your Concern
Now you may think as to why anyone would doubt a powerful tool which is considered as the gold standard of performance among all CRM tools? Some of your employees may complain that it takes time to load and that it affects their productivity. And there is duplicate data that slows down the org's performance. Relax! You don't need to invest in health checks and waste your time and money on resolving occasional hiccups.That's just plain boring.
What do you think of this take? Does it align with your thoughts regarding the Salesforce Org Health Check? If you agree with it, good luck!. If you don't and you want help preparing against nasty surprises in the future, let's get on a 1:1 call to discuss what you have in mind. Talk to our expert Salesforce consultants now.