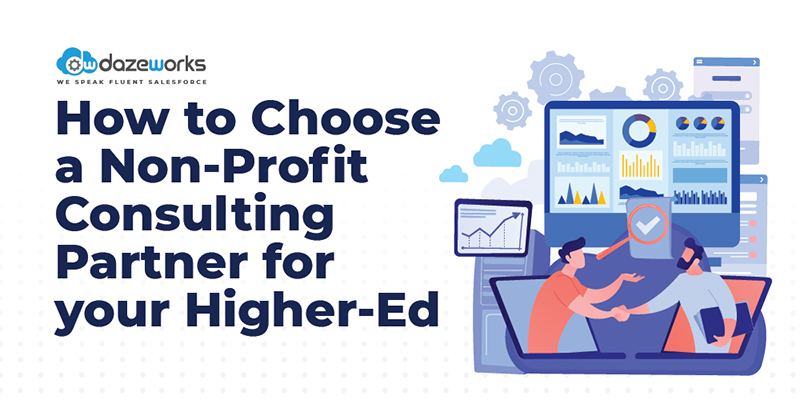 How to Choose a Non-Profit Consulting Partner for Your Higher-Ed?
minutes read
Nonprofit Success Pack by Salesforce allows NPOs to efficiently manage donations, fundraising, members, and many other operational aspects. There is  no doubt that this powerful CRM can solve all management challenges of an education institute as well. However, you need the help of an expert Salesforce consultant to leverage it to its full potential. 
So what are some of the top ranking questions at a higher-ed looking for hiring Salesforce consultants?
Should you hire in-house or outsource your consultant requirements to a Salesforce partner?

Does the partner speak your industry language?

What is the partner's implementation methodology?

What role do you envision  a Salesforce consulting partner to play in your non-profit organization?

Will the consultant make a customized plan for your non-profit organization? 

Does the Salesforce consultant hold references to show credibility?
While there is an overwhelming number of Salesforce consultants out there, some  stand out. How? In this blog, we will give more than one reason as to why a Salesforce partner is the right fit for your education institution. 
A Recognized Salesforce Partner 
A Salesforce accolade is a shout out to the world that you have the right skill sets for a project. It shows a commitment by you to constantly learn and stay ahead of the game with continuous upgrades to your knowledge base. Joining the Salesforce Partner  program offers partners resources, tools, and training opportunities to develop skills in various products and industries. 
Being a Platinum Salesforce partner means that we have received among the highest scores in the  measure of a consulting partner's expertise. We possess the right toolkit  that will enable higher-eds to be tech-savvy and engage students, teachers, staff, etc., with maximum efficiency.
Customization at Its Core
Salesforce offers a wide range of solutions that may not all be required for you. Therefore, it is important to choose a partner who can assess your requirements and build a bespoke package for you. Over the years, we have worked with reputed international educational institutions. We understand that you cannot be successful with a one-size-fits-all package. This is why our focus remains on providing solutions that'll help you to build an enriching learning ecosystem. 
Reliable Support
The Salesforce ecosystem continues to evolve and bring new updates to improve the user experience. Staying up to date with these latest developments is important. Therefore, you need a partner who offers continuous support.
That's why we offer reliable support every step of the way. We go the extra mile and ensure that you have garnered information to make the right decisions. Our global presence has allowed us to be agile and proactive, so count on us for a quick response. 
Worth Every Penny 
Aldo Gucci once rightly said, "Quality is remembered long after the price is forgotten."
As an education institution, you work to provide your students, teachers, and staff with a flourishing environment. Similarly, we at Dazeworks envision providing nothing but the best solutions to you. Our team put in great efforts to comprehensively understand what Salesforce CRM features will benefit you the most.  Our experience, expertise, and customization justify the prices. 
Giving Back to The Society
We believe that it is our responsibility to give back to the community. And, Pledge One Percent is our way to contribute to the growth of organizations that support the community. We offer 1% of equity, time, and service to non-profit organizations. Our non-profit service package includes this 1% service component. We volunteer our time work or products and services to the growing non-profit community. 
References That Speak Volume
When you are looking for an expert Salesforce consulting partner, you're looking for someone to build a long-term relationship with. They should understand and speak the language of your industry. You should be able to trust them and credible references help build this trust. 
We do not want you to opt for us solely based on  our fancy words; we have our strong clientele to support our words. The quality of our services allowed us to partner with reputed organizations like Boys and Girls Club of America and Girl Scouts of America. They entrusted us to provide bespoke Salesforce solutions and went away as happy customers. . 
We'll Fit In Just Fine
When you are introducing a new system into an existing one, things can be complicated. This is why it's important to understand the existing culture of an organization first. And with us, you don't have to worry about disruptions. When you choose us, you have a long-term partner to collaborate with and exchange ideas. 
With our strong expertise and versatile Salesforce solutions, we understand your vision is  to bring digital transformation into your education institution, and we know just how.