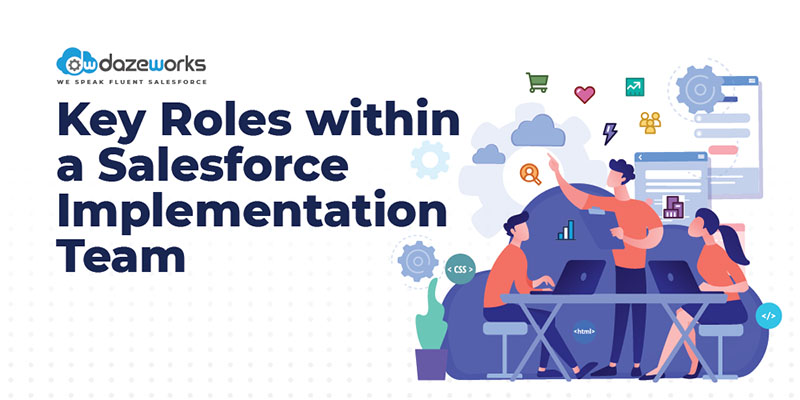 Key Roles within a Salesforce Implementation Team
minutes read
Implementing Salesforce is just like building your dream home. You may have a design in your mind, but at the same time have millions of questions to figure out. Like how to choose your Salesforce implementation partner, or how much Salesforce will really cost you and so on. One among the most crucial questions you will have to answer is- who are you going to assign to build your dream home a.k.a, Salesforce? Look at every successful Salesforce org and you will see a core team working their best in the background. Like every project, a Salesforce implementation project will have a time frame and scope. To meet that, you need to have a team that ensures your project success. This blog discusses the key roles you should be filling while setting up your Salesforce implementation team.
Product Owner
The product owner is the go-to person for everything related to Salesforce in your organization,  no matter your company size. He/she acts as the single point of contact for every data source, and the only one who has complete authority over the Salesforce platform. You can ask any questions and raise Salesforce related issues to the product owner. Although it is a technical role like the Salesforce administrator, a product owner should have leadership qualities in addition to technical expertise while dealing with a new Salesforce implementation project. Let's take a look at some of the roles and responsibilities of a product owner.
Create and deliver a Salesforce roadmap that translates the timeline of the Salesforce implementation project.

Gather requirements from all stakeholders and create product strategies.

Have clear cut product vision and act as an enabler of the organization's digital transformation initiatives via Salesforce.

Manage product backlogs to bring out maximum value of the product.
Executive Sponsor
Having an executive sponsor will not only ensure a successful Salesforce implementation, but also ensure successful Salesforce user adoption. An executive sponsor aligns internal resources  and allocates budget for the Salesforce implementation project. The roles and responsibilities of an executive sponsor are to:
Ensure the Salesforce implementation project goals align with the company's overall mission and vision.

Actively participate in a scrum meetings, business process and data review meetings, user training and so on

Oversee and provide direction to the Salesforce implementation team throughout the project lifecycle
Project Manager
While a product owner has complete ownership of the Salesforce platform, a project manager acts as the primary contact for the Salesforce implementation project. A project manager collects the business and technical requirements, organizes the resources and processes, schedules meetings and ensures proper communication and collaboration between various business units and stakeholders involved in the project. 
Collect project requirements from clients.

Create goals  and development plans for the Salesforce implementation project.

Collaborate with clients and leadership team to understand the objectives, timelines and overall cost.

Conduct regular meetings with consultant, client and development team to update status.

Create metrics to assess project success.
Power Users
Subject matter experts also known as power users are focused on improving the end user experience. They dive into the Salesforce platform in order to understand it well enough from an end user perspective. They give periodic feedback and translate the requirements to Salesforce developers and administrators. 
Data Management Lead
The data lead takes care of the organization's data environment and ensures smooth data migration. The roles and responsibilities of data lead are to 
Understand where the data resides in the organization.

Figure out if any duplicates, inconsistencies or data gaps exist currently that affects the overall data quality of the systems.

Follow appropriate methods to source data from various sources to the Salesforce platform 
System Administrator
A system administrator manages Salesforce activities on a day to day basis and is responsible for handling user requests and updates. They are instrumental in capitalizing the benefits provided by the Salesforce CRM platform. Their responsibilities are to:
Create user accounts and maintain sales databases.

Train employees on various features and uses of Salesforce and its products.

Oversee performance of various Salesforce systems and products.

Ensure optimized integration through timely upgrading and configuring of Salesforce systems. 

Manage various Salesforce roles, workflows and groups.

Manage Sales Cloud and create custom reports and dashboards as and when required.

Database maintenance which includes conducting data health diagnostic tests and deduplication, data cleansing etc.

Keep an eye out for the three Salesforce releases every year and ensure updates are installed. 
Are you ready to set up your Salesforce implementation team? Almost all Salesforce implementation projects require the above discussed roles. But it is important to determine what roles you need for your team depending on your organization size and complexity of the project. Contact our Salesforce consultants to discuss your Salesforce CRM needs and how you can gain maximum success out of your Salesforce implementation project.