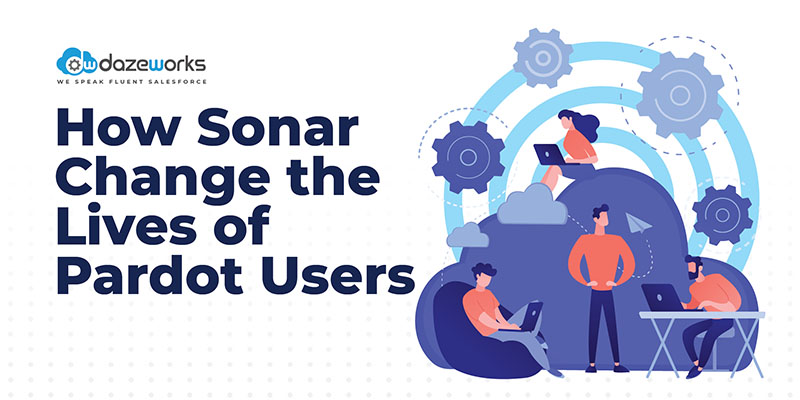 How Sonar Change the Lives of Pardot Users
minutes read
Salesforce acts as the single source of truth for workflows across all departments of your organization. A powerful tool like Pardot feeds Salesforce with actionable data and helps nurture and convert more leads. But it also creates complex dependencies which hinders the positive impact expected from a CRM-marketing automation relationship.  So let's find out how sonar changes the lives of pardot users.
Here are some challenges faced by Pardot users on a regular basis: 
Recurrent blindspots in marketing campaigns, putting their campaigns at risk. 

Lack of visibility into dependencies within the marketing automation platform and CRM

Operational silos leading to broken processes and a lack of knowledge about  important metrics

Inaccuracies in data reporting and negative marketing experiences 

Pardot fields overwritten by Salesforce
What is Sonar for Pardot?
Sonar for Pardot is a Change Intelligence platform that is designed to solve the disconnect between sales and marketing teams. It helps them understand each other's processes and have better collaboration with each other. Your go-to-market teams now get in-depth details on the tech stack they use and can use this information into driving successful marketing campaigns. 
"There's often friction between marketing and sales caused by years of working apart from each other and reporting on metrics from different systems," as stated by Brad Smith, CEO & Co-founder at Sonar. By giving teams a shared view across the systems they rely on to achieve success, you can unify their actions to make a real, meaningful impact on revenue. That's why we're thrilled to introduce Sonar for Pardot. Now, teams will have a comprehensive understanding of their Salesforce and Pardot org, so they can break down silos and easily collaborate."
Image Source: https://www.salesforceben.com/x-ray-vision-for-pardot/
How Sonar Breaks Silos Within Your Organization?
Salesforce Admins
Even the smallest change made in Salesforce can impact the overall marketing work. By leveraging Sonar for Pardot, it is easier for teams to understand the impact of a change even before it happens. Now all teams can understand how these changes affect both Salesforce and Pardot and work together to accomplish the ROI goals. 
Marketing Team
One of the reasons for the friction between marketing and sales teams is the occasional lack of visibility into marketing qualified leads passed on to the sales team. With Sonar for Pardot, they can understand the impact the marketing team had on lead conversion and on the overall sales pipeline. They now have a clear understanding of how the emails, email templates, landing pages flow to sales. 
Management
The disconnect between sales and marketing teams results in inaccurate reporting which in turn affects the entire business. Sonar for Pardot helps create a structure for lead nurturing, lead scoring, and attribution that gives results. Sales and marketing can work as a single unit using this shared knowledge. 
If you would like to learn more about Sonar for Pardot, please drop us a message in the comment section below or reach out to our team for more information. 
References:
https://sonarsoftware.com/blog/see-through-siloes-with-sonar-for-pardot/
https://www.businesswire.com/news/home/20211119005173/en/Sonar-Breaks-Through-Sales-and-Marketing-Data-Siloes-With-New-Product-for-Pardot
http://go.sonarsoftware.com/marketing-operations/?utm_source=salesforce_ben&utm_medium=blog&utm_campaign=sonar_for_pardot_launch
https://www.salesforceben.com/x-ray-vision-for-pardot/
https://www.benzinga.com/pressreleases/21/11/b24190916/sonar-breaks-through-sales-and-marketing-data-siloes-with-new-product-for-pardot?fr=operanews