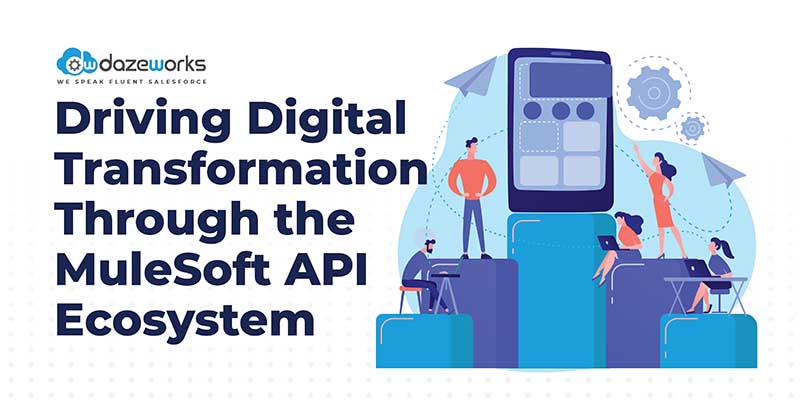 Driving Digital Transformation Through the MuleSoft API Ecosystem
Posted by Seethu Maria Mathew
minutes read
Successful organizations consider digital transformation inevitable today. Many have realized that they will be staring into the abyss if they don't catch up with their competitors.
Did you know that even though an average enterprise hosts  900 applications, 71% are still disconnected? IT teams are burdened by the time and effort it takes to manage these application silos. For this reason, many organizations are adopting an API ecosystem approach to drive digital transformation.
What is an API Ecosystem
An API ecosystem is all about several APIs working in sync to drive a company's digital transformation. Several parties like stakeholders, customers, partners, software vendors and developers are all part of this ecosystem. Not only do the APIs grow individually though this, they benefit everyone involved in the ecosystem and take your company's product growth to the next level. Needless to say, an API ecosystem is pivotal in creating innovative solutions and extending your business capabilities.
How MuleSoft's API Ecosystem Accelerates Digital Transformation
Replaces Legacy Systems
One of the biggest challenges faced by IT teams is in integrating existing legacy systems to applications. This is a key reason why integration projects fail in the long run. By leveraging MuleSoft's API ecosystem, businesses can flawlessly integrate their application with any device or system.
Supports Agile Development
MuleSoft's Anypoint Studio improves agility as it provides a flexible microservice architecture that follows a modular approach according to your growing business requirements. There is full operational visibility and it enables you to effortlessly manage your APIs using Runtime Manager.
Aids Business Process Automation
MuleSoft's API ecosystem enables reusability of APIs. There is no need for time consuming migration while  automating legacy systems. 
Reduces Development Time
MuleSoft accelerates development time by streamlining complexities and minimizing time of resolution, all from a single window. This in turn improves the productivity of the development team as they spend considerably less time on the development side. 
Now let's see how these benefits of MuleSoft can be applicable to different industries with the help of a few  hypothetical scenarios.
Retail
Objective
Streamline business operations and provide an omnichannel experience to customers of a fashion apparel company. Currently, they struggle to provide better online and in-store services simultaneously.
Solution
Unified View: The retail company can make use of MuleSoft's Anypoint Platform to create APIs that compile information on customers, order status, real-time inventory and the pricing structure from a single user interface. All these data were earlier located in application silos.
Omnichannel Experience: All the data from back-end systems like Order Management System and payment providers are now sourced into one location. This makes it easier to engage with customers in real time and deliver products at the right time
Improved Productivity: The MuleSoft API led approach eliminates the need for manual reporting and helps in making quick decisions. They can leverage real-time data that flows from supply chain systems to the entire ecosystem.
Health Care
Objective
A private hospital is looking for new methods to connect doctors and patients and provide improved healthcare experience. Currently they face a lot of issues in sourcing and sharing data and turning it into a unified format. Especially when it comes to the cloud, it's even more difficult for apps to handle these data coming from multiple channels. This results in not understanding exact requirements of their patients and delivering better patient care.
Solution
Single View of Data: By building a MuleSoft API ecosystem, it helps healthcare organizations to standardize and manage data flow efficiently. 
Streamline operations: Using the API-led connectivity method helps them to schedule patient care in a proactive manner and improve operational efficiency of the IT team
Insurance
Objective
Provide connected customer experience to insurance policy holders. Currently all information remains locked in disconnected systems. 
Solution
Legacy Modernization: Now they can unlock data using reusable APIs and build a solid data architecture. 
Connected Policyholder Experience: With unlocked data, it is now possible to create a single view of policyholders and deliver improved customer experience. You can access them on the go using mobile and desktop. 
New Revenue Opportunities: Improved customer experience means delighted customers and new distribution channels, translating into new revenue streams.
If you would like to drive digital transformation with the MuleSoft API ecosystem, we are here to help. Contact us today to discuss your business aspirations and we'll take it from there.
Reference:
https://www.mulesoft.com/resources/api/use-cases-digital-transformation