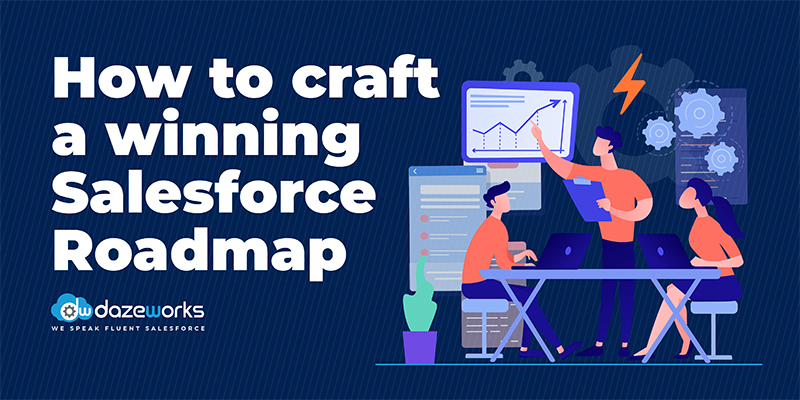 How to craft a winning Salesforce Roadmap
minutes read
Investing in Salesforce can be a truly transformative experience for your business, but it's not a one-size-fits-all solution. To leverage its potential, your newly implemented Salesforce org should be in sync with your business processes and fit in the 'Big Picture' you have envisioned for your company. 
As a CFO reading this blog, you may be at that stage of your Salesforce journey where you are trying to figure out the following questions:
How can I maximize ROI from my Salesforce investments?

How do I get the management team to accept the Salesforce digital transformation?

How do I achieve cross department adoption of Salesforce?
All our clients had these critical questions in mind while evaluating Salesforce and we had one answer for them all – create a Salesforce Roadmap.
What is a Salesforce Roadmap?
A Salesforce Roadmap helps in understanding your current state and how Salesforce can address those challenges. It is a centralized plan that analyzes and streamlines the entire business process – sales, marketing and other departments to align with the Salesforce platform. Just think of it as a map that helps you find your way to the right destination. For instance, have you ever lost trust in your GPS app's ability to point you in the right direction? Even if there is heavy traffic on your route, it'll change the direction or ask for a detour with minimum hassle. Just like that, a well-structured Roadmap will enable your people and process to adapt to and evolve with inevitable changes in technology. 
Who needs a Salesforce Roadmap?
How far do you want to leverage Salesforce? Are you planning to treat it as just a CRM or extensively use it to benefit other business areas?
Either way, you need a Roadmap. Both startups and established companies will benefit from creating a Salesforce Roadmap. While it helps SMBs to scale their systems during rapid growth, a Salesforce Roadmap plays a pivotal role in understanding disconnected systems and sheds light into system integration strategies for more established organizations. 
Is it Really a Necessity?
Imagine you have implemented a highly regarded application and it's not just used by one department. There are several people involved with different needs and expectations. A Salesforce Roadmap acts as a strategic tool to bring your entire business process and people under one umbrella. Here is how you can benefit from Salesforce roadmap :
It helps in Salesforce release readiness and  leverage new features and functionality (3 releases per year)

It aligns your business goals with Salesforce features and functionalities. 

It gives a heads-up to your internal teams for skill acquisition. In case there are external partners, they can also prepare in advance.

It acts as a catalyst for digital transformation.
So when should you create a roadmap? The earlier, the better! A detailed roadmap will help your Salesforce consulting partner to be better prepared for your short term and long term plans. This can avoid hasty implementation mistakes.
Steps to Create A Roadmap
1. Analyze business goals of your organization
The best way to start is to understand where your company would be without Salesforce. Work on your key business problems and the reasons behind them. Next, start defining your objectives that need to be fulfilled by Salesforce. This process will help you analyze the different personas involved in each department and the expectations they have from Salesforce.
2. Capture KPI's against objectives
Next step is to quantify how success is measured for each defined objective. This will give you a picture of how your company should be performing post a successful Salesforce implementation. The KPIs used to analyze the impact of Salesforce Implementation revolve around performance test, sales cycle time, data quality and process compliance  and user adoption. Defining KPIs for each persona will help you align your Salesforce platform to business goals.
3. Create a Salesforce governance framework
Finding out what to do next and how to drive Salesforce transformation across your organization starts from formulating a Salesforce governance strategy. In simple terms, it means creating a plan to better understand how Salesforce will be configured and to track and manage all the changes. It's always best to set the idea of governance from the beginning stage.
Centre of Excellence- Start by hiring a Steering Committee of  key stakeholders starting from top down leadership teams. This helps in managing communication between various teams when any change occurs within the solution. The CoE team will play the role of vetting and prioritizing these changes and coordinating across stakeholders to ensure all these changes are effectively implemented throughout the organization.
4. Revisit Roadmap on regular intervals
"Change is the only constant in life (and Business)". Your Roadmap is not set in stone. It requires many iterations over the course of time – take the three Salesforce releases a year for example! Hence you need to review your current Roadmap every six months or on a quarterly basis. Always be attuned to upgrades and technological advancements after talking to your Salesforce consultant.
So what do you think is the biggest hurdle while creating a Salesforce Roadmap? Let us know in the comment box.
If you would like to know more on developing a Salesforce Roadmap for your organization, feel free to get in touch with our Salesforce expert team. We're happy to help!