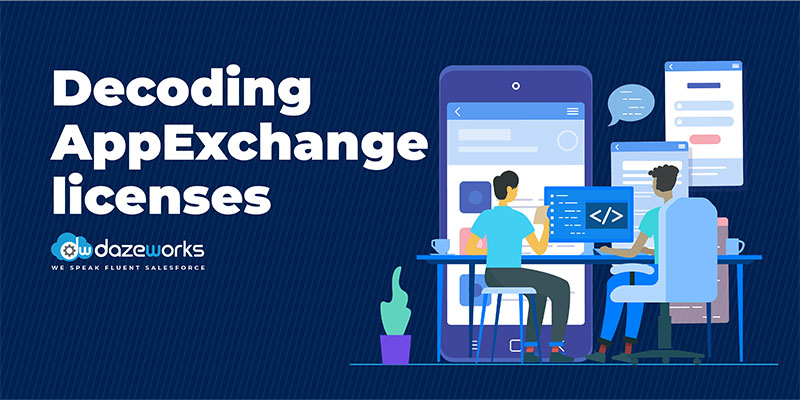 Decoding AppExchange licenses
Posted by Seethu Maria Mathew
minutes read
As a growing business/ Independent Software Vendor, do you have a business pitch which is so exquisite that no one has ever thought of it up until now? Then, the Salesforce AppExchange is all you need to move ahead. 71% of Salesforce customers actively use apps from the AppExchange. Being the world's number one business marketplace, it is the only place where you will see an ecosystem breathing Salesforce and demonstrating innovative solutions. 
While the first step for a business venturing in the Appexchange partnership ecosystem is to be a registered partner, our customers across several industry verticals in the initial stages were more often confused on what approach to take.
This blog covers two of the most important partner programs you should know of before setting foot in the AppExchange space. You can use this information to choose the best partner type wisely, build fruitful relationships with the Salesforce ecosystem and mould your product in the best way possible.
ISVForce License
An ISVForce license enables independent vendors to create an app that functions on the Salesforce platform. The main aim here is to enhance the experience of existing Salesforce customers. To obtain an ISV license, the code needs to go through a  rigorous AppExchange security review process which can take upto 1-2 months to complete.
Pricing
For ISV apps, Salesforce takes a 15% cut of the revenue to existing customers and a 25% cut to non-Salesforce users. There is a fee of $2,700 for the AppExchange Security Review listing process. 
Why choose ISVForce?
Customers can easily extend or develop their application through custom objects.

Customers have more flexible opportunities.

It is the most preferred way to partner with Salesforce, since it gives exposure to the vast Salesforce ecosystem.
OEM Embedded (OEM) License
The OEM Embedded or Lightning Platform Embedded license is meant for companies who are focussed on changing the industry infrastructure and aiming to sell their products to customers who are not on Salesforce. Here the software they have built is tied to its original equipment, the hardware and hence the license is applicable to only that system.
The OEM Embedded license is offered by the Force.com Embedded partner program and is a full Lightning Platform license with contractual restrictions. It restricts Create, Read, Update, and Delete on Leads, Opportunities, Cases, Solutions, and Campaigns. This partnership program enables companies to sell the original Salesforce license as a reseller So the company (as a reseller) can set a charge to the license being sold according to their preferences and Salesforce collects a share of this revenue. Also while the customer is using Salesforce as PaaS, this license will not include any CRM functionality. 
Pricing
The license fee for opting for the AppExchange OEM Edition of Salesforce is $25 per user per month.
Why choose OEM?
This license model helps you to focus on product innovation. 

You can sell your products to both Salesforce and non-Salesforce users via the AppExchange. 

OEM partners resell Salesforce licenses to their customers. In many cases, they may not  even be aware (or need to be aware) that they are indirectly connected to Salesforce.
OEM Embedded applications are allowed to sell these three licenses to their customers
Lightning Platform

– Also known as the Salesforce platform license, it allows your customers to use the Force.com platform. 

Customer Community

– This license is meant for business-to-consumer communities with large external users who want access to their data.

Customer Community Plus– Users can have access to reports and dashboards and advanced sharing options. It gives customers  the power to oversee what's going on in their application.
ISVForce License vs OEM Embedded License
| | | |
| --- | --- | --- |
| Criteria | OEM | ISV |
| Pricing | 25% of revenue to Salesforce | 15% of revenue to Salesforce |
| Customer | Salesforce and non-Salesforce customers | Existing Salesforce customers on AppExchange to enhance their SF experience |
| License Add-ons | OEM partners sell Salesforce licenses as a reseller.  | Need to purchase both Salesforce licenses and ISV Force app licenses |
Wrapping up
An ISVforce license helps developers to sell their apps on the AppExchange and for Salesforce users to download and modify their Salesforce CRM. Whereas OEM app license only permits developers to use the Force.com Platform to develop a fully custom application. 
If your customer expectations include CRM functionality with your application as an addition, it's best to be an ISVForce partner. But on the other hand, if you are selling a solution which requires no CRM integration or functionality, go ahead and be an OEM partner. 
Still confused? We can help you. How about a 1:1 chat with a Salesforce MVP? No strings attached.