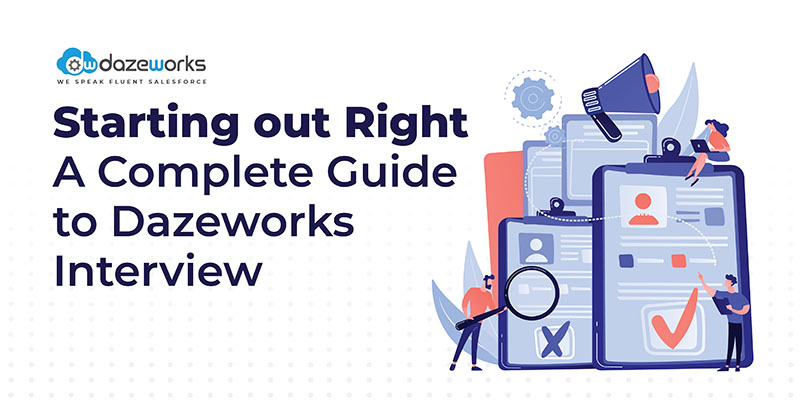 Starting out Right: A Complete Guide to Dazeworks Interview
minutes read
Ever since its inception in 2015, Dazeworks has witnessed awe-inspiring milestones, from being a Platinum Salesforce partner in just two years to having an ensemble team of Salesforce MVPs from all around the world. Here we included a Complete Guide to Dazeworks Interview.
This year, ILink Digital acquired Dazeworks to further expand their Salesforce expertise and deliver exclusive Salesforce implementation services to their current and potential customers. This partnership has encouraged us to extend our team who we expect to be crucial players in our explosive growth phase.
If you're one of those candidates who wishes to be part of the big picture, read this blog to learn how we pick the crème de la crème of the talent out there.
Here's What to Expect
At Dazeworks, we make sure our candidates never miss a beat. Despite the fact that we've 'virtualized' our hiring process in the current pandemic situation, we make sure our interviews are held in a positive light without compromises.
"We are highly focussed on candidate experience", says Sivasree, Chief of Staff, Dazeworks. Just like they try to make a first impression on us, we believe in taking the same effort!
Our hiring process typically ranges from two weeks to two months depending on your job role and the size of the team.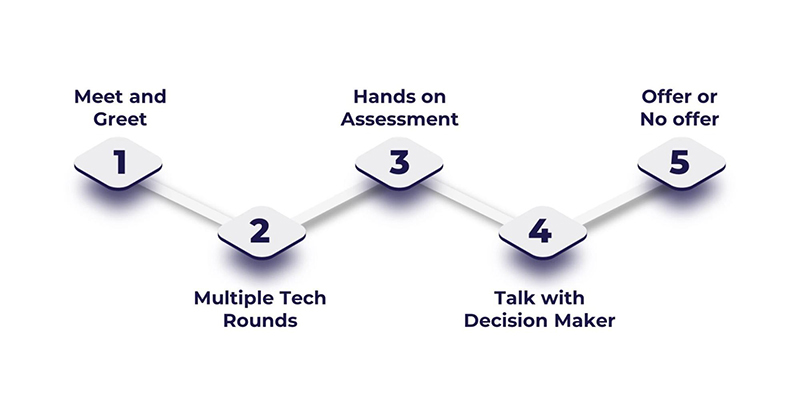 Meet and Greet: You can either give us a shout out through our social media channels or directly apply through our careers page here. If your resume stands out, you will be directed to a phone screen where you will be assessed based on your current role, interests and experience, and obviously your expectations out of us. 
Tech Rounds: Once you've qualified the phone screen, you will be invited for subsequent rounds. These will either be a 1:1 round or several technical rounds including panel discussions depending on the complexity of your job role. 
Hands on Assessment: Be ready to take on a technical/non technical assignment next. It's all about the way you approach the assignment. Note that we are a people oriented company and you can ask your questions to our team at any point. Your communication skills and attitude along with the outcomes of the project will definitely be monitored during this round. 
Talk with Decision Maker: You will next be introduced to our decision maker, who will carefully assess how excited you are about our company culture. This is the stage where you will have some make-it or break-it conversation exchanges. 
Offer/No Offer– If Dazeworks decide to hire you, our recruiter will give you a call within 2 days. And if you didn't, you will get a mail with the relevant feedback as to why you didn't crack the job. Rest assured we will never leave you hanging!
How to Prepare for the Interview
First things first, remind yourself that this is just like any other interview, apart from a digital touch. So make sure to stick on to etiquettes you have practised for all other in-person interviews.
Here's a checklist to keep in hand before attending your virtual meeting:
Set up a simple home office background that is tidy in appearance with ample lighting and minimal background chaos. 

Make sure your network connection is never interrupted.

Position your camera in a way that gives best visibility to you and your interviewer. 

Be familiar with your online tool, whether its Google Meet or Zoom, which will already be provided in your previous mail communications. 

Check your system for any performance issues. 

Be punctual (You already know this, but it's super important!) 
Other tips to get the ball rolling: 
1. Know more about the job description
Make sure the job requirements are in alignment with your skill set and your current role. Be honest about areas where you find scope for learning/improvement as well. 
2. Research your Interviewer
Look up your interviewer on LinkedIn to understand their professional interests and career aspirations. This will help you better understand the questions they may shoot at you.
3. Brush up on your technical skills
You may have years of development experience, but it wouldn't hurt to go through the basics again. It's an excellent opportunity to showcase your technical knowledge and this would give you an extra shot at cracking the job role.
4. Show you're the right cultural addition to our company
Dazeworks core value is centered around our people and ideas over hierarchy. We are looking forward to people who bring innovative solutions to the table, more than just a follower. Make sure to showcase your skills as a teamplayer no matter what your job role is. 
5. Know why you want to work with us
Speaking of culture, we prefer our employees to see Dazeworks as part of their long term career goal, rather than considering it as a makeshift job. Talk more about why Dazeworks works for you in the long run.
Curious to Know How We Assess You?
Expertise
While we do  give importance to academic credentials and specific experience you had in your previous positions, we hire based on a holistic skill set more than the experience. We're on the lookout for real talent and will see beyond your current job title. 
Aptitude
The hands-on assignment and tech rounds will determine your technical gamut, adaptability and problem solving skills. More importantly, we'll know more about your strengths and weaknesses and your potential as a leader and a team player. 
Passion
Your willingness to learn more is always valued above your experience level. We don't want great talent to slip through the cracks just because you have worked in a different industry. But we will look out for your receptiveness to your work environment, integrity and a positive attitude. 
Values
As a people centric company thriving on strong culture and values, we are on the lookout for someone who is deeply connected to our core values – in terms of honesty, integrity, transparency and a long-term commitment. 
Could This Be You?
If your career goals are limited to a solid 9 to 5 desk job, you may not be the right person we're looking for. We take pride in all our ninjas as they are Salesforce obsessed and never shy away adding value to our organization. They have set the bar so high that we can't imagine anyone who is less than an extra mile runner. If you consider yourself a self starter, share the same values and zest towards your job and our culture, we are more than happy to welcome you aboard!
So, do you have that Ninjutsu up your sleeve? We are eager to find out for ourselves! Send us your resume on iamawesome@dazeworks.com.