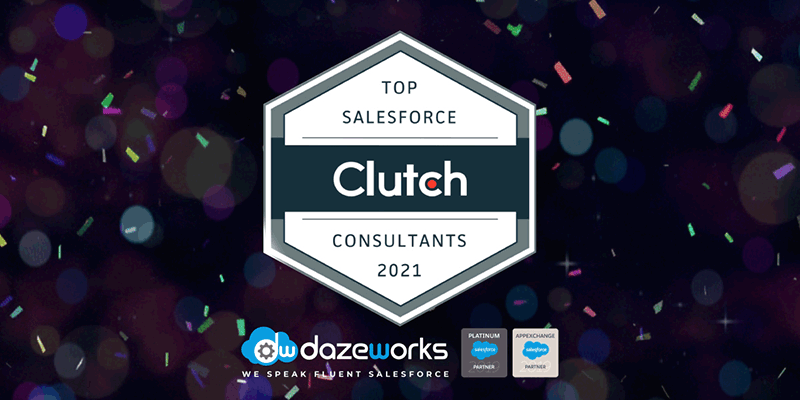 Dazeworks Receives 2021 Clutch Award for Best Salesforce Consulting Firm
minutes read
Established in 2015, Dazeworks has been providing expert Salesforce solutions and consulting services to companies all over the world. Salesforce runs at our company's core, and that is evident in the countless successful engagements that we've had the pleasure of working with over the years. That said, it's a great pleasure for us to announce that we have been recently recognized on the Clutch 2021 awards.
As a Salesforce Platinum Partner with 120+ developers and 9 offices in India, Sri Lanka, US, UK, Canada and Middle East, we have pioneered the digital transformation journeys of Fortune 50s. Our areas of expertise include Salesforce consulting and implementation across all Salesforce products, Appexchange app development, Classic to Lightning migration, expert architectural guidance, admin as a service, system integration, and data migration services. 
The Clutch 2021 Award is a recognition of the trust that our customers have placed in us. For more context, Clutch is an independent business-to-business review and rating agency from Washington, DC. Their platform is hugely popular because of its commitment to evaluating service providers from different industries and locations across the globe. Considering that they only award the best, we are honored to be hailed as a top company on Clutch.
Our efforts as a  top-notch Salesforce consulting firm has landed us on the #1 spot on the Leaders Matrix, the top 11 leaders in this category. We are extremely thrilled with this back-to-back recognition from Clutch.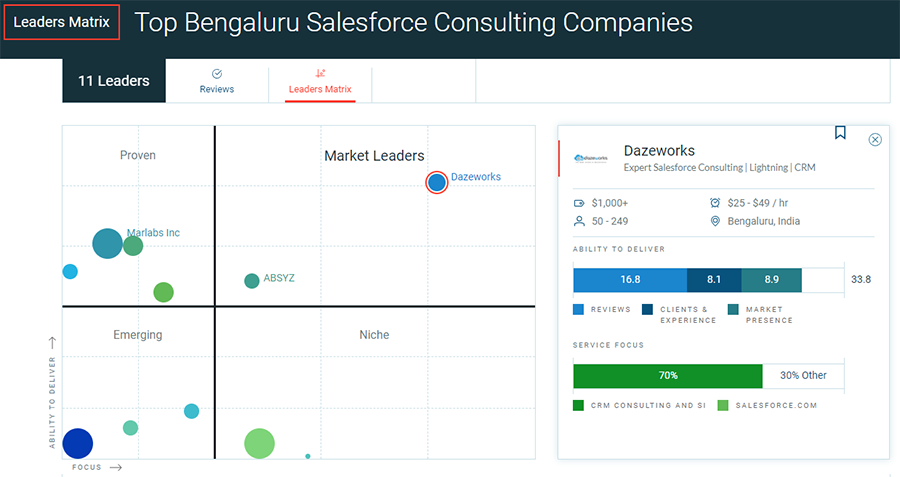 Our team thanks Clutch for being a great partner for our company's growth. Their site has become an accessible platform for us to showcase our projects.
Of course, we also want to thank our clients for their awesome trust and support. We couldn't have accomplished this feat without our clients' reviews on Clutch. Their words vouch for our hard work and effectiveness as service providers, and for that, we dedicate this recognition to them. 
"Dazeworks was able to provide the development resources we needed at 20% of the cost we were incurring prior to hiring them." 
— COO, EpicVue
"They were able to create an accounts receivable, late-fee automation system. We sell large, expensive solutions, and we're not accounting people, so tracking our accounts receivable was really difficult for us. They helped us reduce that cost significantly. Getting the money quicker like that is a huge win for us." 
— President, Nitor Solutions Inc
Want to know how we help our clients work more efficiently on Salesforce? Drop us a message and let us know how we can help.