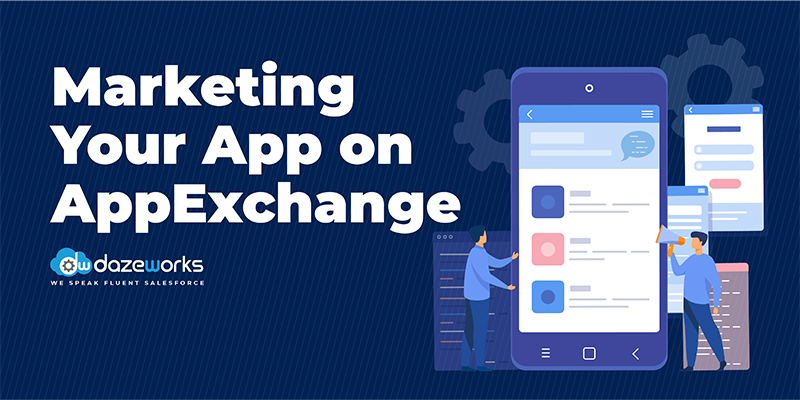 How to Market Your App on AppExchange: A Guide for ISVs
Posted by Seethu Maria Mathew
minutes read
Your product has passed the security review and is up and running on AppExchange. Now what?
Are you gonna just sit there and hope for the best or play the field and amp up your presence in the Salesforce ecosystem? To market your app on AppExchange, you need a totally different game plan to cut through the noise.
Experts recommend these 5 approaches while promoting your AppExchange app:
Call into Play the ISV Partner Program Benefits
There are many benefits of enrolling into the Salesforce ISV partnership program, marketing support being a highlight. Make use of available resources and training modules. Depending on your ISV tier, you can further benefit from their marketing programs. The tiers, in order, are Base, Ridge, Crest, and Summit according to the new Salesforce Tier Model. You can access the AppExchange Marketing Programs (AMP) which are available to Ridge and above. The AppExchange Marketing Programs enhance your go-to market strategy and offer free and paid marketing opportunities. This program has a proven record of being a catalyst to lead closures as disclosed by many ISV partners.

Source : CodeScience
Build Solid Relationships with the Right People
As an ISV partner, you will be allocated resources like your PAM, AEs, SEs and so on who will act as your primary contact with Salesforce. If your app is truly a trailblazer, the Salesforce team and the wider community will naturally gravitate towards your product and contribute to its success. Once Salesforce AEs find your product appealing, they will vigorously pitch your product to help them close more deals. Solution Engineers on the other hand understand the specific needs of your target customers and help you bring those elements into your app. They  know the technical aspects of your product inside out and hence will be of great advantage to you while conducting product demos to your customers.
Create an AppExchange Listing that your Customers Love
This is where you can make your AppExchange listing standout in the AppExchange community. Make sure to optimize your AppExchange profile so that it appears first in key search results. Include screenshots and videos that describe how your app adds value to customers. Case Studies and Reviews are a great way to leverage your existing customers to promote your app on AppExchange. Try to get as many positive reviews from them as possible.
Sponsored placements on AppExchange are also a great way to grab the attention of your target audience. Your app will appear at the top of the listings giving better visibility on the AppExchange homepage.
AppExchange Chat : Salesforce has introduced the new AppExchange Chat to encourage human to human interactions with buyers visiting your AppExchange listing. This tool takes your product marketing one step higher and gives more credibility to your app while talking to prospects. You can get into a sales conversation directly from AppExchange Chat
Use Salesforce Events to Maximize your Visibility
Whether its global/local, in-person/virtual, technical/commercial, Salesforce events give you the perfect venue to highlight your amazing app. You can meet thousands of Salesforce enthusiasts and form lasting relationships with them.
Here are some events that you can leverage to market your app: 
Salesforce Live :  As in-person events have veered away due to the global pandemic, Salesforce now provides Salesforce Live events which are perfect for product presentations. 
Dreamforce : Undoubtedly the god of all Salesforce events, Dreamforce can get your customers talking about your app. This is where you can use creative ways to showcase your success story to the target audience. Consider creating a Customer Spotlight on AppExchange. Create easily understandable one page slides with ROI numbers, facts, and  testimonials from your  top customer who had success using your app. This way you can be prepared to dazzle your prospects the moment they reach your booth. 
Dreamin events : These are community led events meant for all professionals curious about Salesforce. You can even ask one of your clients to talk about their success story during their AppExchange sessions. 
Make your Content Stand Out
Great content is gold for Salesforce ISVs  to generate demand. Period. As an ISV, you may have limited resources and a stringent budget in place, but don't let that hinder you from delivering thought leadership content. It not only accelerates brand awareness among your target audience, but gives you a hold on your niche vertical. Engage with your audience using blogs, infographics and webinars. Having a solid blogging strategy goes a long way in building your image in the Salesforce community. But hey! Don't brag…much! Be your authentic self and position your content in such a way that it addresses the pain points of your prospects. Also positioning yourself as a thought leader will not happen in a day. It can take years to get the fruits of your labor. In effect, these efforts will help you find your core audience and the possibilities of them being converted into leads are ten fold.  
Use social media to generate inbound leads :  The Salesforce community is  big on Twitter and hence it has huge potential in creating engagement. Be prepared with a list of popular Salesforce evangelists and curate conversations that generate interest and impart knowledge. 
Webinars : Webinars solidify your point- that you understand technology and innovation. It's a great channel to showcase your expert knowledge, especially if you're targeting a niche audience. You can team up with your AppExchange partner to discuss customer needs and understand how best your product can fill that gap. 
Trailhead :  Create content intended for your target audience, and not just your employees. Expose your app to your prospective clients. Trailhead is the best way to reach out to your audience in a personalized manner. If you'd like, humble-brag about your accomplishments!
Need assistance in marketing your AppExchange app? Team up with our AppExchange consultants to drive meaningful ROI from your product.