Recent years have shown a staggering growth in low-code tools which empowers everyone, even those with little or no coding experience to build the applications needed for their organizations. And with the current pandemic unleashed, IT are forced to take an interest in low-code tools as they realize they may grow faster than expected.
Salesforce too, is part of the surging interest in low code tools, mainly because it helps Salesforce Admins maximize user adoption. For all you awesome Admins out there, here are 9 low code tools that can solve your Salesforce adoption problems:
1. Dynamic Forms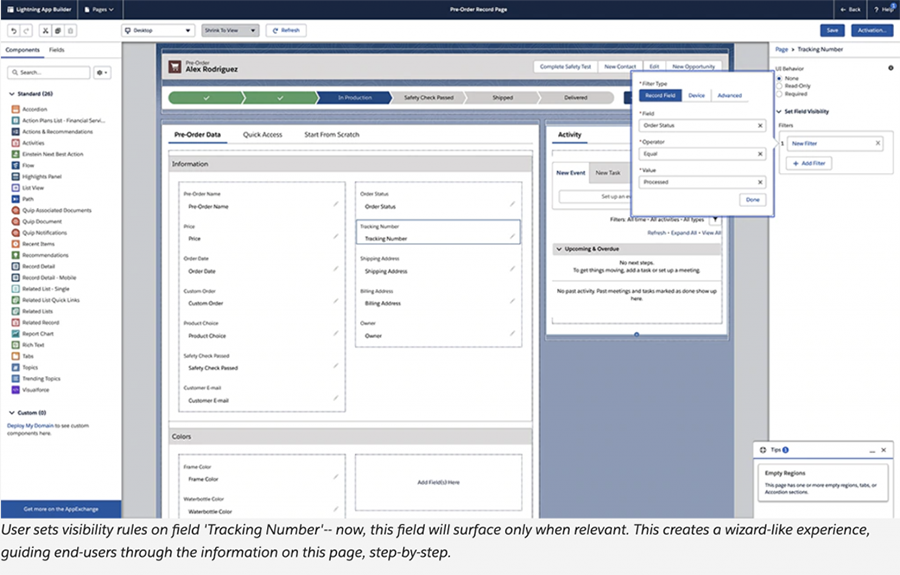 Dynamic Forms is one of the top features from Winter '21 release helping Salesforce admins create highly dynamic customer experiences. It is the next generation of Lightning App Builder enabling end users to get better experiences and saving time for Admins by condensing the number of page layouts. The end-users can now swiftly access information as it declutters all the traditional unnecessary fields.
2. Multi-factor authentication (MFA)
If you're one of those Admins who follow strict security hygiene, MFA is what you are looking for. Formerly known as two-factor authentication or 2FA, MFA is the easiest and the most effective tool that adds an extra layer to your Salesforce login process and protects customer data from unauthorized access and phishing attacks. Salesforce considers this tool as highly critical in the wake of the Covid-19 pandemic, as cybercrime is exponentially increasing in every industry vertical. The entire process is meticulously broken into three phases that take care of the end-to-end MFA process, through change management and user adoption. And it gets better with the new Multi-Factor Authentication Assistant that guides you through each phase and stage on the path to MFA. It acts as the central hub for delivering MFA to your users and all the recommended activities, tools, and resources for a successful project.
3. Service Set-up Assistant
The newly released Service Setup Assistant is a win-win with bells and whistles for admins and service agents alike.
Admins have their work cut down massively. For instance, the whole out of the box configuration of Service Cloud is now reduced to just two simple steps. Click on a couple of buttons and you can sit back while the configuration takes care on its own.
It gets even better for service agents starting with built-in productivity tools and best practices. Your agents can now close cases faster and hassle free. Small nuggets of time saved on each case will eventually free-up more productive time for your agents to work on better personalization of service and close more service requests.

4. Trailhead GO
62% of employees feel that they lack skills and their employers don't offer enough training and support. Ongoing upskilling is an essential habit of all successful organizations. With Trailhead GO, it becomes easier for organizations to set-up training modules and programs that can be consumed on the go. Admins can now leverage this by organizing upskilling programs and refresher training for sales reps, service agents and other Salesforce users to stay abreast of how to best use the platform. With everyone using the platform the right way, the system adoption and ROI are sure to beat expectations.
5. MuleSoft Composer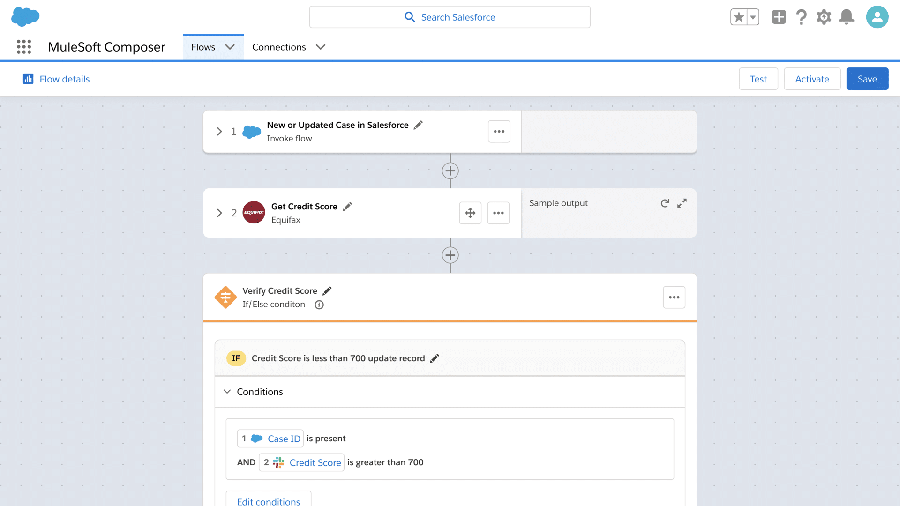 If you're a developer or technical personnel working for an IT organization, you might be already familiar with Mulesoft's integration and API platform, Anypoint Platform. While Anypoint Platform helps developers to integrate systems and unify data with reusable APIs, Mulesoft Composer is designed to address the same needs for the non-technical people, like Salesforce administrators. This tool which is set to be released early in 2021 is developed keeping in mind the huge potential of non-developers to drive innovation in the organization. The Mulesoft Composer helps admins to move away from cluttered, error-ridden, repetitive, manual data imports and automate their day to day workflows. They can access data from external databases, enabling them to view all the data across systems, all within Salesforce.
6. Flows
Lightning Flows aka Flows helps you in automating complex business processes and manual data entries. As a Salesforce admin, Flows can be one of the most strongest tools in your tool bag that can get you an edge over your sales team. It saves your user's time and makes sure all the tasks are done within a short period of time. With the Flow Builder interface you can create individual workflows without having to know any coding.
7. In-App Guidance Walkthroughs
If you haven't used In-App Guidance yet, now is the time as this is the most useful feature for Admins to guide their users through change. In-App Guidance walkthroughs is a low-code method to assist change management and adoption within your org. You can now share valuable information with the users without the need for multiple training calls.
8. Approval Process
An approval process helps in automating records which needs to be approved in Salesforce. As an admin, you can set up approval requests for users upon submission of records. For example when an employee wants to send a leave request, Salesforce automatically sends the approval request to the employee's manager. Approval process is the perfect tool to cut down wasted time on tedious tasks like tracking email requests, avoid data inconsistency, enhance your organization's workflows and keep your employees stay connected.
9. Next Best Action
Einstein Next Best Action, aka NBA is part of the group of products under the Einstein Platform, which enables admins and developers to build their own AI-powered assistants for various use cases. NBA in Salesforce gives recommendations to the employees and customers to help them make the right decisions at the right time. For example, if you are a Salesforce Admin you can create recommendations for sales reps who are the first points of contact to all customers. You can create more up sell and cross sell opportunities using these recommendations as the Sales Reps will be now more aware about what to offer to their customers.
Looking to enhance Salesforce adoption using these amazing low-code features? Our Salesforce experts are here to help you get started.
Source
https://admin.salesforce.com/blog/2020/9-low-code-features-to-help-you-maximize-adoption
https://admin.salesforce.com/blog/2020/a-new-era-of-low-code-apps-dynamic-forms
https://www.salesforceben.com/einstein-automate-intelligent-workflows-to-automate-anything/#:~:text=Flow%20Orchestrator%20can%20help%20you,you%20avoid%20bottlenecks%20and%20delays.