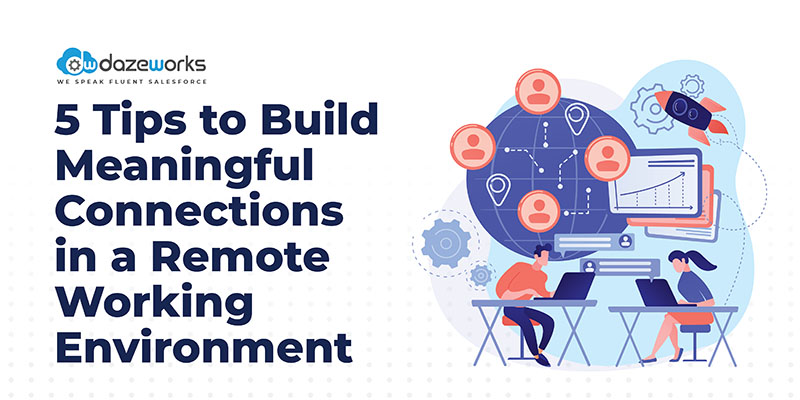 5 Tips to Building Meaningful Connections in a Remote Working Environment
minutes read
Office FOMO is real! Especially for those who thrive on face to face conversations and personal bonding. It doesn't mean that there are no benefits to going remote, as we do enjoy work life balance to the fullest. But building fun and meaningful connections in a remote working environment needs a different game plan. Gone are those days where you had opportunities to congregate in an office pantry for an occasional birthday celebration or just turn to your work buddy to discuss the current project you're working on or the latest episode of Money Heist. But as always, we humans are great at adapting and can turn any setbacks into winning opportunities. Here are 5 tried and tested tips from our team at Dazeworks to stay connected and make the most out of a remote working environment.
#1. Open Your Virtual Doors for Networking
We can guess what crossed your mind right now! Staying connected comes naturally for a lot of employees regardless of their work environment, but for some of us, it is a bit daunting. But here is a tip- take a genuine interest in knowing your team. People usually love talking about themselves, so make sure you ask the right questions  and be a good listener. But yes, it takes effort on your part. Learn how to reach out to your colleagues regularly and make a deliberate effort to build connections (while respecting their privacy). Look forward to daily standups as it will give you a sense of belonging within your team. 
#2. Put a Face to a Name Using Collaboration Tools
Sometimes you may feel like the invisible Drax of your remote team, but leveraging collaboration tools can help you connect better. Using Slack is one of the best ways to collaborate with your colleagues. Earlier this year, Slack was absorbed by Salesforce for its intelligent features and understanding the impact of this tool in the 'work from anywhere' days ahead. Another collaboration tool that we regularly use is Google Meet as it is easy to use and great for daily standups or a 1:1 conversation. Here is a Pro tip: whenever you can, turn on the video to have an emotional connection with the person on the other side. 
#3. Make Use of Slack Channels
Slack has a couple of really useful channels which are dedicated to discover each other's fun side outside of work. So if you are a movie buff or enjoy binge watching sit-coms, you can still chat away using channels like #movies #music and so on. 'Know your team' is another tool integrated with Slack that is great at building team rapport. 
#4. Don't Shy Away from Making a Phone Call
Emails are great, but how often have you forgotten to check your email or even ignore it during your hectic schedule? We would say it happens almost every day. And the same applies to  text and DMs. Phone calls are major icebreakers – it sets your tone right at the right time (Been there, done that!). Let's all agree that not all of us are great at texting with emoticons and occasional banters can at times not be taken well. A simple phone call clears the air in such situations. 
#5. Conduct an Organizational Annual Event/Talent Show
Missing out on office cultural events and festival celebrations? You may not be physically present together, but you can continue enjoying the company traditions virtually. At Dazeworks, we make sure to keep that merriment going even when we are stuck within the four walls of our home. Last month we were part of iLink Digital Virtual Annual Day which was a fun filled event with a DJ and talent show. You'd be surprised to see the amount of talent your team is hiding behind those professional conversations. 
We all hope we can fast forward to an era of normalcy, but hey! It's all about stepping out of your comfort zone and your willingness to commit and maintain work life relationships. What are your suggestions on beating remote work blues? Let us know in the comments.