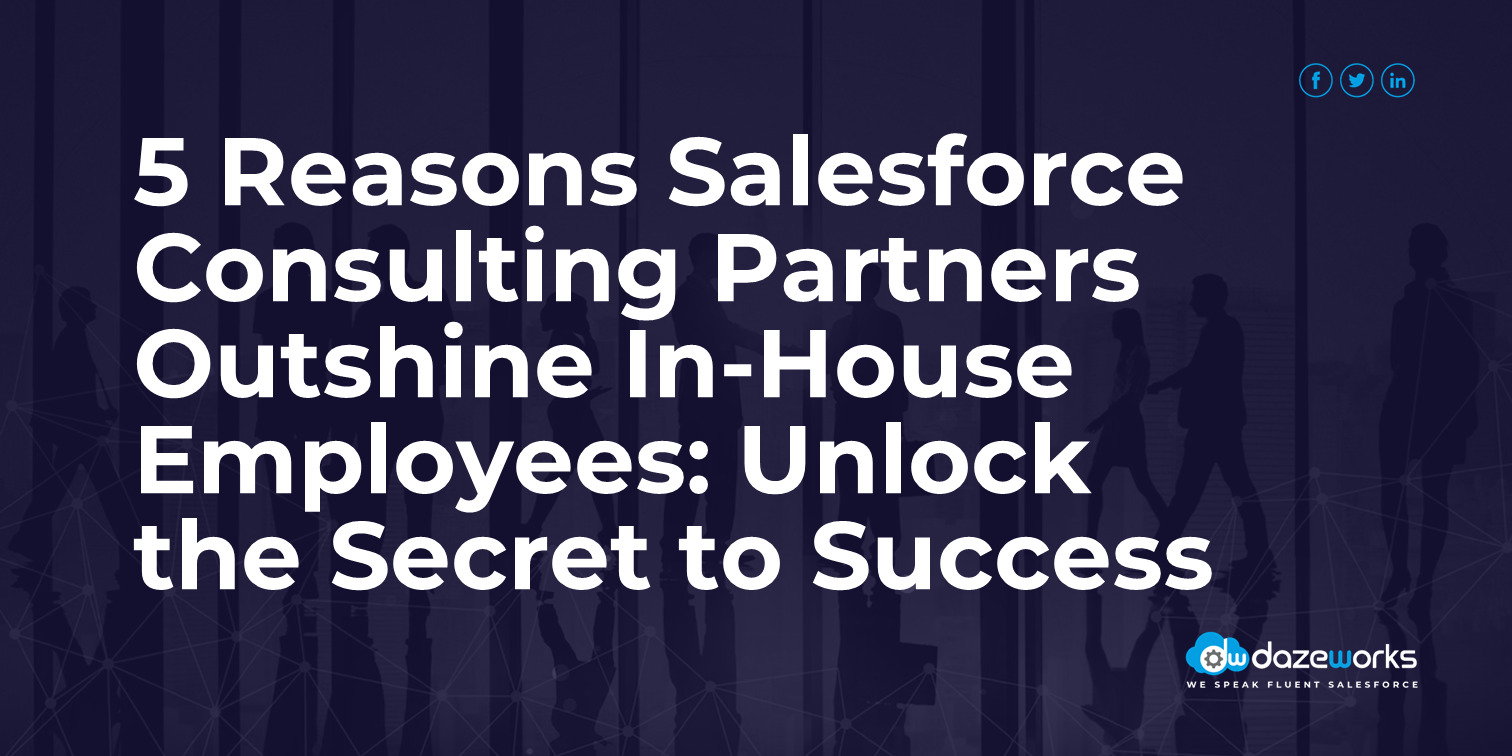 5 Reasons Salesforce Consulting Partners Outshine In-House Employees: Unlock the Secret to Success
minutes read
When it comes to Salesforce implementation, businesses often face the dilemma of choosing between hiring in-house employees and partnering with a Salesforce consulting firm. In this blog post, we'll dive deep into the reasons why Salesforce Consulting Partners are better than employees and how they can take your business to new heights.

Expertise That Delivers Results
Diverse Industry Knowledge
Salesforce Consulting Partners come with a wealth of industry knowledge that can be invaluable to your business. With experience across multiple sectors, they can provide tailored solutions that fit your specific needs.
Certified Salesforce Professionals
Salesforce consulting firms have a team of certified Salesforce professionals, ensuring you receive expert guidance and best practices for your implementation. This level of expertise is hard to find in individual employees.
Seamless Integration and Customization
Adapting Salesforce to Your Unique Requirements
Salesforce Consulting Partners have the skills and experience to customize Salesforce to meet your unique business needs. They can help you seamlessly integrate Salesforce with other platforms and applications, enhancing productivity and efficiency.
Ongoing Support and Maintenance
Salesforce Consulting Partners can provide ongoing support and maintenance services to keep your system running smoothly. In-house employees may not have the same level of expertise, leaving you to face potential challenges alone.
Cost-Effective Solutions
Scaling Your Salesforce Investment
By partnering with a Salesforce consulting firm, you can easily scale your Salesforce investment as your business grows. You don't need to worry about hiring and training new employees, which can be both time-consuming and expensive.
Minimize Risk and Maximize ROI
Salesforce Consulting Partners minimize the risks associated with implementation and ensure a higher return on investment (ROI). Their expertise can help you avoid costly mistakes and optimize your Salesforce setup.
Faster Implementation and Time-to-Value
Accelerated Project Timelines
Salesforce Consulting Partners have extensive experience in implementing Salesforce projects, which enables them to execute implementations more quickly and efficiently. This results in faster time-to-value for your business and a quicker return on your investment.
Proven Methodologies and Best Practices
By employing proven methodologies and best practices, Salesforce Consulting Partners can streamline the implementation process and ensure success. In-house employees may not have access to these resources, which can lead to a longer and more challenging implementation.
Continuous Improvement and Innovation
Staying Up to Date with Salesforce Updates
Salesforce Consulting Partners stay current with the latest Salesforce updates and features, ensuring that your business can take full advantage of the platform's capabilities. In-house employees might not have the same level of dedication to staying updated, leading to missed opportunities for improvement.
Access to Cutting-Edge Salesforce Tools and Technologies
Salesforce Consulting Partners have access to the latest tools and technologies, which can be leveraged to improve your business processes and provide a competitive advantage. In-house employees may not have the same level of access, limiting your ability to innovate.
FAQ's
Conclusion
As we have seen, the benefits of partnering with a Salesforce Consulting Partner far outweigh the advantages of hiring in-house employees. By leveraging their expertise, resources, and commitment to staying updated on the latest Salesforce features, consulting partners can help your business maximize its investment in Salesforce and drive innovation. Make the smart choice today and partner with a Salesforce consulting firm to accelerate your path to success.
In conclusion, Salesforce Consulting Partners offer a range of benefits that make them a superior choice over in-house employees. From their diverse industry knowledge and certified professionals to cost-effective solutions and seamless integrations, partnering with a Salesforce consulting firm can significantly enhance your business's success.